Truck Accidents on the Rise, Here's How to Protect Yourself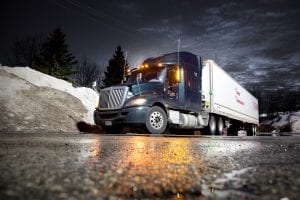 Over 4,136 people died in crashes involving large trucks in 2018 alone, according to a recent study by the Insurance Institute for Highway Safety. This is an increase in truck accident-related deaths by 12% over the last 11 years. Given the size differences between passenger vehicles and commercial trucks, 67% of the victims were drivers or passengers of non-truck vehicles. 
Did you know that over half of fatal large truck crashes occurred in rural areas? And only a little over 25% of the fatal crashes involving large trucks occurred on interstates. This is especially important to the citizens of West Virginia who frequently drive on rural roads.
With the trend of fatal truck accidents continuing to rise, you may feel helpless and like there's nothing you can do about it. However, if you understand how and why crashes involving big trucks happen, that will go a long to help keeping you safe on interstates and the country roads of West Virginia. 
Why Do Truck Accidents Happen?
Accidents involving large trucks, such as tractor-trailers,  can occur for a number of reasons. While most people believe trucking accidents occur due to fatigue or inattention, there are actually many more reasons these fatal crashes happen. In a study completed by Keep Truckin, one of the world's largest fleet management software companies, they found the top 8 reasons trucking accidents occur are:
Brake issues

Traveling too fast for road conditions

The driver was unfamiliar with roadways

Under the influence of over-the-counter drugs

Inadequate road surveillance

Fatigue

The pressure to decrease delivery time

Illegal Maneuvers
Why Are Trucking Accidents so Deadly?
Accidents involving 18 wheelers and other large trucks are usually fatal, and it's not hard to understand why. Tractor-trailers and other large trucks can weigh up to 80,000 pounds, or the equivalent of 40 tons, legally. Now compare that to the average weight of a passenger car which is only 4,000 pounds. When the two collide the passenger car will almost always suffer the most damage due to the disproportionate weight between the two. 
Trucking Accidents on Rural Roads
Many rural communities, like those in West Virginia, rely on trucking companies to deliver necessary goods to their area. Yet with all the beneficial goods trucks are bringing, a scary statistic is beginning to arise. That is, around 58% of fatal large truck crashes are occurring in rural areas every year. So why are rural roads more dangerous for truck drivers? Some reasons include: 
Rural roads tend to be only two lanes and are often very curvy. In order for many truckers to get around the sharp turns, they have to use some of the other lanes. This can be very dangerous for oncoming drivers

On many rural roads, there are no shoulders. This is extremely dangerous for many large trucks as it can force the truck to fall off the side of the road.

Wildlife presence is usually very high in rural areas. Many trucking accidents in rural areas occur from truckers trying to swerve to avoid animals. 

Compared to interstate roads rural roads are usually not kept in as good condition. Things such as uneven roads or large potholes often force truck drivers to lose control of their vehicles.
Tips for Driving Around Large Trucks and Tractor Trailers
In order to keep everyone safe on the roadways is important that every driver does their part. Did you know there are things you can do to help truck drivers keep everyone safe? Some ways you can practice safe driving techniques around large trucks include: 
Avoid the "No-Zone."

The

"no-zone"

refers to the specific blind-spot areas on large trucks. This area includes directly in front of the truck for approximately 20 feet, directly behind the truck for approximately 200 feet, and directly along both sides of the truck (the right-side blind spot is larger than the left). 
Don't linger in the blind spots.

If you must pass a truck do not spend a long time in the blind spot areas. If you stay there too long the driver may not even realize you are there. 

Give trucks extra space before cutting in front of them.

Cutting in front of a vehicle too close is never a good idea, but it's especially dangerous if that vehicle is a truck. It takes large trucks much longer to stop than regular vehicles, so to be safe give them some extra space before cutting over. 

Don't pass trucks on downgrades.

As previously stated, trucks need much more time to slow down than regular vehicles. This amount of time increases if they are trying to decrease their speed on a downgrade because they are picking up so much momentum. Move over and give trucks the space they need on these types of roads.

 
Give trucks room to turn.

Since trucks are much wider and much longer than average vehicles they require more room to complete turns. Try to remember to never

"block the box"

, or stop in front of the line, as buses and trucks require that space to complete turns safely.

Keep a watch in your rear-view mirror for big trucks. If they get too close to you, find a way to put distance between your vehicle and them. For example, I will do everything I can to avoid a big truck tailgating me when I'm sandwiched in a middle lane. If I'm to the far left or right, I'm not as worried if there's room to pull over onto the shoulder in the event that there's a sudden stop ahead. That said, I still do everything I can to prevent tractor trailers from tailgating me.
Bonus Tips from Actual Truck Driver
On our Facebook page, a truck driver (owner/operator) offered the following tips:
He said, "The two biggest tips are simple:
1. don't ride along the right side of a truck once you are between his mirror and his bumper he CANNOT see you.
2. When behind a truck, if you can't see his mirrors he can't see you." In other words, put enough distance between you and the rear of the tractor trailer so that you can see its side mirrors.
Safe Driving Tips for Truck Drivers
Almost every truck driver knows the basic rules of road safety. And even though you may not be a truck driver, by familiarizing yourself with the tips below, you'll be able to better spot dangerous truck drivers and get out of their way. Some of these tips include: 
Try to stay in one lane:

Staying in one lane while driving is one of the best ways for truck drivers to avoid unnecessary interaction with other vehicles. If you must change lanes always use your signal. 

Prepare for all types of weather.

Keep the proper weather and terrain-related equipment on you at all times. You never know how quickly the weather may change when driving through a certain area.

Maintain your space with other vehicles.

Did you know most trucking accidents occur from trucks hitting the vehicle in front of them? Keeping a safe distance from other cars at all times can help ensure your safety and others. 

Maintain your truck.

Help ensure your truck's performance by keeping it up to date with regular maintenance checks. Some of the most common trucking accidents actually occur because of mechanical issues that could have been avoided.

Let others know when you're stopped.

Utilize flashers, cones, and road flares while waiting for roadside assistance to make other drivers aware you are stopped. This will allow other drivers time to move over and give you the space you need.

Follow driver hour restrictions

. Getting the proper amount of rest off the road is almost as important as what you do on it. Be sure you are following the recommended driving hours and monitoring your physical and mental state.
Important Issues in West Virginia Semi Truck Accident Cases
In order to receive full compensation for cases involving a tractor-trailer or other commercial vehicle, you will likely need the help of an experienced truck accident attorney who has a background in this area. Large truck accident claims are very different than car accident claims and many, if not most, lawyers do not have the experience to effectively deal with these issues. At West Law Firm, we do have the experience, resources, and skill to help you recover all the compensation and benefits you deserve. To learn more about the process of cases involving tractor-trailers or other commercial vehicles visit our pages: 
Get a Free Consultation with an Experienced West Virginia Truck Accident Lawyer
If you or a loved one has been injured in a tractor-trailer accident we invite you to call us for a free and confidential consultation. Call us toll-free at 1-877-943-WEST (1-877-943-9378).  Choosing an experienced, skilled truck accident attorney like those at West Law Firm will help ensure you recover all the compensation you're entitled to.
Brooks West is a West Virginia personal injury lawyer who helps people who have been injured by negligence or wrongful conduct. He is the President and founder of West Law Firm and has been an attorney since 2005. Brooks is a Multi-Million Dollar Advocates Forum member and has been awarded the AV Preeminent Rating from Martindale-Hubbell.