West Virginia Birth Injury Lawyers
Every day, families trust doctors to deliver their babies, but unfortunately sometimes medical error occurs. At West Law Firm, our West Virginia birth injury lawyers realize that birth injuries are one of the most devastating forms of medical malpractice. That's why we are dedicated to helping the families and babies affected by negligent birth injuries get the justice compensation they deserve. 
Birth Injuries
A birth injury is any form of injury or harm that an infant suffers related to their birth. Of course birth injuries are never intended but are often caused by a medical mistake. When a child is injured by a medical mistake, also known as medical malpractice, a birth injury lawyer can help you recover the compensation that your baby needs and deserves. 
For example, the cost of care for someone with cerebral palsy is about 10 times greater than for the average person. A skilled birth injury lawyer, like those at West Law Firm, can help ensure you have the financial resources to meet these standard costs and do even more for your child.
Free Consultation with a Birth Injury Lawyer: If you suspect your child was injured by a medical mistake, we invite you to call one of our birth injury attorneys at 1-877-943-9378 (WEST). 
Birth Injuries Caused by Medical Negligence or Malpractice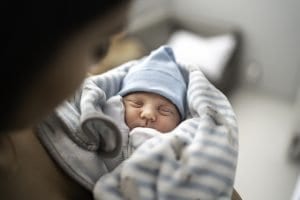 Brain injuries during or immediately after birth can range from minor to catastrophic. While most labor and deliveries are a joyful time for families, things can go wrong, and the results can leave a lasting impact on the baby and the rest of the family. Some noteable injuries related to birth trauma include:
Cerbral palsy
Erb's palsy
Skull fracturing and brain injuries
Nerve damage
birth defects
Hypoxia—Hypoxia happens when a baby's brain does not receive enough oxygen. It can be caused by damage to the placenta, a tangled umbilical cord, or being squeezed in the birth canal during childbirth. Medical professionals should recognize the warning signs of hypoxia and take immediate action to eliminate the risks of harm.  Prolonged hypoxia can lead to lifelong mental and physical disabilities
Common Causes of Birth Injuries 
Medical negligence can take place at any time during the pregnancy and can have serious or fatal outcomes for the mother or the baby. Medical negligence that can occur at any time during the pregnancy can include:
Failure to perform specialized testing during the pregnancy when warranted
The improper use of forceps—Forceps are metal tools that look like tongs and are shaped to fit around a baby's head. They are used to help change the baby's position or help the baby move through the birth canal when necessary. When misused, forceps can cause birth injuries, including a traumatic brain injury, craniofacial injury, or a skull fracture. Numerous conditions, including cerebral palsy, have been linked to the improper use of forceps 
Delays in Ordering a Cesarean Section—Emergency C-sections are ordered when the mother or baby experiences distress. Hemorrhaging, placental abruption, severe drops or spikes in the mother's blood pressure, or signs of fetal distress are common reasons for an emergency C-section. If the medical professionals fail to recognize the need for a C-section or fail to act in a timely manner, and the mother or child suffers harm, there may be a case for medical malpractice
Failure to adequately monitor, and note changes in the condition of the fetus
Failure to diagnose and treat infections, placental abruption, entrapment of the umbilical cord, or pregnancy-induced hyperglycemia 
Failure to diagnose and treat preeclampsia or eclampsia, which can be fatal to mother and baby if not diagnosed, closely monitored, and treated
Problems in pregnancy and birth are common, even with the best medical care available. Medical malpractice occurs when the problem is caused or exacerbated by medical professionals who fail to fulfill their duty to perform to the level of the standard of care. A birth injury lawyer should be contacted as soon as possible if you believe your baby suffered a birth injury due to medical neglect. 
Cerebral Palsy Lawyers in West Virginia
Cerebral palsy (CP) is a group of neuromuscular disorders caused by damage to the brain. CP affects the ability to control muscles, which results in problems with muscle tone, coordination, balance, posture, and reflexes. Spastic CP is the most common and can affect just the legs or the arms and legs. The more severe form, called spastic quadriplegia/quadriparesis can affect the entire body. It also often includes other conditions such as intellectual disability, vision, speech, and hearing disorders and can include seizures. 
Cerebral palsy symptoms can take months, or even years, to present. CP is one of the most common results of birth injuries. The most common causes of Cerebral palsy include:
Brain injury or damage during pregnancy can occur as a result of blood disorders, preeclampsia, gestational diabetes, or other causes of fetal hypoxia 
Brain damage during labor or delivery can be caused by a long, difficult delivery, strangulation of the baby by the umbilical cord, untreated infections in the mother or baby, or high or low blood pressure in the mother. 
Birth Defect Lawyer
Mistakes made in prenatal health care can result in a birth defect. If your child has a birth defect that might result from the negligence of a hospital or health care provider, the birth injury lawyers at West Law Firm will review your case with the compassion and skill you and your child deserve.
Medical negligence resulting in a birth defect can occur in numerous ways. Mistakes made by medical professionals, including:
Doctors
Nurses
Nurse Practitioners
Specialists
Lab Technicians
Ultrasound Techs
Manufacturers of Medical Equipment 
Birth Injuries Caused During Pregnancy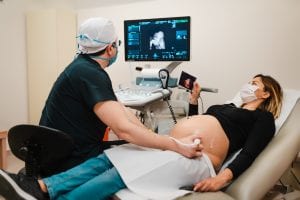 Negligent malpractice during pregnancy can pose a significant risk to both mother and baby. Some examples of negligent malpractice during pregnancy include:
The failure to perform an ultrasound at the appropriate times, or failing to perform the ultrasound properly
Improper interpretation of an ultrasound or the improper interpretation of other test results
The failure to perform warranted diagnostic testing
Prescribing medications that are unsafe during a pregnancy
Failing to advise patients of known risks or failing to provide patients with all available medical options when a problem is discovered
Failing to perform an ultrasound properly
Failing to read an ultrasound properly
Performing a diagnostic test incorrectly
Failing to perform necessary tests
Ignoring test results
Not advising the patient of risks
Common birth defects that can be a result of medical negligence include:
Spina Bifida
Cleft palate
PKU
Cerebral Palsy
Hydrocephaly
Limb Deformities
Head Deformities
Some birth defects can be caused by taking medications during pregnancy that are known to contribute to congenital disabilities. Others may be the result of a failure to notice problems that lead to trauma or injury. If you are concerned that the lack of adequate medical care during your pregnancy resulted in a birth defect for your child, it is crucial that you contact a birth injury lawyer. 
What is Medical Malpractice in West Virginia? 
Medical negligence or malpractice occurs when a patient is harmed by a medical professional failing to perform their medical duties to meet an established standard of care. Medical malpractice lawsuits in West Virginia are notoriously complex, with strict procedural rules that must be followed. The burden of proof, which rests with the plaintiff, is substantial. 
West Virginia also has a short statute of limitations. The general rule is that a family has two years to bring an allegation of medical malpractice in a birth injury case. However, there are exceptions.
The clock starts ticking from the time the injury occurs or within two years of the date when reasonable due diligence should have discovered the injury. While that may seem reasonable for catastrophic injuries, it can often be more complex in birth injuries. Babies develop at different rates, and it can take some time to recognize the nature of an injury sustained during birth. 
Free Consultation With a West Virginia Birth Injury Lawyer
At West Law Firm, our West Virginia birth injury attorneys care deeply about the struggles families endure when their child sustains a birth injury. The costs of medical care and physical therapy, specialists, and the impact on the ability of one or both parents to work can have a devastating financial impact on families. 
If your child was harmed by inadequate prenatal care or an injury at birth, West Law Firm invites you to call us for a free case evaluation. Our law firm is located in Charleston, West Virginia, but we serve clients throughout the state and will come to you if you prefer. Our toll free number is 1-877-943-9378 (WEST).