Know the No Zones: How to Avoid Big Truck Blind Spots and Accidents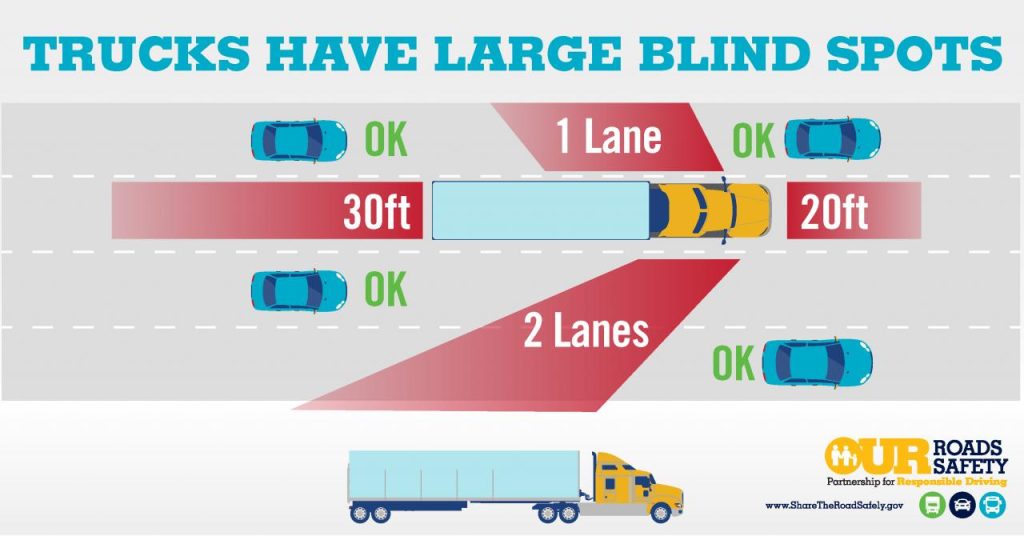 Safely Sharing the Roads with Big Trucks and Buses
Large trucks and buses are involved in over 4,000 fatal U.S. crashes yearly. In 2015, 4,311 fatal crashes involved commercial vehicles — 8% more than the year before. Big trucks and buses are especially dangerous because of their immense weight and blind spots, also called No Zones by the Federal Motor Carrier Safety Administration.
How to Avoid Truck and Tractor-Trailer Blind Spots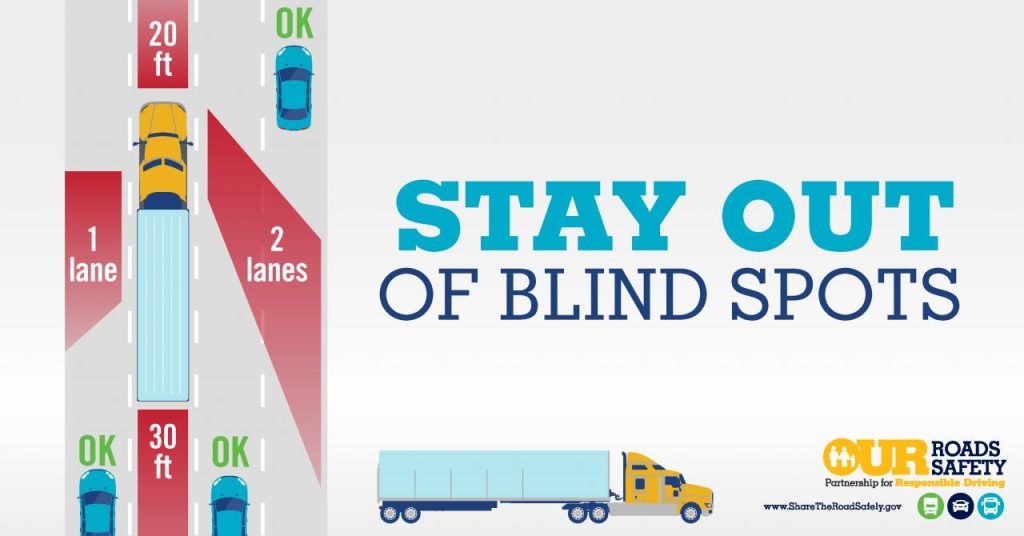 Knowing where big truck and tractor-trailer blind spots are is the first step to avoiding them. As illustrated above and below, a commercial driver has limited visibility because of large blind spots around the front, back, and sides of the vehicle. Striving to stay out of these "No Zones" as much as possible will help you avoid crashes involving big trucks and buses.
Tractor trailer drivers' biggest blind spot is on the right side of their vehicle. So, the No Zone on their right side is bigger and takes more effort to avoid.
Passing or Being Passed by a Big Truck is a Top Cause of Truck Accidents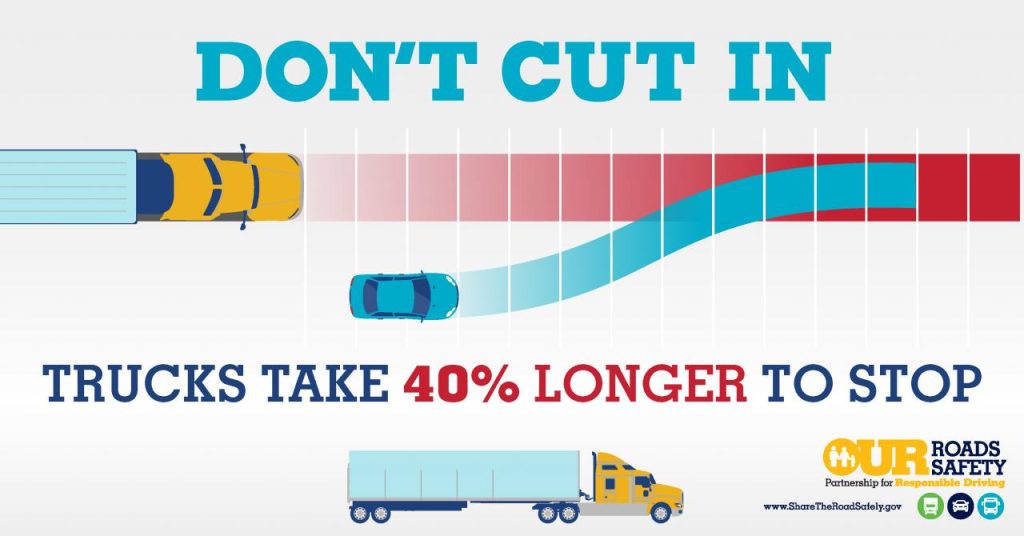 One of the most dangerous conditions involving big truck blind spots is when you want to pass a truck or a truck driver wants to pass you. Thus, using extra caution when passing or being passed by big trucks will help keep you safe. And perhaps most importantly, avoid cutting in front of a big truck or bus because they take 40% longer to stop than cars and SUVs.
Tractor Trailer Turns, Backing Up and Changing Lanes
When a commercial truck driver is turning, backing up, or changing lanes, blind spots become especially dangerous. Using extra caution when driving around commercial trucks that are turning or changing lanes will help you avoid an automobile collision.
Tractor Trailers, Tailgating, and Blind Spots
Because big truck drivers typically don't have a functioning inside rear-view mirror, they can only see you in their side mirrors. Therefore, large commercial vehicles need a longer following distance so their drivers can see you. If you can't see the truck driver in his or her mirror, the truck driver can't see you, according to the FMCSA.
Use Extra Caution: 31% of Fatal Crashes in Work Zones Involve a Large Vehicle like a Bus or Truck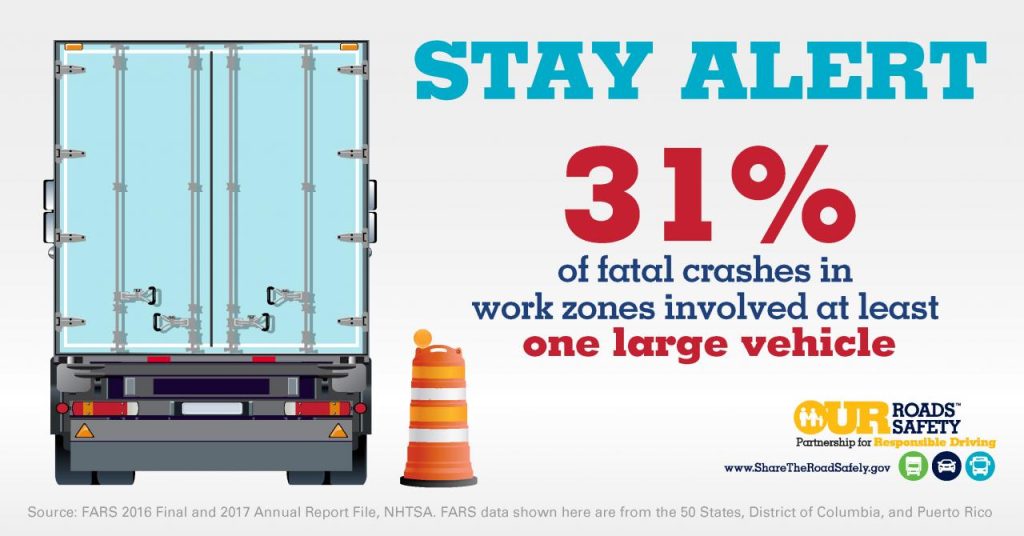 There are already too many workplace accidents and injuries in West Virginia and beyond. Driving with greater awareness and caution in work zones can help protect yourself and those working in work zones, especially when big trucks are around can help save lives. 31% of wrong death claims stemming from a fatal crash in a work zone involved at least one large vehicle.
Free Consultation with a Top-Rated West Virginia Truck Accident Lawyer
We hope these tips help keep you and your loved ones safe when traveling. However, if you or a loved one has been injured in a West Virginia car accident or truck crash, we invite you to call our experienced West Virginia truck crash lawyers at West Law Firm for a Free Case Evaluation. Time is of the essence in commercial truck cases. One of many reasons why this is true is that preserving evidence is critical in big truck and tractor trailer cases, and commercial truck companies only have to keep certain records and evidence for a limited period of time.
Our toll free number is 1-877-943-9378. Also, there's No Fee unless and until You Win.
Brooks West is a West Virginia personal injury lawyer who helps people who have been injured by negligence or wrongful conduct. He is the President and founder of West Law Firm and has been an attorney since 2005. Brooks is a Multi-Million Dollar Advocates Forum member and has been awarded the AV Preeminent Rating from Martindale-Hubbell.