Slip and Fall Lawyer in West Virginia
WV Slip and Fall Settlements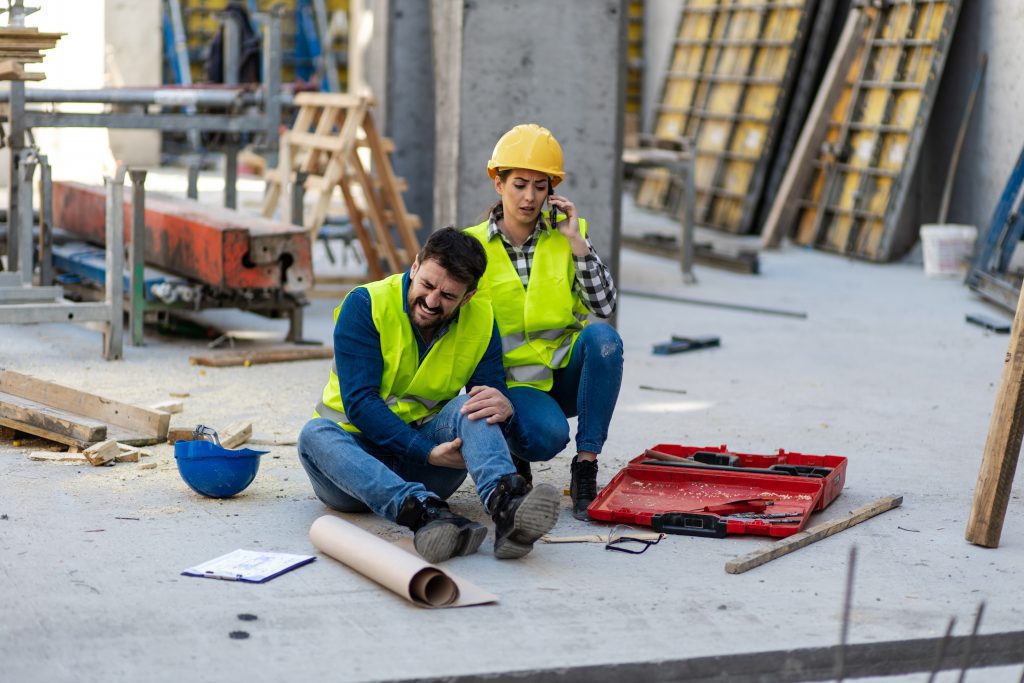 The slip and fall lawyers at West Law Firm are among the highest-rated premise liability attorneys in West Virginia. With decades of combined experience securing slip and fall settlements for injured clients, we know first-hand that slip and falls are a leading cause of injury in West Virginia.
Unfortunately, recovering total compensation under West Virginia law for your injuries, medical bills, lost wages, pain, suffering, and other damages can be challenging. This is especially true because of West Virginia's open and obvious statute that was passed by WV legislatures a few years ago.
Having an experienced slip and fall lawyer on your side, like us at West Law Firm, can make a big difference in whether you recover all the compensation you are entitled to. Below are some issues that will likely affect your West Virginia slip and fall case. If you'd like to discuss them in detail, we invite you to call us for a free case evaluation by an experienced slip and fall lawyer. Our toll-free number is 1-877-943-9378 (WEST).
Premise Liability Law: Did a Dangerous Property Condition Cause You to Fall?
To obtain a slip and fall settlement, you will need to prove that there was a dangerous condition on another's property that caused you to fall. An experienced West Virginia slip and fall attorney can also help determine if the dangerous condition violated a safety statute, like those contained in the WV Building Code. Proving a property owner violated a West Virginia safety statute will make it much easier to settle your claim and avoid a slip and fall lawsuit.
Some common examples of dangerous conditions that frequently cause people to fall are:
slippery surfaces, often caused by liquid, snow or ice
uneven walking surfaces, like cracks and rises on sidewalks
potholes
poor lighting
poorly maintained property
lack of handrails
Did the Property Owner Know About the Dangerous Condition or Should He Have Known About It?
Under West Virginia premise liability law, generally, a property owner has to have known about the dangerous condition that caused your fall. To meet this requirement, you may also be able to show he should have known about the unsafe condition, even if he argues that he didn't know about it. For example, a grocery store can't fail to inspect and sweep their floors for two hours, then argue they didn't know about spilled oil that caused you to slip and fall.
Property owners generally have a duty to conduct reasonable inspections of their property for unsafe conditions. If they don't conduct reasonable inspections of their property, property owners usually can't claim they didn't know about the dangerous condition as a defense.
Were Adequate Warnings Posted?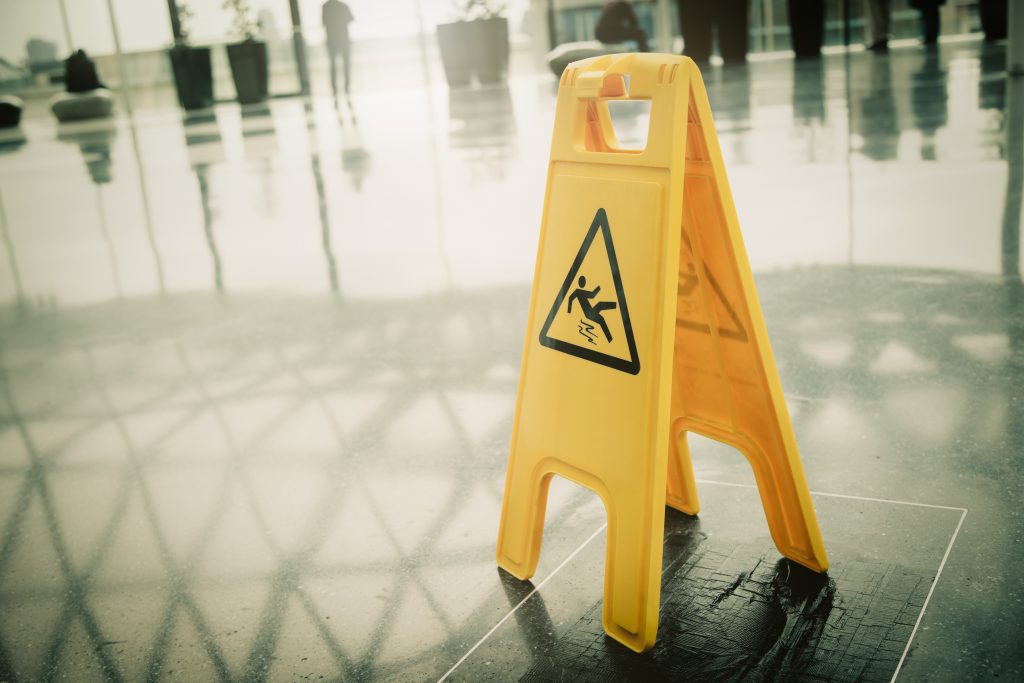 If you're able to establish the elements above, the insurance adjuster or property owner may argue that warnings were posted, and, thus, the property owner is not liable for your injuries. For example, although a business's floor may be wet, if there's a clear sign that says, Caution: Wet Floor, then it will be more difficult to argue the business's negligence caused you to fall on the slippery floor. On the other hand, the property owner may have put the warning sign in a location where you couldn't see it before you fell. In that case, you'd have a good argument that the warning was inadequate.
Was the Hazardous Property Condition Open and Obvious, Under West Virginia Law?
In 2017, West Virginia lawmakers passed a law that limits people's ability to pursue slip and fall claims if they fell because of a hazardous condition that was open and obvious. This is one of the biggest obstacles in winning a West Virginia slip and fall lawsuit. Winning this argument usually requires the help of an experienced slip and fall lawyer.
The West Virginia open and obvious statute says, in part, that a property owner, "owes no duty of care to protect others against dangers that are open, obvious, reasonably apparent or as well known to the person injured as they are to the owner or occupant, and shall not be held liable for civil damages for any injuries sustained as a result of such dangers." West Virginia Code § 55-7-28
West Virginia's open and obvious rule is often unfair. However, a highly skilled slip and fall attorney can often help you overcome this rule.
What Compensation Is Available for Slip and Fall Injuries in West Virginia?
The compensation you may be able to recover will depend on the details of your claim and your injuries. For example, did you suffer minor sprains and strains or a more severe condition like a brain injury? That said, common forms of compensation include the following:
Past and future medical bills
Past and future lost wages
Past and future pain and suffering
Loss of earning capacity
Past and future loss of enjoyment of life
Compensation for duties under duress
Punitive damages, if appropriate
Although punitive damages are not commonly available in slips and fall settlements, an experienced attorney may be able to help you recover punitive damages if the defendant's conduct amounted to a reckless, wanton or willful disregard for others' safety.
How an Experienced West Virginia Premise Liability Lawyer Can Help You
As you can see from the above, slips and fall claims are often challenging and difficult to win. Below are some actions an experienced injury attorney can take that will likely help your case.
Conduct a site inspection to identify the dangerous condition that caused the slip and fall accident
Secure evidence of the dangerous condition before it disappears or is destroyed
Identify and contact witnesses to the slip and fall accident or witnesses who have knowledge of the dangerous condition
Track down prior complaints about the dangerous condition or of prior slip and fall accidents at the same location
interview and/or depose employees of business where you fell
Hire a premise liability expert or engineer to help evaluate the dangerous condition and prove a safety standard or regulation was violated
File a lawsuit if the insurance company fails to offer you full and fair compensation.
What to do After a Slip and Fall Injury
1. Seek medical help
If you fall and are injured, it's important to seek medical help immediately. If you're injured and delay in seeking treatment, an insurance company may later claim you weren't really injured or you would have sought medical treatment sooner.
2. Take photos of any visible injuries and the hazard that caused your fall
To recover fair compensation for your injuries, it is necessary to identify the dangerous condition that caused you to fall. Because walkway's dry, sidewalks may be repaired, and objects may be removed, it's important to preserve the evidence at the site of your fall as soon as possible. That said, if you decide to allow West Law Firm to help you, we will be sure to preserve the evidence and even send a safety expert to inspect the dangerous condition, if we believe that would be prudent for your case.
3. Get a Free Consultation With an Experienced Slip and Fall Lawyer
Most West Virginia lawyers do not successfully handle slip and fall cases on a regular basis like we do at West Law Firm. Speaking with an attorney about your case and options can be very helpful to the outcome of your case. However, it's important to speak with the right attorney. When speaking with a lawyer, you can simply ask what's their track record and experience handling accident claims like yours.
Free Case Evaluation from a Top-Rated West Virginia Slip Fall Attorney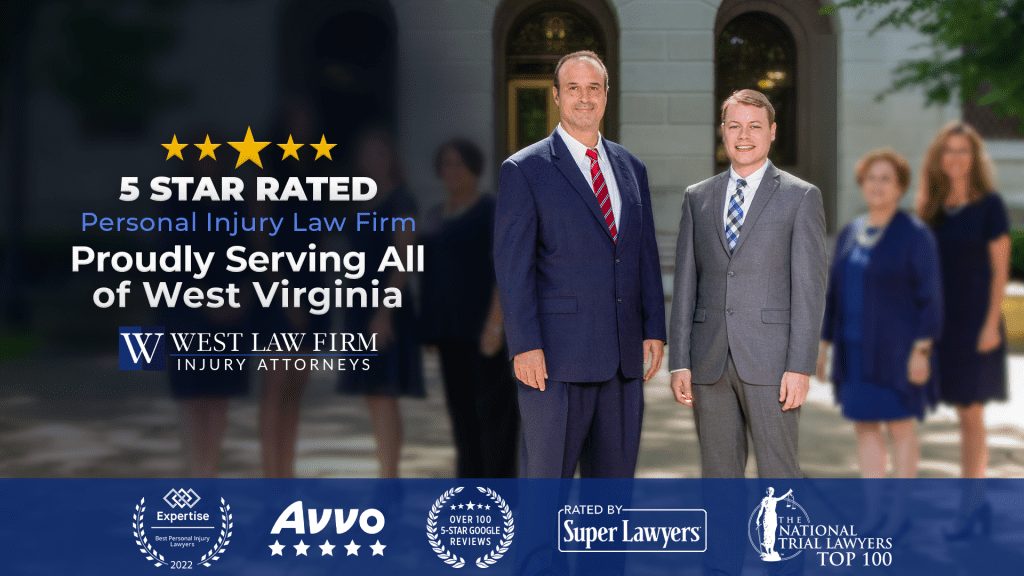 If you or a loved one has been injured by any kind of negligence, including a negligent property owner, we invite you to call us today for a Free Case Evaluation. Our toll-free number 1-877-943-9378 (WEST), and there's NO FEE unless you win.
West Law Firm is located in Charleston, West Virginia, and our personal injury lawyers serve injured clients throughout the state.