Safely Sharing West Virginia Roads with Big Trucks, Tractor Trailers & Buses
How to Avoid Large Truck Crashes in West Virginia

According to the Federal Motor Carrier Safety Administration, large trucks and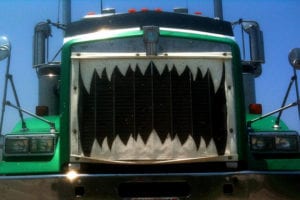 buses were involved in 3,702 fatal crashes in 2012, and over 4,000 people died as a result. Not surprisingly, the National Highway Traffic Safety Administration (NHTSA) found that 76 percent of fatalities from tractor-trailer collisions were the occupants of the passenger vehicle.
Fortunately, there are steps you can take to help avoid a tractor-trailer accident. Understanding the needs and limitations of large trucks helps put these steps in perspective.
Driving Large Trucks and Tractor Trailers: What's the Difference?
Blind Spots – Truckers have a reduced field of vision compared to drivers of passenger vehicles. They also have multiple blind spots, including in front of and behind their trucks and large blind spots on both sides, especially the right.
Slow to stop – most vehicles can stop and react quickly to traffic changes. Tractor-trailers can't because of their size. 
Wind vulnerability – Because semis are built for hauling instead of aerodynamics, they have a large surface area, which makes them harder to control in windy conditions.
Wide turns – Semis need a lot of space to make turns.
What You Can Do to Protect Yourself
Pay attention – Staying aware at all times is critical to avoiding automobile crashes, and this is especially true when driving near a large truck. Distracted driving is the opposite of attentive driving. Driving while texting, tuning the radio, or talking on the phone are all examples of distracted driving.
Give them space – Here's what State Farm Insurance says about sharing the road with large trucks: "Keep a safe following distance — four seconds or more — between you and large trucks to help avoid dangerous situations, such as sudden stops (and subsequent rear-ending), a truck rollover over in high wind, a tire blowout or a wide truck turn. Note: If you can't see the trucks mirrors, they can't see you."
Pass on the left at a steady speed – Because tractor-trailer operator's biggest blind spot is on the right, it's safest to pass on the left. It's also important to maintain a steady speed greater than the semi to avoid cruising next to it for longer than necessary.
Don't follow too closely, including uphill. If you are behind a tractor-trailer on an incline, allow ample space because the truck may drift backwards when shifting.
Tips from Drivers of Large Trucks and Semis
"Never, never [cruise] next to a truck. Pass as soon as possible. If one of their tires blow, it can cause serious damage and harm."
-Tractor Trailer Operator with 35 years of experience
"Little cars pass me then slow down. I have not figured out why. Do they have a death wish? Please wake up…get off your cell phone or stop putting on make up wile driving…the mortician will do it for you [if you don't pay attention]."
-Heavy equipment haul truck operator
"If you must be close to a truck, keep their rearview mirrors in your own view. If you can't see the mirrors, the drivers cannot see you."
"When passing a big rig, pass at 5 mph faster than the truck, get past those tires."
Complimentary Consultation with a West Virginia Truck & Tractor-Trailer Accident Lawyer
We hope the tips and information above help keep you safe on the road. If, however, you or your loved one is injured because of another's negligence, we invite you to call West Law Firm for a free and confidential consultation. This includes truck drivers who were injured at work because of safety violations or defective equipment. Our toll free number is 1-877-943-9378 (WEST). There's never a fee unless and until we recover money for you. If you can't come to us, we'll send an experienced West Virginia personal injury lawyer to you.
Related Articles
How to Keep a Safe Driving Distance
Truck Accidents – Five Issues Part I
Truck Accidents – Five Issues Part II
Brooks West is a personal injury lawyer with almost two decades of experience and the founder and President of West Law Firm. Brooks is a member of the Multi-Million Dollar Advocates Forum, which represents one of the most prestigious groups of injury lawyers in the United States — fewer than 1% of U.S. attorneys are members. Brooks has also been awarded the AV Preeminent Rating from Martindale-Hubbell. Above all, Brooks' mission is to provide clients with life-changing results.