The Easy Way to Determine What's a Safe Driving Distance on WV Roads? (2-3 Second Rule)
Following vehicles too closely is the number one cause of rear-end crashes in West Virginia. A driver can avoid most, if not all, rear-end crashes by keeping a safe separation distance between him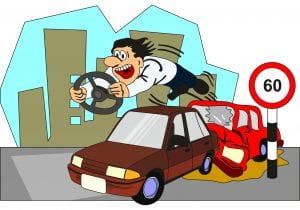 and the vehicle ahead. How long that distance needs to be varies depending on traffic, weather, road and vehicle conditions.
Safe Driving Distance and West Virginia Law
Keeping a safe distance is required by West Virginia law, and law enforcement frequently ticket at-fault drivers for following too closely after a car accident. Therefore, keeping a safe distance between you and the vehicle in front helps keep you and others safe, and not following too closely also protects you legally and financially.
How is Following too Closely Defined by the Law?
Following too closely is commonly referred to as tailgating. However, a driver may be following too closely even if they don't appear to be tailgating. Following too closely is defined by the US Federal Motor Carrier Safety Agency as, "situations in which one vehicle is following another vehicle so closely that even if the following driver is attentive to the actions of the vehicle ahead he/she could not avoid a collision in the circumstance when the driver in front brakes suddenly."
In addition to providing enough stopping time, proper following distance allows for more time to make good, well-planned decisions and affords other drivers the opportunity to scan the sides, look far enough ahead, and view the vehicle immediately in front.
The Large Truck Crash Causation Study (LTCCS) reported that 5 percent of truck crashes occurred when the Commercial Motor Vehicle (CMV) driver was following the lead vehicle too closely.
How to Measure a Safe Following Distance to Avoid Automobile Crashes
According to the West Virginia Department of Transportation and a number of safety resources, including State Farm Insurance, one way to maintain a safe driving distance is by following what's called the two or three-second rule.
When traveling on a highway, the WV DOT says the minimum distance to keep between you and the vehicle in front of you is 2 seconds, but that is the bare minimum. Keep in mind two seconds is the distance needed on clear sunny days. At night or during inclement weather you need to increase your safety margin to four to eight seconds. You should maintain these cushions as best as possible including the time you find yourself riding in traffic.

Measuring a Safe Driving Distance
To figure your distance correctly pick a point on the road, like a sign or a seam in the pavement, watch the vehicle ahead of you pass it and count the seconds it takes you to reach that point. The number of seconds you count is your following distance. Of course, it may not be reasonable to calculate this measurement every time you drive. However, if you try it a few times, this exercise will likely give you a better feel for what's a safe driving distance and may even protect you and your loved ones from a car crash.
Following distances should be increased when road conditions are affected by the weather. Even brief rain showers may contribute to slippery road conditions. Bridges and overpasses frequently become slick in cold weather before other road surfaces. You should also increase the following distance when visibility is poor and when you are in traffic or have other reason to believe the driver in front of you may need to make a sudden stop.
Get a Free Consultation with an Experienced West Virginia Personal Injury Lawyer
We hope this article keeps you and your family safe and you never need our services. However, if you or a loved was injured in a West Virginia auto accident, hurt at work, or by negligence, we invite you to call one of our experienced personal injury lawyers for a Free Consultation. Our toll-free is 1-877-943-9378.
Brooks West is a personal injury lawyer, founder, and President of West Law Firm. He has been helping those wrongfully injured in West Virginia for almost two decades. The results and service he provides his clients have earned him membership in the Multi-Million Dollar Advocates Forum and the AV Preeminent Rating from Martindale-Hubbell. Brooks is most proud of the many 5-star reviews he has received from satisfied clients.