Huntington, WV Car Accident Lawyer
You may be the best driver in the world, but that won't always protect you from another negligent driver that crashes into you. When you're in a car accident, turn to Huntington, WV car accident lawyers with the experience, skill, and willingness to fight for you to get the most from your car accident claim.
West Law Firm has decades of legal experience to maximize the value of your injury claim. We treat our clients like family, and the insurance companies know our names. Call us first, and you'll understand why we're the team to go with after your car accident.
How Will Your Huntington, WV Car Accident Lawyers Help Me?
Car insurers are supposed to pay accident victims for their injuries, lost wages, and other costs related to their accident claims. Unfortunately, they use a lot of tricks to reduce the amount they have to pay so they can keep their profits.
They have huge legal teams, insurance adjusters, and investigators working all day to find ways to lower or deny someone's accident claim. Without an experienced Huntington, WV accident lawyer on your side, it's usually impossible to get what you deserve for your auto accident.
Why should you have to suffer for someone else's negligence and also get denied what you deserve to receive in compensation? You shouldn't, and that's why you need someone with the aggressive reputation of the West Law Firm on your side fighting for your rights after a car accident in Huntington.
How Do Car Accident Settlements Work in West Virginia?
West Virginia is an at-fault state, so you must file a claim with the other driver's insurer, or your own in the case of an uninsured accident. But before you do that, though, it's best to speak with an experienced accident attorney to help you get the most money possible from your accident in the shortest amount of time with as little stress as possible.
Insurers will use your lack of knowledge about car accident settlements to pay you as little as they can, and they will also likely try to get you to divulge information that could hurt your accident claim. As soon as you take a settlement, you can't go back for more money later. If an insurer offers you a quick settlement, don't accept it before taking it to us first.
We'll see if it's a fair one. If it's not, our car accident attorneys in Huntington will counter their claim with the true value of your case and fight hard for what you deserve. If they refuse to listen, we'll take them to court for you. Call us 24/7 to get a free and confidential case evaluation. Our toll-free number is 877-943-9378 (WEST).
How Much Will I Get From My Car Accident Settlement?
Every car accident is unique, so it's impossible to say without examining the evidence and the facts of your auto crash case. However, you may get a preliminary estimate based on previous similar cases and any initial evidence you bring with you to the consultation.
There are lots of factors to consider when calculating a value for a Huntington, WV car accident case. Here are a few of them:
How were you injured, and how expensive will your medical care be?
What was the value of your car? Can it be repaired or replaced?
If you cannot work while you recover, how much were you making?
Can you return to your previous job?
How much pain and suffering did you experience?
How does your accident affect your family?
How was the other driver negligent? For example, were they intoxicated, speeding, or reckless?
If you need future medical treatment and or anticipate future lost wages, that will have a big impact on how much your case is worse.
Do I Need to Report My Huntington, West Virginia Accident?
Yes, report your accident because it creates a record of what happened by a trusted third party. Without this, it will be harder to prove your side of the story. There are also situations where you must report an accident to local or state police by West Virginia law. These are as follows:
Accidents involving injury or death
Accidents involving over $500 in property damage
Never let someone talk you into staying quiet about an accident if either of these have happened. You'll be breaking the law, and insurers may try to deny your claim because you don't have evidence that an accident happened.
You'll also need to report your accident to your insurer after you've been hit. This is usually a condition for coverage, and it helps them prepare for any claims made against you. If you want advice on how to do this, speak with our Huntington, WV lawyers first after receiving medical attention.
What Happens if I Share Fault in the Accident?
The other driver may try to say that you share fault in the accident. How does the law in West Virginia handle this situation? If your case goes to court and the judge and jury find you both shared fault, the compensation will get adjusted according to the rules of modified comparative negligence.
Simply put, they will assign a percentage of blame for each driver in the accident. Anyone who is over 50% at fault for the accident will not receive damages.
However, for each percentage of fault shared, your compensation will get reduced by that much. So if you're 20% responsible for an accident, you will lose 20% of the award. Our Huntington car accident lawyers will fight accusations by the insurers that you share responsibility so you can get the most money possible.
How Long Do I Have to File My Claim with a Huntington, WV Car Accident Lawyer?
In West Virginia, the general rule is you have two years to file your claim before you reach the statute of limitations. This is a legal deadline for filing a lawsuit with the court. If you try to file after this point, the court can immediately dismiss your case. This puts all the power in the hands of the insurer if you wait too long. However, there are some exceptions to this rule.
Also, contacting a car accident lawyer as soon as you can after your car or truck accident will likely help your claim because it gives them enough time to build a strong case before they have to start a lawsuit.
Can You Help Me with a Wrongful Death Claim after a Car Accident?
You can file a wrongful death claim on behalf of a loved one who died in a car accident if you meet certain qualifications. If you have lost a loved one in a car accident, West Law Firm offers its sincerest condolences.
A free consultation with our car accident attorneys in Huntington can tell you if your case may qualify for a wrongful death settlement. The money from the claim can pay for funeral expenses, final medical bills, and other damages.
What If I'm Injured Driving on the Job?
If you were injured while working in West Virginia, you may get both workers' comp and money from a third-party lawsuit if the other driver was not an employee of your company, you were on the clock, and you weren't at-fault for the accident. If you were injured while driving for work because your employer violated a safety rule and knew about, you may also have a personal injury claim against your employer.
West Virginia work injury claims can be complicated, and our West Virginia work accident lawyers would be happy to give you a Free Consultation.
Free Consultation With a Top-Rated Huntington, WV Accident Lawyer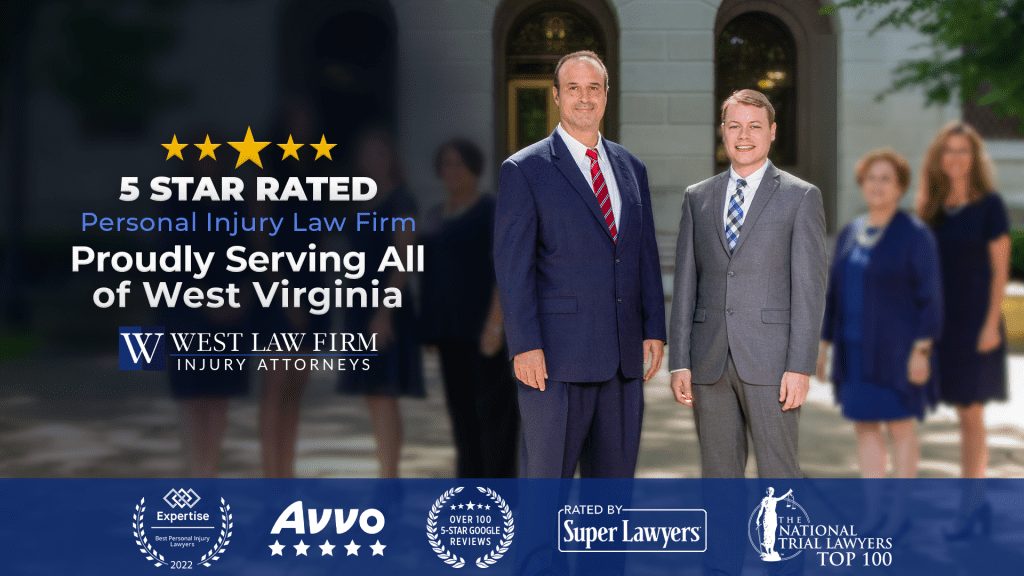 If you were injured in a car or truck accident or hurt by negligence, we encourage you to call one of our top-rated West Virginia car accident lawyers for a free and confidential consultation. At West Law Firm, there's also No Fee unless and until you recover compensation.
West Law Firm's toll-free number is 1-877-943-9378 (WEST), and one of our WV auto accident attorneys will come to you if it's more convenient for you.