IVC Filter Lawsuits
West Virginia IVC Filter Injury Attorneys
What is an IVC Filter?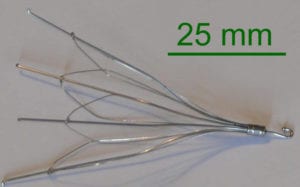 Inferior vena cava (IVC) filters are medical devices designed to stop blood clots from traveling to the lungs.  The IVC filter is a small, wire, basket-shaped medical device that is surgicallyinserted into the inferior vena cava. The inferior vena cava (IVC) is the large vein that returns blood from the lower body to the heart and lungs. The filters can be one of two types: retrievable or non-retrievable.
Purpose of IVC Filters
IVC filters are intended to prevent life-threatening pulmonary embolisms, also called: blood clots in the lungs and most types are supposed to be removed from the body when they are no longer critically needed. Unfortunately, many IVC filters were not removed as they should have been causing many people injury and harm.
What are the Dangers of IVC Filters?
In 2010, the United States Food and Drug Administration (FDA) reinforced the safety concerns about IVC filters when it issued a Device Safety Communication. Specifically, the FDA reviewed more than 900 adverse events related to the IVC filters from 2005 to 2010. Those adverse events included:
IVC filter migration.  The device becomes dislodged from where it was implanted and moves up to other areas of the body, causing serious injury.
IVC filter fracture.  Through no fault of the patient, the basket-like structure breaks apart.  As a consequence, the sharp edges of the broken metal wires damage organs and blood vessels.
IVC filter embolization.  The implanted filter migrates to your heart or lungs, getting embedded, causing a true emergency called embolization.
IVC filter perforation.  A broken IVC filter can puncture the wall of the inferior vena cava or other organs or blood vessels, causing serious injury.
Other side effects.  IVC filters sometimes cause an infection, or the filter actually blocks the entire interior vena cava, rather than acting as a filter.
As a result, the FDA recommended that the IVC filter should be removed from a patient as soon as protection from a pulmonary embolism is no longer needed.
Use of IVC filters decreased significantly after the FDA issued the Device Safety Communication.  However, IVC filters are still in frequent use in the United States. In fact, IVC filter implantation rates are 25 times higher in the U.S. than in Europe.
IVC Filter Lawsuits and Settlements
Thousands of legal claims have already been filed against the manufacturers of certain IVC filters for poor design, failing to warn of risks, and other acts of negligence or worse. Many valid claims that have not yet been filed. In fact, many IVC filter recipients are still unaware that they may be at risk for injury and have valid legal claims.
As of October 2018, more than 9,000 lawsuits were filed in federal court against IVC filter manufacturers by individuals who have been injured because of the devices.
Two of the top manufacturers of the IVC filters named in the lawsuits are Cook Medical and Bard Peripheral Vascular, Inc. (a subsidiary of C.R. Bard). Studies have shown at least five IVC filters are prone to fail and injure the patient. These five filters are Cooks Celect, Cooks Gunther Tulip, Bards G2 Express, Bards G2, and Bards Recovery filters.
Compensation in an IVC Filter Lawsuit
If you have received an IVC filter, you may be entitled to the following compensation:
Past and future wage loss
Past and future medical expenses related to any injury caused by the IVC filter
Past and future pain and suffering caused by the IVC filter
Past and future loss of capacity to earn money
Past and future loss of enjoyment of life
Punitive damages
How the West Virginia IVC Filter Lawyers at West Law Firm Can Help – Free Case Evaluation
If you or a loved one has received an IVC filter that has not yet been removed or that has been removed after causing injury, we invite you to call West Law Firm for a FREE Consultation.  To learn more about your rights and options, call us today toll-free at 1-877-943-WEST (9378).  There's also no cost to you unless and until we recover compensation for you.