Hernia Mesh Injury Settlements & Lawsuits
Hernia Mesh Injury Lawyers in West Virginia
Hernia mesh lawsuits claim these medical devices are defectively designed and contain harmful materials shown to cause injuries to patients. Common injuries from defective hernia mesh include revision surgeries, chronic pain, infection, adhesion, bowel perforation, and obstruction complications.
If you have been injured by hernia mesh or suspect you have been harmed by hernia mesh, you may be entitled to compensation.
About Hernia Mesh Lawsuits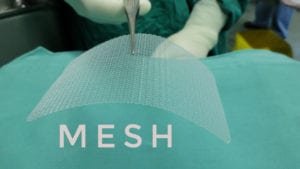 Hernia mesh lawsuits assert specific mesh products cause unnecessary injuries. Some hernia mesh contains a polypropylene coating shown to be toxic. The FDA recalled mesh products showing a higher than expected failure rate. Unfortunately, thousands of patients might have received a defective mesh device before any recalls were enacted. Plaintiff attorneys argue that using a defective mesh device is altogether unnecessary because safer mesh products or sutures can be used instead.
What Are Common Hernia Mesh Injuries?
Additional Surgeries
Infections
Mesh adhesion to bowels
Bowel Obstruction
Bowel Perforation
Organ Damage
Chronic Pain
Development of Autoimmune Disorders
Sudden Loss of Teeth
Renal Failure
What are the symptoms of Failing Hernia Mesh?
If you have hernia mesh, it's important to watch for early signs of failure and immediately report any symptoms to your treating physician. Complications from hernia mesh can occur within days up to years following your surgery. Symptoms include unusual pain in the abdomen, legs, groin, testicles, and joints.
Due to shrinkage movement, and erosion of these defective materials, symptoms can present throughout the body and appear seemingly unrelated. Watch for complication symptoms such as fever, nausea, severe headaches, rash, chronic fatigue, urinary issues, nerve damage, constipation, diarrhea, pain during sex, liver abnormalities, and even jaw infection.
What Compensation is Available for Hernia Mesh Injuries?
Your compensation will depend on the details of your claim. If a lawyer sues a hernia device manufacturer on your behalf, the amount is based on the following factors:
Past and future wage loss
Past and future medical expenses related to any injury caused by the Hernia Mesh
Past and future pain and suffering caused by the Hernia Mesh
Past and future loss of capacity to earn money
Past and future loss of enjoyment of life
Punitive damages, if appropriate
What if a Recalled Hernia Mesh Product was Used in Your Surgery?
According to the FDA, pain, infection, recurrence, adhesion, obstruction, and perforation are the most common complications associated with recalled mesh. In the FDA's analysis of medical adverse event reports to the FDA, recalled mesh products were the main cause of bowel perforation and obstruction complications.
The FDA provides the following information if you have or suspect you have recalled mesh:
Please refer to the recall notices here for more information if you have recalled mesh. If you are unsure about the specific mesh manufacturer and brand used in your surgery and have questions about your hernia repair, contact your surgeon or the facility where your surgery was performed to obtain the information from your medical record.
How the Hernia Mesh Attorneys at West Law Firm Can Help You
If you have been injured or suspect you have been injured by hernia mesh, it's important to speak with an experienced injury attorney as soon as possible because there is a limited amount of time you have to file a claim. At West Law Firm, we offer free consultations and never charge a fee unless you recover compensation. To contact us for a free case evaluation, we invite you to call us today toll-free at 1-877-943-WEST (9378). Our main office is located in Charleston, West Virginia, and we serve clients nationwide.