$4.69 Billion Verdict Against Johnson & Johnson Cut to $2.12 Billion in Talc Case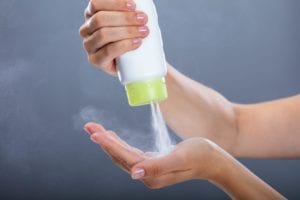 The Missouri Court of Appeals denied Johnson and Johnson's plea to throw out a jury verdict in favor of 22 women who claimed that J&J's talc baby powder and other talcum powder products caused their ovarian cancer. However, the appeals court reduced the original $4.69 Billion verdict to $2.12 Billion.
In this case, Robert Ingham vs Johnson & Johnson, the 22 individuals alleged that asbestos in J&J powder products contributed to their ovarian cancer. The Missouri Court of Appeal's decision comes 2 years after its initial start back in 2018 where a jury originally awarded the 22 women $4.69 billion. Though the Court of Appeals lowered the previously awarded amount, they refused Johnson & Johnson's repeated attempts to throw out that jury verdict altogether.
Court of Appeals Finds Proof of Johnson & Johnson's " Evil Motive or Reckless Indifference"
The Missouri Court of Appeals stated that the "Plaintiffs proved with convincing clarity that the defendants engaged in outrageous conduct because of an evil motive or reckless indifference."  Furthermore, in the court's 83-page opinion they concluded that the plaintiffs had proven Johnson & Johnson knew for decades that their talc products contained asbestos and went to extreme lengths to make sure the asbestos wouldn't be detected when products were tested. Based on this and other evidence, the court affirmed the verdict to an amount of $500 million in actual damages and $1.62 billion in punitive damages.
Johnson & Johnson: Facing the Consequences for Years of Deception
Though this case in Missouri was the first against Johnson and Johnson that focused on asbestos, the case's claims are no longer a revelation in the history of J&J's conduct. In 2018, an investigative report by Reuters brought J&J's actions to the spotlight. Reuters investigation found that J&J knew for decades that asbestos lurked in its talc. The earliest internal records dating back to 1966 from J&J showed that they knew their raw talc and finished powders often tested positive for asbestos.
The actions of Johnson & Johnson so many years ago have led Johnson and Johnson to where they are today, including :
 Involved in more than 19,000 lawsuits worldwide claiming that its talc products cause cancer because of contamination from asbestos.
Having to halt sales of the companies flagship talcum based baby powder.
Targets of federal criminal investigation about the safety of J&J talc products.
 Targets of investigations in 41 states into the sales of J&J baby powder products.
Center of investigations by a congressional subcommittee on the health risks of asbestos in J&J's products containing talc.
Johnson & Johnson's Response
Johnson & Johnson has said little on the matter of their involvement in these cases. However, after the decision last week, spokeswoman for J&J, Kim Montagnino, said "We continue to believe this was a fundamentally flawed trial, grounded in a faulty presentation of the facts. We deeply sympathize with anyone suffering from cancer, which is why the facts are so important. We remain confident that our talc is safe, asbestos-free, and does not cause cancer." Regarding what the company will do next in the Missouri cases, little is known as well, but  Montagnino has stated that J&J will now appeal the cases in Missouri to the Missouri Supreme Court.
4 Questions to Find Out if You Have a Talcum Powder Case?
At West Law Firm, we help clients who may have been injured from using Johnson & Johnson's talcum powder. If you answer yes to the questions below you may be entitled to significant compensation. If you answered no to some of the questions below and yes to others, we suggest you call us for a free case evaluation or call another firm of your choice to determine if you have a case:
#1 Did you or a loved one use one of the following powders as a part of a feminine hygiene routine?
Johnson & Johnson
Shower to Shower
Gold Bond
Equate
#2 Did you or your loved one use the previously mentioned talcum powder products for four or more years?
#3 Have you or your loved one been diagnosed with any of the following talc related cancers?
Ovarian Cancer
Invasive Fallopian Tube Cancer
Endometrial Cancer
Uterine Cancer
Invasive/Well-Differentiated Mucinous OVCA
BRCA Positive
#4 Did you or your loved one receive your cancer diagnosis on or after 2005? If diagnosed before 2005 and you have the medical records, we still may be able to help.
If you are still unsure after answering the previous questions we invite you to call us at  1-877-943-WEST (9378) for further assistance. Consultations are completely free and confidential.
How Much Compensation Should You Receive for Your Talc Case?
It's impossible to determine the exact amount a talc powder case is worth without knowing all the facts. That's why our goal at West Law Firm is to offer Free Case Evaluations with one of our experienced talcum powder lawyers. The details of your claim will help determine how much your talcum powder case is worth. If a lawyer sues the manufacturer or supplier of talc-based products on your behalf, you could receive the following:
Cost of your current and future medical bills
Pain and Suffering
Past and Future lost wages and benefits: This refers to the pay you could have earned but have been unable to do so because of your injuries. You can claim this in a personal injury claim against an at-fault party.
Loss of enjoyment of life: When you have suffered a physical or mental injury and that injury stops you from doing activities that you enjoyed doing before your injuries.
Mental anguish damages: These damages cover certain types of suffering. These types of suffering may include distress, anxiety, fright, depression, grief, or trauma that you have from this event.
Punitive damages against the company or manufacturer: These are the damages you receive to punish the defendant for their bad conduct. These damages help reform or deter the defendant and others from engaging in this conduct and similar conduct again.
Get a Free Consultation with a West Virginia Talcum Powder Lawyer
If you or someone you love have been a victim to the use of asbestos laced powder or another dangerous product we would like to offer you a free consultation. Our toll-free number is 1-877-943-WEST (9378), there's also no cost to you unless or until you recover compensation. You can also check out our Talcum Powder FAQ or our page which has answers to some of the most commons questions regarding these cases. Our attorneys serve clients injured by talcum powder in West Virginia and nationwide. Remember, you should not have to pay for a company's negligent behavior.
Brooks West is a West Virginia personal injury lawyer who helps people who have been injured by negligence or wrongful conduct. He is the President and founder of West Law Firm and has been an attorney since 2005. Brooks is a Multi-Million Dollar Advocates Forum member and has been awarded the AV Preeminent Rating from Martindale-Hubbell.