West Virginia's $3.9 Million Pelvic Mesh Settlement: What Does It Mean for Hernia Mesh Lawsuits?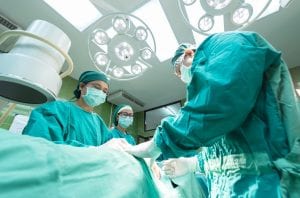 Charleston, W.Va. — Johnson & Johnson and West Virginia agreed to a $3.9 million settlement over a lawsuit involving the company's marketing of a surgical mesh product used to treat pelvic conditions in women, WV Attorney General Patrick Morrisey announced Monday.
That lawsuit represents just one of the many lawsuits Johnson  & Johnson is facing in connection with their pelvic mesh devices. In this article, we will discuss the recent news and underlying details regarding West Virginia's lawsuit against Johnson & Johnson. We will also cover a brief history of pelvic mesh devices that resulted in the lawsuits Johnson & Johnson are facing today and what the litigation regarding pelvic mesh will mean for hernia mesh devices.
If you have more questions about hernia or pelvic mesh devices in connection with your own personal circumstances, we welcome you to call us at The West Law Firm. Our experienced injury attorneys assist many clients with medical device issues, including hernia mesh. Call us to find out more at 1-877-943-WEST (9378), or you can fill out our online contact form.
West Virginia's Pelvic Mesh Lawsuit is One of Many Against Johnson & Johnson.
This most recent settlement with Johnson & Johnson comes amidst a number of lawsuits brought by several states against the company over their pelvic mesh product.
Specifically,
 In January 2020, a California judge ordered Johnson & Johnson to pay $344 million following a trial brought by the State of California related to the company's surgical mesh devices.
In October 2019, Johnson & Johnson agreed to pay $117 million to resolve multi-state litigation involving 41 states and the District of Columbia.
 In April 2019, the State of Washington's lawsuit against Johnson & Johnson was resolved for $9.9 million.
West Virginia's $3.9 million settlement, thus, is one of many cases that have settled recently. Lawyers for plaintiffs estimate that payouts will likely reach $11 billion in these surgical mesh cases.
According to the West Virginia Attorney General, the reason that West Virginia did not join in the multi-state lawsuit is because the State concluded that an individual lawsuit would result in a significantly higher settlement than it would have received if it was part of the multi-state lawsuit. The settlement with Johnson & Johnson indicated that the $3.9 million can be used for direct and indirect administrative costs, litigation costs, and distribution to West Virginia taxpayers and consumers.
The West Virginia settlement leaves just three cases by other states pending, which are Kentucky, Mississippi, and Oregon. The California case mentioned above is currently on appeal. While West Virginia's suit, like those nationwide, involve surgical mesh devices primarily, the suit also involved some of Johnson & Johnson's hip replacement systems.
What Were the Main Allegations in West Virginia Pelvic Mesh Lawsuit?
West Virginia asserted that Johnson & Johnson made misrepresentations with regard to the effectiveness, risks, and safety history of its surgical mesh products. According to the State's lawsuit, the company made those misrepresentations in the marketing and educational materials provided to patients and doctors.
In a news release, the West Virginia Attorney General noted that the "improper marketing of medical products can put the health of consumers at risk," and that the settlement furthers the State's commitment to "hold accountable corporations who ignore potential risks and side effects or omit such crucial details from the materials provided to doctors and patients."
Indeed, by misrepresenting the potential risks and serious complications that could result for women who receive its pelvic mesh devices, Johnson & Johnson was benefiting at the expense of unknowing consumers. Johnson & Johnson, however, indicated that the West Virginia settlement "involves no admission of liability or misconduct." On the other hand, no admission of liability clauses are typical in personal injury settlements.
The History Behind the Use of Pelvic Mesh Devices
Surgical mesh is a medical device utilized to give extra support when repairing damaged or weakened tissue. The mesh itself is typically made from synthetic materials, such as a plastic called polymeric polypropylene, or from animal tissue.
There are two pelvic floor disorders, usually associated with childbirth, for which surgical mesh is used:
Pelvic Organ Prolapse. This condition occurs when muscles and ligaments supporting a woman's pelvic organs weaken, and those organs may fall out of place. Surgical mesh is implanted to reinforce the weakened vagina wall to treat the condition.
Stress Urinary Incontinence. Pressure or stress on the bladder from physical movement or activity, such as coughing or heavy lifting, might result in an unintentional loss of urine. A surgical mesh urethral sling is implanted as extra support to treat the condition.
Since the 1990's, doctors have been implanting mesh through the vagina, known as "trans-vaginal repair," believing the procedure to be a safe and easy solution for women. However, over time, complications were reported, including chronic inflammation, and mesh that shrinks and become encased in scar tissue, which ultimately causes pain, infection, and even protrusion through the vaginal wall.
In 2019, the FDA ordered manufacturers of surgical mesh for trans-vaginal repair to stop selling and distributing their products in the U.S. That order came in the wake of litigation over pelvic mesh that ranks as one of the largest mass tort cases in the United
States history in terms of claims filed, number of corporate defendants, and settlement dollars. As noted, Johnson & Johnson, along with another company Boston Scientific, are paying billions of dollars to resolve claims from more than 100,000 women.
A recent study of women who had mesh implanted through trans-vaginal repair for pelvic organ prolapse came to the conclusion that the FDA's 2019 ban of the product should have happened much sooner. An FDA spokesman responded that the agency has been transparent about concerns with pelvic mesh starting in 2008, and that the ban was the culmination of a multi-year regulatory process.
Ultimately, the many lawsuits that have resulted from pelvic mesh complications assert, similar to the West Virginia lawsuit, that Johnson & Johnson's marketing did not provide appropriate detail about the risks of their pelvic mesh devices.
Is There a Difference Between Pelvic Mesh and Hernia Mesh?
Other than the location of where the mesh is implanted, there are relatively few differences between the mesh devices used to treat pelvic floor disorders, and those used to treat a hernia.
Like pelvic mesh, hernia mesh is also made of animal tissue or synthetic material, such as plastic polymeric polypropylene. In fact, the mesh products that came into use in the 1970's for hernias were later used for pelvic issues. For a lengthy period of time, both hernia and pelvic meshes were classified as Class II, or moderate risk. Also, Johnson & Johnson's subsidiary, Ethicon, is one of the companies that make both hernia mesh and pelvic mesh.
Finally, the complications resulting from hernia mesh are virtually identical to complications from trans-vaginal mesh – pain, infection, scar formation, perforation of organs, revision surgery, and a recurrence of the original condition.
Injured by Hernia Mesh? The West Virginia Attorneys at West Law Firm Can Help
If you or a loved one has been injured by a hernia mesh product, we invite you to call us for a Free, Confidential Consultation. Our toll free number is 1-877-943-9378, and at West Law Firm, there's No Fee unless and until we recover compensation for you.
West Law Firm is located in Charleston, West Virginia, but our injury attorneys serve clients throughout the state and country. Our primary practice areas include personal injury, auto accidents, work injury, and dangerous product claims like those involving hernia mesh.
Brooks West is a West Virginia personal injury lawyer who helps people who have been injured by negligence or wrongful conduct. He is the President and founder of West Law Firm and has been an attorney since 2005. Brooks is a Multi-Million Dollar Advocates Forum member and has been awarded the AV Preeminent Rating from Martindale-Hubbell.