Don Blankenship's Documentary About Upper Big Branch Mining Disaster Infuriates US Senator and Community
This year, April 5, 2014, marked the fourth anniversary of the explosion at Massey Energy's Upper Big Branch coal mine in Montcoal, West Virginia that killed 29 coal miners. It was the deadliest coal mine disaster in the United States since 1970.  Every year, friends, family, and West Virginia communities gather to honor, remember, and celebrate the 29 coal miners who died in the disaster.  One memorial, however, was disrupted by former Massey CEO Don Blankenship and the documentary he has funded and promoted. 
Upper Big Branch Memorial turns into protest after former Massey CEO Don Blankenship funds and promotes propaganda blaming regulators for the deadly explosion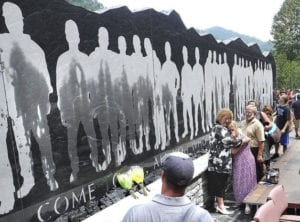 An Upper Big Branch memorial gathering in Charleston, West Virginia turned into a protest against the former Massey CEO Don Blankenship because of a new documentary film he funded and promoted.
In the film "Upper Big Branch: Never Again," Blankenship blamed regulators for the deadly coal mining disaster. This flew in the face of an investigation that was scathing about management at Massey Energy while also asking questions of regulators.
The furor over the new film drew in politicians. The Huffington Post reported West Virginia Sen. Joe Manchin (D), who appeared in the film, said he was "lied to" about the "propaganda" documentary. "Had I known the film was in any way associated with Don Blankenship, I would have never agreed to the interview," he was reported to have said in a statement.

"I believe that Don has blood on his hands. And I believe that justice will be done," Manchin told ABC News this week. Four Massey executives have been prosecuted in the wake of the disaster, and some West Virginians are urging federal officials to charge Blankenship as well.
The tragedy has resulted in some improvements to the working conditions of miners. The federal government approved a raft of new mine safety rules early last year which are aimed at preventing a repeat of the tragedy.  The new regulations increase the responsibility of mining companies to find and fix problems and allow the Mine Safety and Health Administration (MSHA) to designate companies as frequent violators without warning.
"This rule is long overdue, and it will, over the long term, serve to make mines safer for those who choose to be miners in this country," Mine Safety and Health Administration director Joe Main recently told the Associated Press.
Miners have lost their lives for centuries in West Virginia. The worst accident occurred on December 6, 1907, when explosions ripped through two mines at Monongah near Fairmont. The explosion was so powerful it was felt eight miles away. It claimed the lives of 362 men and boys. Conditions may now be safer but recent tragedies have highlighted how some mining companies still cut corners, placing profit over the safety and life of West Virginia coal miners.
Free Consultation with a West Virginia Coal Mining Injury Lawyer
At the West Law Firm, we recognize that recovering fair compensation for coal mining and other work injuries can be difficult if not impossible without an experienced attorney.  That is why we invite you to call one of our experienced West Virginia coal mining injury lawyers for a free consultation at 1-877-943-9378 (WEST).
We are thankful for our past and present West Virginia coal miners who have helped build our state and country.  We pray they for their safety, health, and happiness.
Brooks West is a West Virginia personal injury lawyer who helps people who have been injured by negligence or wrongful conduct. He is the President and founder of West Law Firm and has been an attorney since 2005. Brooks is a Multi-Million Dollar Advocates Forum member and has been awarded the AV Preeminent Rating from Martindale-Hubbell.