West Virginia Honors Coal Miners and National Coal Miner's Appreciation Day with Event in Fairmont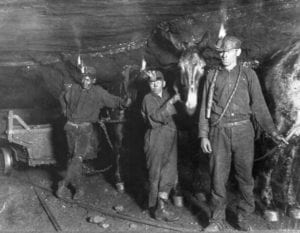 December 6th, is National Coal Miner's Day.  This is the day we officially take the time to recognize the valuable contribution coal miners have made and continue to make to our state and country.  December 6th was chosen by the US Senate, thanks to Senator Byrd and others, because it marks the date of the nation's deadliest coal mining disaster in Monongah, West Virginia back in 1907.  
The Northern Appalachian Coal Mining Heritage Association plans a local event in Fairmont, West Virginia to pay homage to coal mining and coal miners.  The inaugural event is called the Coal Mining Appreciation Day Swap Meet and will be held today.
The History of Coal Mining in the US and West Virginia
Hard working men and women have been mining coal in West Virginia longer than anywhere else in the United States.  Coal mining underpins West Virginia's economy as surely as seams of coal underpins its mountains.
Coal was first discovered in what is now West Virginia back in 1742 by John Peter Salley in present day Boone County.  There are 117 named coal seams in the state, according to the West Virginia Office of Miners' Health, Safety and Training.
Since then miners have been digging more than 140 million tons of coal every year, putting more than $3.5 billion annually in the gross state product, while also benefitting the national economy.
At the turn of the 20th century, West Virginia was leading the national coal mining boom, but safety regulations had failed to keep up with the pace of change.
Regulations in West Virginia "fell far behind other major coal-producing states in regulating mining conditions," the History Channel notes. Add poor economic conditions to the equation and West Virginia had a higher mine death rate than any other state in the Union.
On December 6, 1907, explosions ripped through two mines at Monongah near Fairmont. The explosion was so powerful it was felt eight miles away. It claimed the lives of 362 men and boys and remains the worst mine disaster in the history of the United States.
Mines are safer now, but mining remains an extremely hazardous industry. Recently Phil Smith of the United Mine Workers, told CNN coal mining has become safer in recent years, but much of the reduction in fatal accidents is due to the fact that production has shifted above ground to strip and mountain-top-removal mining.
He said mining for coal remains far more dangerous than metal mining. "Metals aren't explosive, they don't liberate methane when you mine them and the dust doesn't catch fire," he said.
As well as the danger of an explosion, there are hazardous gases underground and tunnels can collapse and crush or trap workers.
West Virginia has seen more than 90 significant mine disasters since the one at Monongah. Many of them have involved gas explosions underground. In 1968 a methane gas build up at Consolidation Coal Company's No.9 Mine in Farmington, caused a blast that left 78 miners dead. The book No.9 by Bonnie Stewart contained claimed about how the coal company operating the mine and federal and state officials failed to protect the 78 men who died.
We have detailed the terrible tragedies at the Sago Mine in Upshur County in 2006 that left 12 miners dead and the explosion at the Upper Big Branch Mine in 2010 that resulted in the deaths of 29 miners.
Coal mining is among the most deadly of industries in the United States. Every time there is an accident, details are revealed about safety lapses or equipment that failed to work. There are few professions that are more deserving of an appreciation day.
Free Consultations for Coal Miners and their Families
If you have been injured in a coal mining accident or have lost a loved one due to a coal mining accident, we invite you to call one of our West Virginia work accident lawyers for a free consultation.  You may be entitled to West Virginia Workers' Compensation Benefits and possibly more.  Recovering fair compensation for coal mining and other work injuries can be difficult, and West Law Firm can help.  Our toll free number is 1-877-943-9378 (WEST).
We at West Law Firm, wish to thank all coal miner's, both past and present, and their families for their service to West Virginia and the United States.  We wish you all happiness and prosperity.
Brooks West is a West Virginia personal injury lawyer who helps people who have been injured by negligence or wrongful conduct. He is the President and founder of West Law Firm and has been an attorney since 2005. Brooks is a Multi-Million Dollar Advocates Forum member and has been awarded the AV Preeminent Rating from Martindale-Hubbell.