Three Ways You Can Be a Superhero in Back to School Traffic
How to Help Keep West Virginia Kids Safe In Back to School Traffic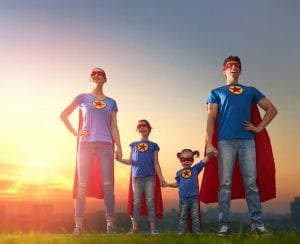 We all know superheroes save lives, but so can you. Who is at risk and how can you save them? Over 125 children die each year in school-related crash fatalities, according to NHTSA.  More school-aged children are killed from 6 a.m. to 7 a.m. and from 3 p.m. to 4 p.m. than any other hours of the day. 
The majority of students killed on their way to and from school were not on a school bus. The child at greatest risk is one who is walking, biking, waiting on a bus, or riding in another vehicle. So, maybe you don't have superpowers (or maybe you do), but you definitely have enough power to help protect the lives of West Virginia children this school year. 
Here are 3 ways to do it:
#1 Be on the Lookout for Young Pedestrians 
NHTSA suggests children under 10 years old should be accompanied by an adult when walking to school. This advice makes sense because the National Safety Council says children  4 -7 years old are at highest risk for being hit by a car or school bus. To deter motorists from passing school buses, West Virginia doubled first offense fines to $500 with a 60-day license suspension and $1,000 for a second offense with 180-day license suspension. Thanksfully, all newly purchased school buses are equipped with exterior cameras. 
Here are specific dangers to look out for in back to school traffic:
Never pass a stopped school bus from behind, or from either direction. If a school bus is stopped, it means children are loading or unloading. Give children at least 10 feet around to safely enter and exit the bus. 

Don't block a crosswalk when waiting to make a turn. This forces young walkers to go around you and could put them in the path of moving traffic.

Make eye contact with children crossing and always stop and yield to pedestrians crossing in school zones, crosswalks, and intersections. The issue here is awareness. School traffic can be frustrating and our minds can be filled with all of the details of the day ahead of us. Actively look for children can save lives.

Never pass a vehicle stopped for students. 

Don't double park waiting for your child — this blocks visibility for other children.

Don't drop off or pick up your child across the street from school. It might save you time or hassle, but it's not worth the risks!
#2  Watch for Young Bicyclists
Bike riding is healthy and fun, but children zipping on bikes can make school traffic even more dangerous.  Bicyclists have the same rights and obligations as vehicles in West Virginia, but young children may be impulsive and have trouble reading traffic conditions. When it comes to kids on bikes, the bottom line is they are fast and tend to make unexpected moves.    
Here are some driving tips to help keep West Virginia kids on bicycles safe:
When turning left and a rider is coming towards you in the opposite direction, always wait for her to pass. This is the most common cause of a

bike and automobile crash

.

Always give a rider at least 3 feet of space from your car and pass very slowly.

Always use your turn signals and be very cautious entering an intersection.

Watch for bikers turning in front of you. They might not be looking, but you will.

Heads up!

National Bike & Walk to School Day is Oct. 2, 2019

. That day, you could join your child and someone will watch out for you!
#3 Watch for Young Drivers
Rising sophomores and juniors hit the roads every year with new-found freedom and over-confidence. Unfortunately, school traffic requires focus and patience which are potential blind spots for many young drivers. In 2017,  distracted teen drivers caused 297 deaths. Texting while driving is one of the biggest causes of distracted driving crashes in West Virginia.
You can help by finding ways to challenge your teens to do the following — and you will truly be a superhero when you get your teens to listen:
Create a habit of putting your phone in an inaccessible location. Out of sight. Out of mind.

Limit the number of friends in your car, so you can concentrate on the road. Sound like a drastic teenage sacrifice?  Remember, we are talking about being a superhero just twice a day going to and from school. 

Slow down.  Going slow gives you more reaction time. Plus, school zone violations are steep for a good reason.

West Virginia law

 mandates fines between $100 and $500. A driver going at least 15 miles per hour over the speed limit could face up to 6 months in jail.

Get a good night's sleep and give yourself plenty of time. Running late to school means you might drive faster and not see bikers or walkers. And, sleepy teen drivers have a 40% higher crash rate according to the

NHTSA.

 Do everything you can to rise and shine and make your morning run smoothly. Set out that perfect outfit you're going to wear the night before.
About 56.6 million students across the U.S start school this fall, which means we must acclimate to congested roads once again. Is it unpleasant? Very. We can, however, feel good about how we start each morning on the road. 
We can take the rush out of the rush-hour and happily protect our WV children. We can drive purposefully like a superhero with the intent to save lives. Wishing you all the superpowers needed to drive like a hero and help our children be safe in back to school traffic. 
Free Consultation with a West Virginia Personal Injury Lawyer
We help the above article helps keep you and others safe when traveling in West Virginia. However, if you or a loved one was injured in an accident or because of the negligence of another, West Law Firm may be able to help. To find out how, we invite you to call us for a Free Consultation at 1-877-943-9378 (WEST).