Texting While Driving Facts and Statistics
Texting and Talking on Phone While Driving (True Story)
CHARLESTON, WV: While talking on her cell phone, Amanda Clark ran a stop sign and was broadsided by another vehicle. Amanda's vehicle rolled three times before landing on its roof in a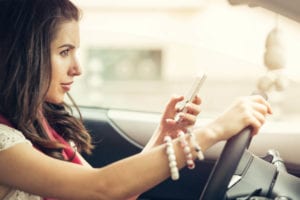 heap of twisted metal. Miraculously, Amanda survived with only minor injuries.
The crash was a wake up call for Amanda who vowed to not talk or text on the phone again while driving. She also wrote extensively about her experience for her high school senior project in 2006. Amanda's mother, Bonny Spray, said that for a while, Amanda kept her commitment and didn't use her phone while driving.
However, one year later, almost to the day, Amanda was behind the wheel again using her phone. She had been arguing with her roommate when she lost control of her vehicle on Interstate 5 and crashed. Cell phone records show she was texting.
It took emergency responders 40 minutes to free Amanda from her crumpled car, and by that time, it had been 20 minutes since she stopped breathing. Amanda died the next day. Now, Amanda's mother, Bonny Spray, tells Amanda's story almost weekly around the country in an effort to help fight the growing texting while driving epidemic that kills or injures thousands of people each year.
Texting or Talking on the Phone While Driving Facts & Statistics
–Cell phone use while driving now causes or contributes to 26% of all automobile crashes, up from previous years.
–About 5% of these crashes involve texting, the other 21% involve drivers talking on handheld or hands-free cell phones.
–Eight people are killed each day in the United States and over 1,100 are injured in crashes that involve distracted driving like texting while driving.
–Texting while driving is like driving the length of a football field blindfolded. Five seconds is the average time your eyes are off the road while texting. When traveling at 55mph, that's enough time to cover the length of a football field blindfolded. (2009, VTTI)
–About 50% of US high school students reported Texting While Driving within the past 30 days, according to CDC Study.
–69% of drivers in the United States ages 18-64 reported that they had talked on their cell phone while driving within the 30 days before they were surveyed.
–31% of U.S. drivers ages 18-64 reported that they had read or sent text messages or email messages while driving at least once within the last 30 days.
Why Texting or Talking on a Cell Phone While Driving is Deadly?
Driving and cell phone conversations both require a good amount of thought and attention; texting requires even more. When doing them at the same time, the brain is unable to do either very well. For example, try reading a book while having a phone conversation. Talking or texting on the phone while driving frequently causes crashes because of delayed braking and not seeing traffic signals, according to the National Safety Council.
Get a Free Consultation with an Experienced West Virginia Texting While Driving Accident Lawyer
We hope this article helps keep you safe by reducing the number of people who use their cell phones while driving by raising awareness of the growing safety epidemic that injures and kills people in West Virginia automobile crashes every year. However, if you are injured by a negligent driver, we invite you to call one of our experienced personal injury lawyers for a Free Consultation. Our toll free number is 1-877-943-9378.
Brooks West is a West Virginia personal injury lawyer who helps people who have been injured by negligence or wrongful conduct. He is the President and founder of West Law Firm and has been an attorney since 2005. Brooks is a Multi-Million Dollar Advocates Forum member and has been awarded the AV Preeminent Rating from Martindale-Hubbell.