Best Ways to Avoid Rear-End Crashes in West Virginia
How to Avoid Rear End Car and Trucking Accidents
Rear-end crashes are the number one cause of all automobile collisions in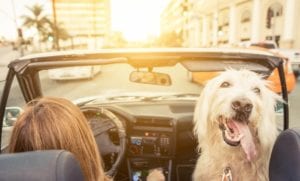 West Virginia. 30% of all crashes are rear-end collisions and many result in a substantial number of injuries and deaths each year.
The most common type of rear-end crashes involve a stopped or slow moving lead vehicle. Thus, the best things you can do to avoid a rear-end crash is a) keep a safe driving distance between you and the vehicle in front of you, and b) use your rear-view mirrors to monitor vehicles following too closely behind your vehicle.
1. Avoid Tailgating and Keep a Safe Driving Distance
Following too closely, also called tailgating, is the number one cause of rear end crashes in West Virginia. The best way to avoid crashing into the rear-end of the vehicle in front of you is to leave enough space between your vehicles so that if he stops suddenly, you can stop too without crashing into him. This is also called maintaining a safe driving distance. How long that distance needs to be varies depending on the traffic, weather, road and vehicle conditions.
2. Avoid Being Rear-Ended With Attentive Driving and Using Rear-View Mirrors 
One of the best ways to protect yourself from being rear-ended is by paying attention and frequently checking your inside rear-view mirror to see what's directly behind you and your outside mirrors to see a larger view of the area and traffic behind you. Scanning both side and rear mirrors every five to eight seconds is advised by the National Safety Council. Of course, it's also important to check your mirrors whenever slowing, turning, changing lanes or stopping. 
When you see traffic slowing or stopping ahead, it's a good idea to especially check rear-view mirrors then to make sure another driver isn't tailgating you. If they are, you may want to slow down earlier than you would need to otherwise to alert them to the slowdown you see up ahead.
The opposite of Attentive Driving is Distracted Driving — a growing epidemic that kills thousands of people each year.
What is Following too Closely Under WV Law?
Following too closely is defined by the US Federal Motor Carrier Safety Agency as when, "one vehicle is following another vehicle so closely that even if the following driver is attentive to the actions of the vehicle ahead he/she could not avoid a collision in the circumstance when the driver in front brakes suddenly." In most West Virginia rear-end crashes, the investigating police officer notes on the Crash Report that the driver who crashed into the rear-end of another driver's vehicle is at fault and was "following too closely."
The Large Truck Crash Causation Study (LTCCS) reported that 5 percent of truck crashes occurred when the Commercial Motor Vehicle (CMV) driver was following the lead vehicle too closely.
How to Measure a Safe Driving Distance
The Two or Three Second Rule for Avoiding Rear End Crashes 
According to the West Virginia Department of Transportation and State Farm Insurance, one way to measure a safe driving distance is by using the two or three second rule. When traveling on a highway, the WV DOT says the minimum distance to keep between you and the vehicle in front of you is 2 seconds, but that is the bare minimum.
To measure the distance, pick a point on the road, like a sign or a seam in the pavement. Then, watch the vehicle ahead of you pass it and count the seconds it takes you to reach that point. The number of seconds you count is your following distance. Once you do this a few times, you may get a general sense of what is a safe driving distance depending on the conditions.
Keep in mind two seconds is the distance needed on clear sunny days. At night or during inclement weather you need to increase your safety margin to four to eight seconds. You should maintain these cushions as best as possible including the time you find yourself riding in traffic.
Following distances should also be increased when road conditions are affected by the weather. Even brief rain showers may contribute to slippery road conditions. Bridges and overpasses frequently become slick in cold weather before other road surfaces.
You should also increase following distance when visibility is poor, when you are in traffic, or when you have other reason to believe the driver in front of you may need to make a sudden stop.
Call Our Charleston, West Virginia Personal Injury Lawyers if You've Been Injured by in an Automobile Accident
We hope this article keeps you and your family safe and that you never need our services. However, if you or a loved was injured by a negligent driver, negligent doctor, negligent property owner, or negligent employer, we invite you to call one of our experienced West Virginia personal injury lawyers for a Free Consultation. There's also never a fee unless and until you recover financial compensation. Call West Law Firm toll free today at 1-877-943-9378.
Brooks West is a personal injury lawyer, founder, and President of West Law Firm. He has been helping those wrongfully injured in West Virginia for almost two decades. The results and service he provides his clients have earned him membership in the Multi-Million Dollar Advocates Forum and the AV Preeminent Rating from Martindale-Hubbell. Brooks is most proud of the many 5-star reviews he has received from satisfied clients.