West Virginia Medical Malpractice Lawyers
Most doctors and medical providers are amazing at what they do and save lives every day. For these heroes, we are thankful. However, hospital and insurance systems control much of today's medical care and exert great influence over doctors. Also, not every doctor is a champion of human lives and safety. These are some of the primary reasons why medical malpractice is now one of the leading causes of death and serious injury in West Virginia. 
If you suspect you or a loved one has been injured or died because of medical malpractice, it's important to speak with an experienced West Virginia medical malpractice lawyer as soon as possible.  There are cases where doctors and hospitals have destroyed or changed medical records to cover up their negligence.  Having a law firm with a successful track record on your side can help protect your rights, know your options, and ensure you recover full and fair compensation.
For a Free Consultation, we invite you to call us toll-free at 1-877-943-9378 (WEST). There's No Fee unless and until you recover compensation.
Do You Have A West Virginia Medical Malpractice Case?
The best way to determine if you have a medical malpractice case is to call an experienced medical malpractice attorney and ask for a free consultation. However, if you suspect your doctor, nurse or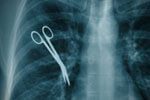 hospital gave you negligent medical care and you suffered a serious injury, or if you can answer yes to any of the questions below, it's especially important to speak with a medical malpractice lawyer as soon as possible.
Do you have a medical condition that was…
Misdiagnosed or not diagnosed at all?
Became worse after receiving medical treatment?
Treated as if it were some other condition?
Became worse because of delays in receiving treatment?
During your treatment, did you…
Suffer from anesthesia errors?
Suffer as a result of radiology errors?
Have foreign objects left in your body?
Suffer harm as a result of waiting too long for medical treatment?
receive the wrong medication or the wrong dose?
Medical Malpractice Defined by West Virginia Law
The definition of medical malpractice varies from state to state.  One reason for this variance is different states interpret "standard of care" differently.   "Standard of care," in non-technical language, is the care that a competent health care provider would and should have provided under similar circumstances.  If the care that a health care provider gave you was below this standard of care, then that health care provider likely committed medical malpractice.
For example, if the doctor failed to follow the standard of care governing the use of forceps during your baby's pregnancy and your baby was injured as a result, then, your baby likely has a birth injury claim against the doctor.
West Virginia has a statute that applies to all medical malpractice claims filed within its courts.  It is called the West Virginia Medical Professional Liability Act. West Virginia Code §55-7B-3 requires that the following elements must be proven in order to prevail in a medical malpractice claim under West Virginia Law:
The health care provider failed to exercise that degree of care, skill, and learning required or expected of a reasonable, prudent health care provider in the profession or class to which the health care provider belongs acting in the same or similar circumstances; and
Such failure was a proximate cause of the injury or death.
Medical Errors Widespread in West Virginia
There are many doctors who take good care of their patients, but there are some who don't. Although doctors, hospitals and insurance companies often try to lead West Virginian's to believe that medical negligence is rare, as mentioned above, a recent study conducted by the Johns Hopkins University School of Medicine confirms that medical errors are rampant and kill more people than motor vehicle accidents, breast cancer, or AIDS.  Many patients feel helpless when they're injured by a careless or incompetent doctor and wonder what if anything they can do if they have been harmed by a medical error.
Unfortunately, many West Virginia personal injury lawyers no longer handle medical malpractice claims due to changes in West Virginia law that protects negligent doctors and hospitals often at the expense of wrongfully injured patients. However, at West Law Firm, we are committed to continuing helping West Virginian's who have been injured by medical malpractice despite the legal obstacles insurance companies and lobbyists have helped write into West Virginia law.
Free Consultation with a West Virginia Medical Malpractice Attorney
If you believe that you or a loved has been injured or killed by medical negligence or nursing home abuse in West Virginia, we invite you to call us today for a Free Consultation.  Our toll-free number is 1 (877) 943-9378. We are located in Charleston, West Virginia, and represent clients throughout the state and country.  You don't have to worry about whether you can afford a medical malpractice attorney either because there's never a fee unless and until you recover compensation.
West Law Firm, LC
Average rating:
7 reviews
Jul 13, 2018
The West law firm is a rare find. The staff is friendly, competent and caring. Brooks West is a very empathetic, intelligent and industrious attorney. I would highly recommend the West Law Firm to anyone.
Nov 16, 2017
Medical Malpractice Help
Mr.West helped in the medical malpractice that resulted in the loss of my beloved Father. He is a very kind, compassionate and well knowledged attorney. I would recommend him to anyone that would find theirselves in a similar situation.
Dec 5, 2013
"Mr. West was very eager to help me with my case. I was very pleased with how West Law Firm was very professional and thorough with my case. It's obvious he cares about his clients."
Dec 5, 2013
"Everything that was handled by West Law Firm was done with excellence and professionalism. Brooks is a good attorney! West Law Firm DID A FABULOUS JOB! Everyone in the firm was very professional."
Dec 5, 2013
"I would recommend Brooks West and West Law Firm to anyone who needed their services."
Roseanna — Monroe County, West Virginia
Dec 5, 2013
"We felt fortunate to be represented by attorney Brooks West. His approach is professional, precise, confident and creative. We feel we are in good hands and would extend a recommendation for him and West Law Firm to anyone looking for a lawyer who cares!"
David — Former West Virginia Insurance Adjuster
Dec 5, 2013
"I worked with Attorney Kevin Davis on a mediation in Charleston, West Virginia back in June 2013. He is a skilled professional and he also has a great sense of humor. I would recommend him without hesitation.