Motorcycle Accident Lawyers in West Virginia
West Virginia Motorcycle Injury Attorneys
If you or a loved one has been injured or killed in a West Virginia motorcycle accident, West Law Firm can help. Our motorcycle accident lawyers have a long and successful history of handling claims against insurance companies and typically recover far more for clients than what insurance companies offered before they retained West Law Firm's services. What also sets our attorneys apart is a consistent track record of providing each client with excellent, caring service while helping them recover maximum compensation for their losses, which may include medical bills, property damage, lost wages, and pain and suffering.
To learn more about how our motorcycle accident lawyers can help you, we invite you to contact us today for a Free Case Review. Our toll free number is 1-877-943-9378 (WEST).
What Do I Do If I Am in a Motorcycle Accident in West Virginia?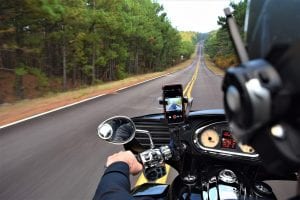 Immediately after a motorcycle accident, the first thing you should do is call the police.  You want to ensure that an objective third party, a police officer, can document everything at the scene of the accident, and if someone was injured, West Virginia law requires that you call the police.  In case you or someone else at the scene requires immediate medical attention, then you should call 911.   
After calling the police and medical personnel, if you are able, try to gather information about the person, or people, who caused the accident and any potential witnesses, including their: 
Name, 

Address, 

Phone number, 

E-mail address, and 

Any other identifying information.  
The investigating officer will try to get this information, but sometimes witnesses disappear. So, start with trying to get their information first. 
Also, be sure to document the accident scene as much as possible with contemporaneous photos and videos.  Most importantly, describe your injuries to the police or medical personnel, including any pains you feel that may not present as obvious physical injuries.  
Remember, at the scene, you should not say anything that implies that you may be at fault.  The time to place blame should not occur at the scene immediately after the accident, that determination can be made later.  Avoiding any discussion of fault includes your initial conversation with your insurance carrier. 
How an Experienced West Virginia Motorcycle Accident Lawyer Can Help You
To identify all of your rights and options it is important to call a personal injury attorney who is experienced at handling motorcycle accident cases in West Virginia.  The sooner you speak with a lawyer, the sooner that lawyer can help you. some of the ways an attorney can help you after a motorcycle accident are:
BUILDING THE EVIDENCE FROM THE ACCIDENT SCENE AND BEYOND

Compile incident reports, medical reports, and any other documentation from the incident to establish time, place, and manner of the accident;

Find video evidence such as streetlight cameras, private security cameras, or other video capturing equipment;

Investigate the driving history of the other driver and any other relevant information related to the other driver's conduct;

Reconstruct the scene of the accident to illustrate how and to what severity you sustained injuries;

PREPARING THE NECESSARY MEDICAL EVIDENCE AND OBTAINING EXPERT TESTIMONY

Analyze medical records, and consult medical and property experts;

Contact any other experts in the field which may be needed to prove and maximize the value of your case; 

NEGOTIATING WITH INSURANCE COMPANIES TO GET YOU COMPENSATED

Contact your insurance company and any other necessary parties to ensure that you will not bear the financial brunt of the accident.

Our personal injury attorneys negotiate with insurance adjusters every day and settle about 85% of our cases without having to file a lawsuit.

LITIGATE IF NECESSARY

If the insurance company does not agree to settle your claim for the full value, we are fully prepared to file a lawsuit and  take legal action for your case.

This willingness and skill helps ensure insurance companies treat you fairly.
What Is the Basis for a Lawsuit Involving a Motorcycle Accident?
The most common claim in a motorcycle accident lawsuit in West Virginia is negligence.  Generally, negligence means that the other driver who caused the accident did not exercise the care an ordinary individual should display under the circumstances.
There are many ways that a person can be negligent.  Just as one example, if you were riding your motorcycle within the speed limit, properly in a lane, and a car suddenly changes lanes without signaling or giving you enough lead time to avoid an accident, then the driver of the car was negligent.  The driver did not look before changing lanes, while you were abiding by the rules of the road. You would be entitled to obtain compensation for all of the damages you suffered as a result of the accident. Truck drivers also drive negligently sometimes causing motorcycle accidents.
What Damages Could I Receive from a Negligent Driver?
Damages in a motorcycle accident case in West Virginia typically fall into two categories:  economic damages and non-economic damages. 
ECONOMIC DAMAGES
Economic damages are meant to be a legal award that provides the actual dollar amount of your loss, whether it is money for medical bills, or to repair property.  Those damages include: 
Medical Expenses:  Many motorcycle accident cases, as you would expect, involve medical costs to heal from whatever injury you suffered.  Medical costs can arise from many sources, and a personal injury damage award can cover all of them. They include items such as the cost of:

Ambulance transportation;

Emergency room treatment and hospitalization;

Surgery, lab fees, and other medical tests;

Medications;

Rehab services;

Home care; and 

Medical equipment.

Future Medical Costs:  Medical expense damages not only cover your current medical bills, but also the future costs for your medical care as a result of the accident.  They can include follow up visits with a physician or rehabilitation services.

Lost Wages and Loss of Ability to Earn:  If an injury means that you need to be out of work for a period of time, or you cannot work because of an accident, then you may claim damages for lost wages.  Indeed, if an accident is so serious that you are not able to continue in a career that you previously had, you should be compensated for that loss, which is considered loss of future earnings.  

Repair of Your Property:  If you lost property, such as a damaged motorcycle, then you may also demand that your property be repaired or replaced.

Wrongful Death:  If an accident resulted in the

death of a loved one

, then the family members of the victim can seek damages for the medical and funeral costs surrounding the loss of that loved one.
NON-ECONOMIC DAMAGES
It is important to note that paying bills or replacing property does not necessarily bring a motorcycle accident victim back to the place he or she was before the accident entirely.  There are, of course, non-tangible pain and suffering and emotional issues related to the accident. Those losses deserve compensation as well. Therefore, motorcycle accident damages can include: 
Pain and Suffering:  Any injury comes with an emotional toll.  Oftentimes the value of that emotional distress is not covered with an award of medical expenses.  That is why there is a category of pain and suffering damages. In addition, you need compensation for emotional distress, such as anxiety or depression.   

Loss of companionship:  In the unfortunate circumstance where someone is killed, that person's spouse or other family members can claim damages for loss of companionship.  A lawsuit cannot bring an accident victim back. But monetary damages for loss of companionship are a way to help ease suffering for a victim's loved ones.  

Annoyance and Inconvenience: the distress arising out of physical discomfort, irritation, and/or inconvenience caused by another's negligence.

Loss of Enjoyment of Life: Detrimental alterations of a person's life or ability to participate in activities he or she once enjoyed.
Get a Free Case Review from a West Virginia Motorcycle Accident Lawyer
If you or a loved one has been injured or died in a West Virginia motorcycle accident, we invite you to contact us for a free and confidential consultation. Our toll free number is 1-877-943-WEST (9378), or you can fill out our online contact form.  there's never a fee unless and until we recover compensation for you.