7 Ways to Avoid Being Hit by a Drunk Driver in West Virginia
How to Protect Yourself Against Drunk and Intoxicated Drivers on West Virginia Roads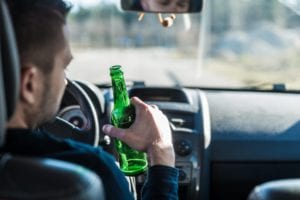 Someone in West Virginia dies every three days because of a drunk driver. And one-third of all automobile accidents involve some form of alcohol or drug-impaired driving. Fortunately, there are steps you can take to substantially lower your risk of being injured or killed by an intoxicated driver.
Seven Tips to Minimize Your Risk of Being Hit by a Drunk or Drugged Driver
1. Do Not Drive Late at Night
It's probably no surprise that the majority of drunk driving accidents happen at night, especially on weekends after midnight. So, if possible, avoiding driving late at night will reduce your risk of being hit by a drunk driver.
Sometimes it's not possible to avoid driving late at night, but following the other tips below will still help reduce your risk of being hit by a drunk driver even at night. Side note: if your job requires driving late at night and you're injured by a drunk driver, you will likely have two claims: 1) a West Virginia worker's compensation claim and 2) a civil claim against the at-fault driver.
2. Pay Extra Attention at Intersections  
Alcohol and drugs reduce drivers' awareness and reaction times. As a result, intoxicated drivers often fail to obey stop signs and traffic signals and cause crashes at intersections. You can protect yourself by keeping a lookout when entering and crossing intersections, even if you have the right away. Again, this tip is especially important while driving at night.
3. Avoid Country Roads
As discussed in a recent article on the dangers of rural roads, the majority of fatal auto accidents occur on two-lane country roads. In West Virginia, it's often difficult to avoid rural roads. However, if you can take an alternate route or avoid driving altogether late at night, you will reduce your risk of being hit by an intoxicated driver.
4. Ride the Right Side
Drunk and drugged drivers often veer out of their lanes, sometimes into oncoming traffic. Driving in the right side of your lane as vehicles approach, especially at night, can reduce your risk of being hit by an oncoming drunk driver.
5. Drive Defensively
Being on the lookout for impaired drivers is the best way to avoid injury and keep yourself and your loved ones safe when driving on West Virginia roadways. It's best to assume there are intoxicated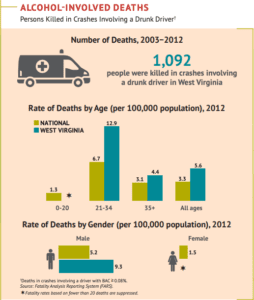 drivers on the roads when you're driving. Being mindful of this fact will motivate you to drive more defensively.
Signs of drunk driving include swerving, turning too wide, driving in the center or wrong side of the road, turning suddenly or illegally, and driving much too slowly. If you spot an impaired driver, keep your distance from the suspect vehicle and call 911 to report a suspected drunk driver.
6. Don't Tailgate
Keeping a safe distance between you and the car ahead of you is one of the best ways to avoid an auto accident under any circumstances. WV DOT and State Farm say one of the best ways to determine a safe following distance is the two-second rule. You can find out how to measure a safe following distance using the two-second rule here.
7. Avoid Driving fatigued
Over 325,000 drowsy driving crashes occur every year, and driving fatigued or drowsy makes it more difficult to spot and avoid drunk or drug-impaired drivers. Thus, avoiding drowsy driving will help you in two ways: First, it will help prevent you from causing a crash, and second, it will help you spot an intoxicated driver and increase your odds of being able to avoid being hit by him or her.
#8 Bonus Tip: Beware of Distracted Driving
Distracted driving is now an epidemic that causes many deaths and injuries in West Virginia. Texting, talking on the phone, putting on make-up, combing your hair, or eating while driving will make it more likely that you cause an accident and even more likely that you'll fail to notice a drunk driver crossing over into your lane causing you serious injury or even death.
Get a Free Case Evaluation from an Experienced West Virginia Car Accident Lawyer
At West Law Firm, we hope this article helps keep you and your loved ones safe on West Virginia roadways. However, if you have been injured in an auto accident, at work, or by negligence, we invite you to call us for a Free Case Evaluation. Our toll-free number is 1-877-943-9378 (WEST), and at West Law Firm, there's No Fee unless we recover money for you.
Brooks West is a personal injury lawyer with almost two decades of experience and the founder and President of West Law Firm. Brooks is a member of the Multi-Million Dollar Advocates Forum, which represents one of the most prestigious groups of injury lawyers in the United States — fewer than 1% of U.S. attorneys are members. Brooks has also been awarded the AV Preeminent Rating from Martindale-Hubbell. Above all, Brooks' mission is to provide clients with life-changing results.