Deaths and Personal Injuries on the Rise in WV Jails and Prisons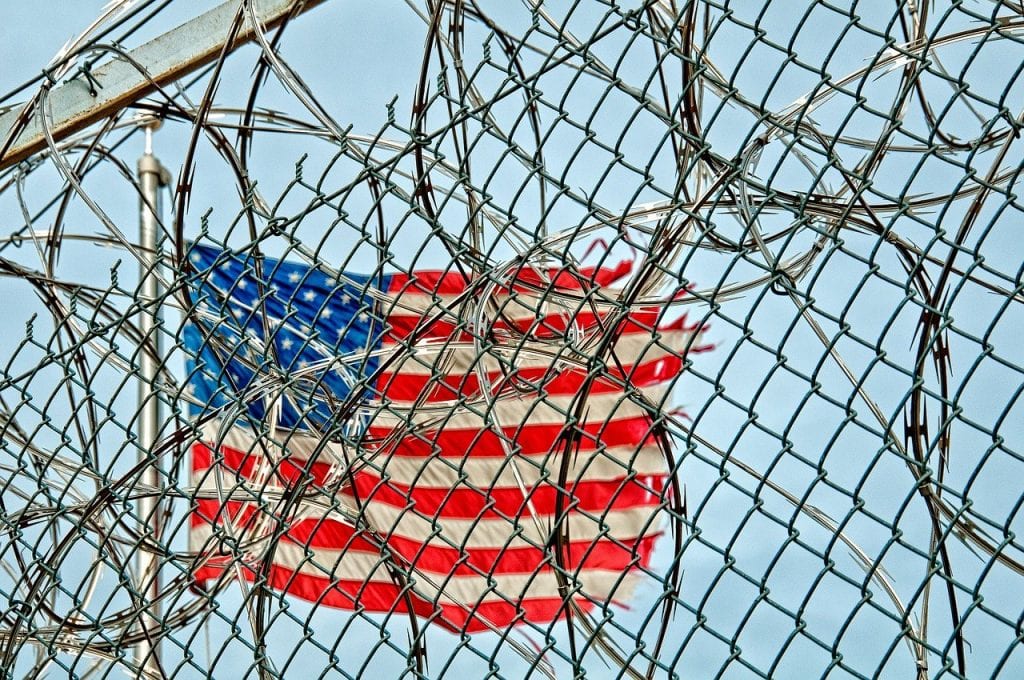 Each year, thousands of people are injured or die in West Virginia and United States prisons. In fact, according to the most recent data from the Bureau of Justice Statistics, 4,117 state and federal prisoners died in 2016, and in 2002, 83,000 inmates were injured in publicly or privately operated prisons.
Overcrowded and Deadly: Shocking Inmate Death Statistics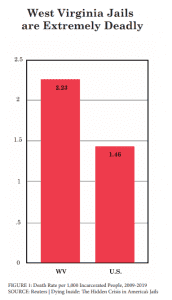 The Bureau of Justice Statistics (BJS) is the federal agency in the United States responsible for tracking and reporting injuries and deaths occurring within prisons and jails. Some startling facts the BJS has identified include the following:
Inmate Deaths in West Virginia 
Between 2008 and 2019, 115 people died in West Virginia's regional jails, according to a recent report by the West Virginia chapter of the American Civil Liberties Union. Furthermore, at least 66% of those people were awaiting trial. Of these deaths, 37% were illnesses, 30% were suicides, 16 % were overdosed, 5% were homicides, and accidents were 1%.
This data surrounding inmate death puts the death rate in West Virginia's regional jails at 2.23 per 1,000 people. That means West Virginia has the highest prison death rate in the US, according to a report by Reuters'. The average death rate among the states and districts whose data is 1.46 per 1,000 people, according to the report.
To learn about wrongful death claims in West Virginia, visit our page: How a West Virginia Wrongful Death Lawsuit Works.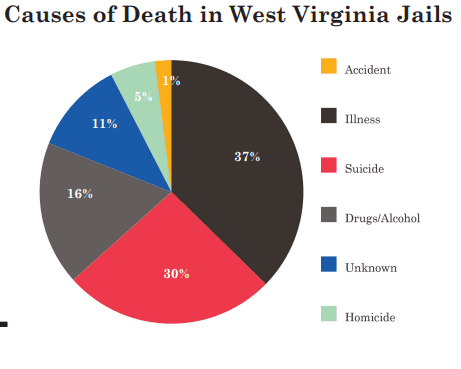 Common Causes of Inmate Deaths and Injuries 
Although many inmate deaths and injuries include illnesses, natural causes, suicides, and overdoses, negligence by prison faculty and staff are also frequently involved. Examples of how negligence in prisons and jails can cause or contribute to the deaths or personal injuries of people incarcerated include: 
Failure to protect suicide-risk inmates 

Failure to provide required mental health care

Illegal use of chokeholds and tasers

Failure to provide appropriate and timely medical care

Improper administration of required medication

Failure to protect inmates from fellow inmates

Death from drug withdrawal

Improper use of guns on inmate

Use of excessive force and brutality

Illegal arrest or detention

Inmate abuse
Real Personal Injury Cases Involving Inmate Death or Injury 
Below are a few examples of past cases where inmates died due to prison staff or law enforcement negligence. There are many cases involving prison negligence; however, many of them are settled, and a confidentiality agreement is often required before prison or jail authorities settle the inmate's injury claim.
West Virginia, 2016: Donald Wayne Cline, 47, of  Kearneysville, W.Va was arrested and booked for driving under the influence of controlled substances. Authorities admitted Cline to the jail without medical clearance from a physician, and he was not placed under direct supervision by jail authorities. Just hours later Cline was found in his cell unresponsive and later declared dead. His widow filed a suit against authorities and they were found negligent for Cline's death. Cline's widow was awarded $1,900,000 for damages. 

Maryland, 2015: Freddie Gray, 25, of Baltimore, Maryland was transported in a police van when he suffered a severe spinal cord injury. This injury led to his eventual death. The six officers responsible for him during that time were indicted and the Gray family received $6.4 million for their loss. 

New York, 2014: Mark Cannon was an inmate in Albany County Jail in New York. One day during his time there Cannon suffered a massive stroke and the prison staff waited 12 hours before they called for medical help. This massive stroke and extended period without medical attention led to Cannon's eventual death. His family received $1.1 million for their loss. 
Who is Responsible for the Rise in Jail and Prison Deaths and Injuries?
There are usually multiple factors involved when someone is injured or killed in a West Virginia prison or jail. For example, overcrowding is a major factor, as well as the high rate of opioid addiction. That said, negligence of a prison or one of its faculty or staff members is also often involved.  
If negligence is involved in the death or injury of a person incarcerated, one or more of the following parties may be liable:
State cops and other law enforcement officers

Local police and sheriff's departments

Immigration and customs agents

Specific county jails, state and federal prisons

Cities, states, and the federal government
Compensation You May Receive for Your Personal Injury Case
If you or a loved one was wrongfully injured or your loved one died due to a negligent jail or prison, you may be able to file a claim against one of the previously mentioned parties for compensation. Some specific laws and regulations surround inmate injury and death cases, but some of the most common types of compensation for these cases include: 
Injured Parties 
Costs of medical bills

Potential lost wages and benefits

Pain and suffering 

Lost earning capacity

Civil rights damages in some instances
Deceased Parties:
Expected earnings amount for the deceased

Financial dependence of survivors on the deceased

Survival claim for pain and suffering of the deceased prior to death

Funeral and burial costs 

Lost inheritance or savings 

Loss of parenting, care, and nurturing

Loss of consortium: loss of some of the benefits of a family relationship

Civil rights damages in some instances
Free Consultation with an Experienced West Virginia Personal Injury Lawyer
If you or a loved one has suffered injuries or has died due to the negligence of another, we invite you to contact us for a free consultation today. West Law Firm's mission is to provide each client with outstanding financial results, excellent service, and caring representation. We offer free consultations and there's never a fee unless and until we recover compensation for you. Call us today on our toll-free number, 1 (877) 943-9378.
West Law Firm is located in Charleston, West Virginia, but we represent clients across the country. If it's more convenient for you, we will send one of our experienced personal injury lawyers to you.
Brooks West is a West Virginia personal injury lawyer who helps people who have been injured by negligence or wrongful conduct. He is the President and founder of West Law Firm and has been an attorney since 2005. Brooks is a Multi-Million Dollar Advocates Forum member and has been awarded the AV Preeminent Rating from Martindale-Hubbell.