Distracted Driving in WV: Protect Yourself with the Facts
Distracted Driving in West Virginia
More than 8 people are killed and 1,161 injured every day in US crashes because of a distracted driver.
Distracted driving is driving while doing another activity that takes your attention away from driving or that divides your attention between driving and other activities. Distracted driving dramatically increases the chance of a motor vehicle crash.
What are the types of driving distractions?
There are three main types of distraction:
Visual – taking your eyes off the road;
Manual – taking your hands off the steering wheel; and
Cognitive – taking your mind off of driving or splitting your attention between driving and non-driving related objects of attention.
Many of these distractions have been around for years, such as talking to other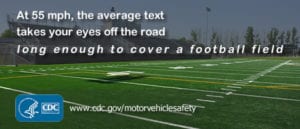 passengers, eating while driving, grooming while driving, reading directions, tuning the radio, looking at a map, and so forth. And of course, all of these activities can cause automobile crashes in West Virginia. However, cell phone use and texting have become an epidemic that claims many lives each year.
What are the risk factors for distracted driving?
High-Risk Activities
As stated above, some activities—such as texting—take the driver's attention away from driving more frequently and for longer periods than other distractions. Moreover, for many, texting is addictive and thus difficult to avoid while driving.
Young adult and teen drivers in West Virginia
Distraction-related fatal automobile crashes involve drivers under 20 than any other age group.
The national The Youth Risk Behavior Surveillance System (YRBSS) monitors health-risk behaviors among high school students, including sending texts while driving.

In 2013, almost half of the students who drove in the past 30 days sent a text or email while driving.
Those who text while driving are nearly twice as likely to ride with a driver who has been drinking.
Students who frequently text while driving are more likely to ride with a drinking driver or drink and drive than students who text while driving less frequently.
Distracted Driving Causes Impairment Similar to Driving Intoxicated
One study published by the University of Utah found that using a cell phone, even with a hands-free device, caused a delay in driver reaction time equivalent to that of a person with a blood alcohol content of  .08, which, in most states, is legally considered driving while intoxicated and will lead to a conviction for DUI.
What is being done to prevent distracted driving?
State Law
Many states, including West Virginia, have enacted laws—such as banning texting while driving, or using graduated driver licensing systems for teen drivers—to help raise awareness about the dangers of distracted driving and to keep it from occurring. For example, in West Virginia, it's illegal to text while driving or to use a handheld device while driving. However, the effectiveness of cell phone and texting laws on decreasing distracted driving-related crashes requires further study. The Insurance Institute for Highway Safety keeps track of such laws.
However, according to the CDC's Injury Prevention & Control Division, the effectiveness of cell phone and texting laws on decreasing distracted driving-related crashes requires further study and is questionably effective. Moreover, Two West Virginia University researchers are studying the effects new laws and public education efforts have had on curtailing cell phone use and distracted driving. So far, they have found these efforts aren't helping much.
Federal government's steps to stop distracted driving
On September 30, 2009, President Obama issued an executive order prohibiting federal employees from texting while driving on government business or with government equipment.
On September 17, 2010, the Federal Railroad Administration banned cell phone and electronic device use of employees on the job.10
On October 27, 2010, the Federal Motor Carrier Safety Administration enacted a ban that prohibits commercial vehicle drivers from texting while driving.
In 2011, the Federal Motor Carrier Safety Administration and the Pipeline and Hazardous Materials Safety Administration banned all hand-held cell phone use by commercial drivers and drivers carrying hazardous materials.
What you can do to help prevent your teens from driving distracted in West Virginia
Unfortunately, how to prevent distracted driving among teens and help keep them safe is a challenging issue that the state of West Virginia, the US government and families grapple with on a daily basis. One of the best things we can do for our children is lead by example and not text while driving and drive while distracted.
The next best thing is likely to have open, honest communication with your teens. Consider sharing with them some of the statistics above. Then, consider asking what their thoughts are on the subject, and if they have any suggestions that might help keep them safe while driving or riding as a passenger with another teen or young adult.
Ask a West Virginia Personal Injury Lawyer
We hope that you and your family are safe and never need a personal injury lawyer. However, in the event that you or your loved one was injured by a negligent or distracted driver, we invite you to call West Law Firm for a free consultation. Our toll-free number is 1-877-943-9378.
Brooks West is a West Virginia personal injury lawyer who helps people who have been injured by negligence or wrongful conduct. He is the President and founder of West Law Firm and has been an attorney since 2005. Brooks is a Multi-Million Dollar Advocates Forum member and has been awarded the AV Preeminent Rating from Martindale-Hubbell.