Crash Reconstruction Finds Fairmont, WV Cop Drove Twice the Speed Limit in Fatal Crash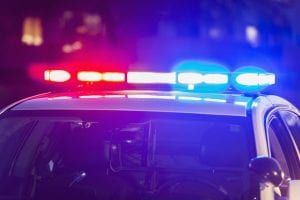 Eight months — that's how long it took for Steven Gene Santini's family to find out that maybe his driving wasn't the cause of his horrific death. The crash that killed Mr. Santini occurred in July of 2019 in Fairmont, West Virginia. Santini was only a block away from his home when a Fairmont Police K9 Unit struck his Subaru Forester resulting in Santini's death. Driving the K9 truck was Fairmont City officers Jakob Streyle and passenger Christoper Guinup. The impact was so powerful it caused "the Forester to be flipped on its side and be propelled several yards from the point of impact where it secondarily crashed into a telephone pole and gas pipeline near the roadway," according to the statement made in a civil suit.
The initial police report and a post made on the Fairmont, West Virginia Police Department's Facebook page both claim that Mr. Santini ran the stop sign on Bison Street before turning left onto Country Club Road. The Fairmont Police Department's post also claimed the K9 truck "was not being operated at an extensive rate of speed". However, with a lot of new information that has recently emerged, the validity of these claims has come under scrutiny.
Were the Witnesses in the WV Crash Report  Reliable?
Many people have begun to question the ability of the initial witnesses' to see the accident. The sole witnesses that were interviewed in the initial crash report said Santini's Subaru Forester "was not slowing and entered directly into the intersection without stopping." The driver of the police pickup "did not have time to avoid the accident." These witnesses are cited in the report as being on Lawrence Street which is about 375 feet from Bison Street.
Furthermore, a State Department of Transportation building blocks almost all of the visual area between the two streets, as pictured below. In the civil suit, filed by the Santini family, they allege that sheriff's investigators did not initially take statements from two people driving directly behind Santini at the intersection. The statements that later arose from those two witnesses conflicted with those made by the witnesses from the initial West Virginia Crash Report.
The Police Officers Speed
New evidence also conflicts with the previous statements made about officer Streyle's operation of the K9 truck. As previously mentioned, the Fairmont West Virginia Police Department stated that the truck "was not being operated at an extensive rate of speed." However, information downloaded from the vehicle's Event Data Recorder showed that the officer was at least driving 73 mph at the time. Santini's' insurance company also contracted an independent crash reconstructionist, who also determined this to be true. Furthermore, it appears that Streyle was not operating the police pickup's emergency lights or sirens while driving at such an excessive speed.
That's important because it is legal under West Virginia Code l7C-2-5 to operate an emergency vehicle at a high rate of speed without lights or sirens when responding to an emergency call. However, the Fairmont Police Chief, Steve Shine, posted on the department's Facebook page and confirmed in civil court documents that officer Streyle was not responding to an emergency call. So, in that case, is the officer's speed still justified?
The Decision to Not Prosecute
According to Marion County Prosecuting Attorney, Jeff Freemans', decision to not prosecute you could infer he believes the officer's actions were justified. Freeman even refers to West Virginia Code l7C-2-5 in his letter that explains his decision. His decision in the case has left many puzzled, especially when you review the outcome of similar cases. For instance, back in 2017, a similar incident occurred when a Charleston police officer crashed into a woman's vehicle. That wreck caused the women to sustain injuries that lead to her eventual death.
Similarly in that case the officer did not have his emergency lights or sirens on. However, unlike Streyle, the Charleston police officer was responding to an emergency call. Furthermore, unlike Streyle, that officer was charged with and found guilty of negligent homicide.
Freeman's actions have left many wondering if his decision was based more on his relationship with the officer's family than the case. Freeman, who is running for reelection in November, has often been publicly endorsed by Streyle's family.
West Virginia Civil Lawsuit for Damages Filed by Santini Family
Despite the decision made by the Marion County West Virginia Prosecuting Attorney, the Santini family has decided to pursue justice in a civil lawsuit. The Santini family has since filed a civil suit against the city of Fairmont, Jakob Streyle, and Christopher Guinup. Their attorney stated the suit does not seek a specific monetary judgment in the case. That's because there are certain caps for damages under state law. A jury will determine the family's compensation if any. The lawsuit claims include:
"Defendant [Jakob] Streyle carelessly, recklessly, grossly negligently and/or negligently drove the police cruiser at speeds of at least 73 MPH in a residential area of Fairmont with a posted speed limit of 35 MPH without sounding the siren and/or the flashing blue emergency lights. Moreover, Defendant Streyle carelessly, recklessly, grossly negligently and/or negligently drove the police cruiser at excessive speeds even though there was no active emergency call requiring an emergency response from police officers."
The City of Fairmont is negligent because it did not properly train the officers on how to operate police cruisers.
Streyle's passenger, fellow officer Christopher Guinup, acted irresponsibly because he did nothing to ask Streyle to slow down the vehicle.
The trial is scheduled for October of 2021.
Our Remarks
We here at the West Law Firm truly appreciate the work of law enforcement officers. We understand how difficult the job is, and we want to thank each person who performs this work. However, we also realize that law enforcement officers and departments sometimes make decisions that cause serious harm, injury, or death to others. We do not know what happened in this tragic accident, but we pray the truth comes to light.
Free Consultation with an Experienced West Virginia Auto Accident Lawyer
If you or a loved one was injured in a West Virginia accident or hurt by negligence, we invite you to call us for a free case evaluation. West Law Firm's mission is to provide each client with outstanding financial results, expert advice, and caring representation. We offer free consultations and there's never a fee unless and until we recover compensation for you. Call us today on our toll-free number, 1 (877) 943-9378.
West Law Firm is located in Charleston, West Virginia, but we represent clients across the country. If it's more convenient for you, we will send one of our auto accident lawyers to you.
Brooks West is a West Virginia personal injury lawyer who helps people who have been injured by negligence or wrongful conduct. He is the President and founder of West Law Firm and has been an attorney since 2005. Brooks is a Multi-Million Dollar Advocates Forum member and has been awarded the AV Preeminent Rating from Martindale-Hubbell.