15 Safe Driving Tips That You've Probably Never Heard
Whether you're on your daily commute or a long road trip it can often feel like there are many things that are out of your control on the road. While that can be true, there are still plenty of ways you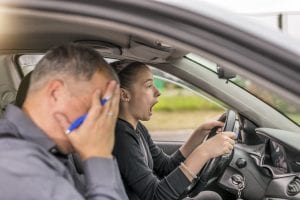 can protect yourself. We're not talking about the basic tips on safe driving that most people already know. These 15 driving practices can significantly increase your safety, and chances are you've never even heard of them.
1. Start "SMART"
Before starting your car follow this checklist to make sure everyone is ready to go:
S- Seat adjusted and

all seat belts on

. 

M- Mirrors are adjusted and clean. 

A- Air and heat controls are set to your desired temperature. 

R- Radio is set on the station you want. 

T- Thoroughly check your surroundings before moving. 
Following this checklist can help ensure you, your passengers, and your car is all ready to go. Making for a safe trip. 
2. Learn How to Drive a Race Car

 
It may sound expensive, but going to a high-performance driving school is one of the best ways to improve your driving skills. It allows you to practice accident avoidance maneuvers and skid recovery in a safe, controlled environment. Understanding how to make your car do what you need it to do in emergency situations could save your life.
3. Get Race Car Driver Control of the Wheel
 Move your seat close enough to the steering wheel so that your wrist can rest on the top of the wheel with your arm outstretched and your back against the seat. This will help you maintain control of the wheel and is the best position to be in when you have to make last-minute evasive maneuvers. Furthermore, sitting in this position ensures your arms won't easily fatigue.
4. Spell the Word Stop
When you're stopped spell out the word stop while also looking both ways for oncoming traffic and pedestrians. This will help ensure that even if the roads are completely clear you have taken the time to make sure. 
5. Keep Your Eyes Healthy

 
Cleaning your windshield and headlights can all increase your field of vision while driving. However, if your eyes are strained from driving none of that will matter. To decrease your chances of eye strain doctors recommend moving your eyes and scanning around instead of focusing straight ahead to reduce the effect of eye fatigue and glare while driving. 
6. Get Plenty of Fresh Air 
Blasting the air conditioning in your car can help you stay alert, but it's often not enough. To truly stay alert make sure you're getting plenty of fresh air while driving. It is recommended to open the window at intervals to get a fresh supply of oxygen into the car.
7. Avoid the "NO-Zone" When Driving Around Trucks and Tractor Trailers
The "NO-Zone" refers to the specific blind-spot areas on large vehicles such as tractor-trailer trucks and buses. The raised position of these trucks limits the driver's visibility around certain parts of their vehicle.  This area includes directly in front of the truck for approximately 20 feet, directly behind the truck for approximately 200 feet, and directly along both sides of the truck (the right-side blind spot is larger than the left). The best way to avoid crashes with commercial trucks such as tractor trailers is to avoid these areas as much as possible. 
8. Go Easy on Your Vehicle's Sound System
In 2002, Israeli researcher Warren Brodsky found a link between music with higher BPM and traffic violations. His findings showed that faster music increased heart rate and made more people prone to taking risks. So when driving at fast speeds, keep your speaker volume to a minimum and stay more alert.  
9. Know What to do in Case of Brake Failure
In the event of a brake failure, keep on pumping the brake pedal to warn the driver behind you. See if putting enough pressure will finally make the brakes work. If they don't, use the handbrake slowly and downshift to make it easier for the vehicle to stop. If you're still coming in at high speed find a soft spot like bushes and grass lawn to crash your vehicle. 
10. Always Drive with Your Headlights On 
Did you know that motorcycles are required by law to always drive with their headlight on day and night? This is because vehicles with their headlights turned on are visible at nearly four times the distance of those with them off. To make yourself more visible on the road to other drivers drive with your headlights on at all times. This may be particularly helpful on West Virginia's rural roads.
11. Make Your Vehicle's Dashboard Dimmer
The light emitted by your dashboard may not seem distracting during the day, but at night it could pose a serious threat. It can often become an unnecessary distraction and diminish your vision. Dimming dash lights will reduce the amount of light reflected off of the windshield and result in improved nighttime visibility.
12. Don't Rely Solely On Cruise Control
Cruise control can help make long trips bearable, but relying on it for too long can negatively impact your ability to drive. Driving with cruise control for too long can lead to laziness and a loss of focus. If you are using cruise control, make it short, and try to keep your focus on the road ahead. 
13. Position Your Headlights Correctly
 With many cars, the headlights are uneven or pointed lower than they should be. So, it's up to you to aim them correctly.  Getting your lights pointed in the perfect position can be nearly impossible, the most important thing though is to just make sure they aren't blinding oncoming traffic.
Furthermore, be sure that your light isn't blocked. Make it a part of your routine to clean out dust from your headlights. If you have an older car with plastic covers, make sure they are still transparent enough to let light through.
14. Cut the Glare Reflected Off Your Hood
 Having a nice, shiny hood is nice until it's not. During parts of the day when the sun reflects off the slick surface, it can suddenly blind you. To cut down on the glare and still maintain the glossy look try applying any basic liquid car polish to the area of your vehicle's hood responsible for reflecting the glare. Let the polish dry and refrain from buffing until later that night.  In the morning you'll have a  powder finish highly capable of defeating glare. 
15. Eat Light And Stay Hydrated
Heavy meals and junk food can leave you feeling dull, bloated, and uncomfortable. Try to avoid these before driving, especially if you're driving a long distance. Relax your digestive system by eating snacks and small portions of healthy meals. Also, be sure you're drinking enough water to keep you hydrated. Eating fruit such as apples not only keeps the doctor away, it can also keep the ambulance away by helping to keep you awake and alert while driving. At the other end of the spectrum, is sausage and gravy from Tudor's Biscuits!
If You Still Get Into an Accident, Get a Free Case Evaluation From a West Virginia Injury Lawyer
We hope the tips on safe driving above keep you and your loved ones safe on the roads of West Virginia. However, even after you've done everything you can to stay safe, automobile accidents can still occur.  So, if that happens and you or a loved one is injured because of another's negligence, we're here to help. We invite you to call us for a Free Consultation to get more details about your rights and options. Call us toll free at 1-877-943-9378, and there's also no fee unless and until you recover compensation.
Brooks West is a West Virginia personal injury lawyer who helps people who have been injured by negligence or wrongful conduct. He is the President and founder of West Law Firm and has been an attorney since 2005. Brooks is a Multi-Million Dollar Advocates Forum member and has been awarded the AV Preeminent Rating from Martindale-Hubbell.