West Virginia Seat Belt Law and Safety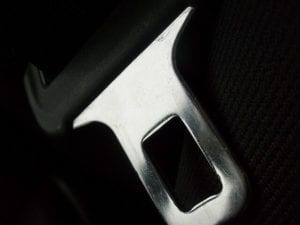 West Virginia's car and truck accident lawyer explains how using a seat belt can help automobile drivers and passengers protect their legal rights.  West Virginia law, like in every other state but New Hampshire, requires all drivers and passengers to wear a seat belt. Of course, the main purpose of seat belt laws is to protect drivers and passengers from the risk of serious injury and death that a car or truck accident presents.  And safety and fear of a ticket is usually enough to motivate most people to wear a seatbelt while driving or riding in an automobile. However, for those who are still on the fence, there is an additional reason to wear a seat belt.  It's called the seat belt defense.
The limited "seat belt defense" provides that if you are injured in a West Virginia car or truck accident while not wearing a seat belt and that failure caused or made your injuries worse, then the amount of compensation you can collect may be reduced.  In other words, the driver who may have been the primary cause of your Automobile accident lawyers West Virginia may be able to assert the seatbelt defense to limit the amount of compensation you are entitled to from his or her auto insurance provider.  This could leave a person who was injured in a West Virginia auto accident through no fault of their own with unpaid medical bills and significant lost wages that his or her family depends on.
In West Virginia, the "seat belt defense" is a little more complicated and limited by statute.  In other words, it is not available in all circumstances.  Thus, it is important to consult an experienced West Virginia personal injury lawyer regarding the particulars of any auto accident you may have been involved in.  Regardless of the laws, I hope that you take care and wear a seatbelt for your own safety and wellbeing.
Brooks West is a personal injury lawyer, founder, and President of West Law Firm. He has been helping those wrongfully injured in West Virginia for almost two decades. The results and service he provides his clients have earned him membership in the Multi-Million Dollar Advocates Forum and the AV Preeminent Rating from Martindale-Hubbell. Brooks is most proud of the many 5-star reviews he has received from satisfied clients.