WV Underinsurance Motorist Coverage: What it is and How it Protects
West Virginia Underinsured Motorist Coverage — What it is and Why it's Important
One of the saddest situations we frequently see at West Law Firm is where someone is seriously injured by a negligent driver who only has $25,000 in car insurance — the minimum required by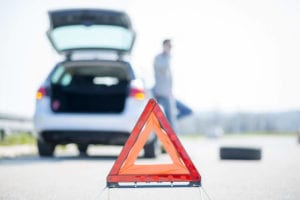 West Virginia law. What's even sadder is when the injured person does not have a type of car insurance called underinsurance motorist coverage, which could pay for any of his or her losses, such as lost wages and medical bills, that exceed the at-fault driver's $25,000 policy. Underinsurance motorist coverage is car insurance that protects you if you are injured in a car accident and the at-fault driver has some insurance but not enough insurance to cover your damages (uninsurance motorist coverage applies if the at-fault driver has no insurance).
Below is a real life example that illustrates how dangerous not having underinsurance motorist coverage is (some facts have been changed to protect confidentiality).
Mary, a mother of three small children, was driving to work on a West Virginia highway when a negligent driver lost control of his vehicle and caused a multi car wreck. Mary swerved to miss the mass of entangled but lost control and crashed into a concrete median. EMS had to use the jaws of life to extract Mary from her vehicle. Unfortunately, Mary died several hours later at the hospital after accruing over $125,000 in medical bills.
The driver who caused the crash only had $25,000 worth of liability car insurance. The negligent driver lived paycheck to paycheck and had no assets or cash to help pay the portion of Mary's losses that exceeded $25,000, which was millions of dollars. Mary had no West Virginia underinsurance motorist coverage.
Mary's medical bills were paid by her employer's health insurance plan. Federal law requires that such health insurance plans must be repaid for medical bills they paid for related to a personal injury claim before the injured person can receive compensation. After a court hearing, the judge ordered the negligent driver's insurance to pay the only $25,000 in insurance money available to Mary's health insurer. Since Mary declined underinsurance motorist coverage when she purchased her car insurance, her three young children received $0 in insurance money.
How West Virginia Underinsurance Motorist Coverage Could Have Helped Mary's Children
When available, West Virginia underinsurance motorist coverage kicks in when a person is injured or killed in a car accident and the at-fault driver does not have enough insurance to cover the injured person's losses. As stated above, Mary declined underinsurance motorist coverage and the at-fault-driver only had $25,000 in liability coverage. So, there was no other insurance money available for her three small children.
If Mary would have decided to purchase, for example, $250,000 in underinsurance motorist coverage, then her children would have been entitled to most, if not all, of the $250,000 through a wrongful death claim. That money could have made a big impact on Mary's children's' lives, including paying for their college.
Warning: Check your auto insurance policy or call your agent to determine if you have underinsurance motorist coverage and if you have enough. Although everyone is required to carry $25,000 in uninsurance motorist coverage, which protects you in the event you are injured by a driver who has no car insurance, underinsurance motorist coverage is not required in West Virginia. Also, many car insurance agents don't adequately educate people about the importance of underinsurance motorist coverage, probably because they are not a lawyer and don't how devastating not having underinsurance coverage can be on a family like we do every day; so you may not have it or you may not have enough.
How Much West Virginia Undersinsurance (and Uninsurance Motorist Coverage) do You Need?
While there is no one right answer for everyone's budget and needs, $250,000 would be the minimum amount of underinsurance motorist coverage we would consider recommending for both underinsurance and uninsurance motorist coverage. We have seen a number of cases where clients have had this amount of coverage, which made a huge impact on their life after a serious crash. For example, sufficient underinsurance motorist coverage would help pay the injured person's past and future lost wages, medical bills, pain, suffering and loss of enjoyment of life as well as other losses that are exceed the at-fault driver's policy limits.
With that said, automobile crashes happen every day in West Virginia, and when someone is permanently injured in an accident, their damages over the course of their lifetime may add up to millions of dollars. So, we can't make a specific recommendation as to how much you should purchase. We do, however, recommend you buy as much as you can within the confines of your budget. As stated above, we also strongly urge you to consider having a serious conversation with your car insurance agent about underinsurance and uninsurance motorist coverage. Your insurance agent can advise you if you have underinsurance and how much it would cost to get more. If the cost seems too high, you may want to consider getting a quote from a different car insurance company.
Ask an Experienced Motor Vehicle Accident Attorney in West Virginia
The above is actually a simplified example of just some of the issues that a person may face after sustaining injuries in a West Virginia automobile accident. Car crash claims frequently involve many other issues like identifying and proving future losses. Also, there is sometimes a dispute as to who is at fault for the crash, which is another reason it's important to have an experienced personal injury lawyer by your side.
At West Law Firm, we have decades of combined experience handling West Virginia automobile accidents and other personal injury claims, and we invite you to call us for a Free Consultation. Our toll free number is 1-877-943-9378 (WEST). If you can't come to us, we will send a West Virginia personal injury lawyer to you.
Brooks West is a personal injury lawyer, founder, and President of West Law Firm. He has been helping those wrongfully injured in West Virginia for almost two decades. The results and service he provides his clients have earned him membership in the Multi-Million Dollar Advocates Forum and the AV Preeminent Rating from Martindale-Hubbell. Brooks is most proud of the many 5-star reviews he has received from satisfied clients.