WV Auto Accidents Caused by Texting on the Rise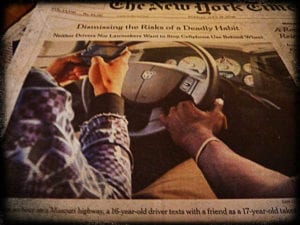 On behalf of West Virginia's Work Accident Lawyer, Charleston, WV – Many refer to cell phones, including iphones and other smart phones to be a sign of the times.  As time goes on, however, increased cell phone use is also proving to be a sign of increased car accidents.  Statistics show that in 2009, 5,500 people were killed and 500,000 were injured in distracted driving related accidents.  As the growing trend of texting while driving increases, auto accidents will also likely to continue to increase.
According to a uniform crash report used by all West Virginia law enforcement since 2007, distracted driving is driving while distracted by anything inside the cabin, such as cell phones and radios.  "It is impossible to verify whether a cell phone was a factor in a car accident without subpoenaing phone records," says Sgt. Shawn Williams who works with the Charleston Police Department's Traffic Division.  Williams said, however, that the department "knows it's a significant problem," especially in urban settings.
Dangers of Distracted Drivers in West Virginia
A new web series created by the Department of Transportation titled Faces of Distracted Driving, discusses the potentially tragic consequences of texting while driving. The series is a part of U.S. Transportation Secretary Ray LaHood's effort to raise awareness about the dangers of texting while driving.  The series tells the stories of people whose lives have been lost or devastated to distracted driving.  "These videos are dramatic evidence that the lives lost to America's distracted driving epidemic aren't statistics. They are children, parents, neighbors and friends," Secretary LaHood said in a press statement.
The current statistics likely underestimate the problems caused by distracted driving because it's difficult and time consuming to verify cell phone usage during an accident.  Also, as Williams points out, "Most people know you shouldn't be texting and driving anyway and when you have a police officer asking you if you were on your phone at a crash when you're already emotional, it's easier to go 'no, I wasn't on the phone."  Charleston, West Virginia has implemented a ban on city officials using cell phones while driving city vehicles except in cases of emergency.  Williams says the ban will soon be nationwide.
Hopefully, programs like Faces of Distracted Driving will help raise people's awareness of the dangers of driving while distracted and decrease the number of car accidents that happen each year.  Until then, in the event that you're involved in a car accident caused by a distracted driver, a personal injury lawyer may be able to help you obtain the phone records of the other driver to help prove that their driving distracted caused the accident.  Feel free to contact West Virginia's personal injury lawyer at West Law Offices for a free consultation.
Brooks West is a personal injury lawyer with almost two decades of experience and the founder and President of West Law Firm. Brooks is a member of the Multi-Million Dollar Advocates Forum, which represents one of the most prestigious groups of injury lawyers in the United States — fewer than 1% of U.S. attorneys are members. Brooks has also been awarded the AV Preeminent Rating from Martindale-Hubbell. Above all, Brooks' mission is to provide clients with life-changing results.