WV Supreme Court Election — Vote May 10th
Dear West Virginians,
West Virginia's primary election is Tuesday, May 10th.  One of the most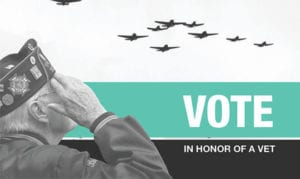 important races on the ballot is for the West Virginia Supreme Court. Last year, the West Virginia Legislature made our judicial elections nonpartisan.
This means that candidates no longer run as a Democrat, Republican or as a member of another party.  Also, this election IS the one and only primary election.  If you've already voted, thank you.  If not, it is CRITICAL that you vote Tuesday May 10th. 
Regardless of who you vote for, the most important thing is that you vote so that your voice is heard. With that said, it's important that you know that out-of-state corporations and billionaires have spent millions to convince you and other voters that Beth Walker is the best candidate.
In fact, the most recent tally is that these out-of-state interests have spent over $3 million dollars in an effort to try and get Beth Walker elected. The majority of this money came from the so called Republican Leadership Comittee (RSLC) at $2.6 million. The RSLC claims to be the "only national organization whose mission is to elect down-ballot, state-level Republican officeholders."
Why are out-of-state billionaires and corporations spending millions to influence West Virginia's Supreme Court election?
Big corporations typically only spend money for one reason — to make more money. That's a good thing when the money is spent to make better products and/or provide better services in hopes of making a bigger profit. We welcome that. We want that for the economy and more jobs.
However, trying to increase profits by spending millions of dollars trying to get a Supreme Court candidate elected who will have less regard for the law and making fair decisions is not an ethical way to do business and will not generate more jobs or help the economy. For example, many of these out-of-state corporations don't want to be held accountable in our courts when they harm West Virginia consumers, workers and small businesses (small businesses collectively actually employ more people than big corporations).
In other words, these outside corporations and billionaires are not spending millions of dollars on West Virginia elections because they care about West Virginians and want us to have a fair court.  They are spending millions of dollars on West Virginia elections to try and get candidates like Beth Walker elected who they believe will help them accomplish their goal of putting their profits ahead of West Virginians!
The West Virginia Supreme Court candidates who are not predominantly funded by foreign big corporations and out-of-state billionaires are current West Virginia Supreme Court of Appeals Justice Brent Benjamin; Darrell V. McGraw, Jr.; Wayne King; and William Wooton.
Regardless of who you vote for in the WV Supreme Court election — please vote!
We hope that you take a stand with your vote and show that West Virginia elections belong to West Virginians–not out-of-state, corporate special interests.  With that said, above all, we hope that you vote regardless of which candidate you choose. We wish you wisdom in your voting and that you make a choice that proves to benefit you and all of West Virginia.
Brooks West is a West Virginia personal injury lawyer who helps people who have been injured by negligence or wrongful conduct. He is the President and founder of West Law Firm and has been an attorney since 2005. Brooks is a Multi-Million Dollar Advocates Forum member and has been awarded the AV Preeminent Rating from Martindale-Hubbell.