West Virginia Auto Insurance Minimums – Are They Enough?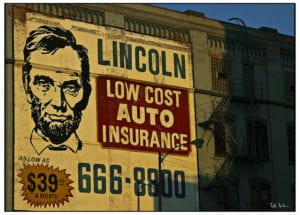 To protect ourselves and our family from the dangers of car accidents, one of the most important things a driver can do is to know his or her policy limits, and whether he or she has enough underinsured motorist coverage (UIM).  Underinsured motorist coverage protects drivers and their passengers in the event that their losses exceed the policy limits of the driver at fault.  In West Virginia, drivers are only required to maintain bodily injury liability limits of $20,000 per person and $40,000 per accident.  Drivers must also maintain property damage liability coverage of $10,000.  Sometimes these minimum policy limits are just not enough to cover the lost income and medical bills caused by an auto accident.
This basic coverage is frequently called 20/40/10 coverage with 20/40 UM limits.  UM stands for uninsured motorist coverage and protects drivers and their passengers from damages caused by an uninsured driver.  Below is a breakdown of the minimum policy limits required by West Virginia:
West Virginia Car Insurance Requirements:
Bodily Injury Liability: $20,000/$40,000 Limits
Property Damage Liability: $10,000 Limit
Uninsured Motorist Bodily Injury: $20,000/$40,000 Limits
Uninsured Motorist Property Damage: $10,000 Limit
West Virginia Personal Injury Law
Although West Virginia law requires all drivers to maintain a minimum amount of Uninsured Motorist Bodily Injury and Property Damage coverage, West Virginia does not require drivers to maintain Underinsured coverage.  Therefore, it's important for a driver to determine whether she has underinsured coverage, and, if so, in what amount.  I have spoken with many people who have been injured in an auto accidentwho thought they had this coverage, when in fact, they didn't.  Unfortunately, many drivers often don't realize they're not protected until it's too late.
Following is a hypothetical example that hopefully helps illustrate the importance of maintaining auto insurance with adequate limits and undersinsured coverage.
Jennifer, a single mother, is carefully driving to work when she gets rear-ended by John's large truck.  The force of the collision severely injures Jennifer, and she has to be rushed to the hospital by bulance.  Jennifer subsequently needs extensive medical care and incurs $150,000 in medical bills, misses three months of work, and requires future medical treatment that will cost more than $50,000.  Jennifer's special damages are now over well $200,000.  She should also be entitled to compensation for compensatory damages that cover pain and suffering and other intangibles, which could range anywhere from $200,000 to $1,000,000.
However, John only has minimum liability coverage – $20,000.  That's the maximum amount Jennifer will be able to recover from John unless he has significant assets, which is unlikely.  The $20,000 won't even begin to pay for Jennifer's medical bills.  Now, in addition to her injuries, Jennifer is faced with financial ruin as the medical bill pile up unless she has underinsured coverage to supplement John's coverage.  If she does, she'll be able to collect under John's liability policy and her underinsured auto policy.
If Jennifer had underinsured coverage in the amount of $400,000, she'll likely be able to recover that amount, plus John's policy limits of $20,000.  This would enable Jennifer to pay off her medical bills and support herself and her family while she can't work.  She'll now also have enough money to receive the future medical care she needs to recover, and there will be some money left over to help compensate Jennifer for her pain and suffering and her other losses that are real but difficult to quantify.
On the other hand, if Jennifer had underinsured coverage, but only in the amount of $20,000, she really wouldn't be much better off than if she didn't have undersinsured auto coverage at all because an additional $20,000 still wouldn't come close to covering her medical bills, and she still wouldn't be able to afford the future medical treatment she needs.  Therefore, the amount of a driver's underinsured coverage is sometimes as important as whether a driver has such coverage.
The same principles apply to uninsured motor vehicle coverage.  If John didn't have auto insurance when he rear-ended Jennifer, then her Uninsured coverage would apply.  However, if Jennifer only maintained the West Virginia minimum uninsured motorist bodily injury coverage of $20,000, then that's all she would be entitled to unless John had assets and/or a well-paying job.  And again, $20,000 would not even begin to cover Jennifer's medical bills.
In the above examples, it's easy to see how important it is to know your policy limits and whether you have underinsured motorist coverage. Often, increasing policy limits is relatively inexpensive.  The exact limits appropriate for each driver is a personal choice that entails many other factors not addressed here.  However, I hope this article on personal injury law and West Virginia auto insurance is helpful in deciding which car insurance is best for you and your family.  Feel free to Contact West Law Firm for a free consultation with a West Virginia personal injury lawyer me for a free consultation at 1-877-943-9378.
Brooks West is a West Virginia personal injury lawyer who helps people who have been injured by negligence or wrongful conduct. He is the President and founder of West Law Firm and has been an attorney since 2005. Brooks is a Multi-Million Dollar Advocates Forum member and has been awarded the AV Preeminent Rating from Martindale-Hubbell.