West Virginia Auto Accidents – First 48 Hours, Part I
West Virginia's Personal Injury Lawyer offers advice about what to do if injured in a West Virginia car, truck or motorcycle accident.



Odds of being in a WV auto accident: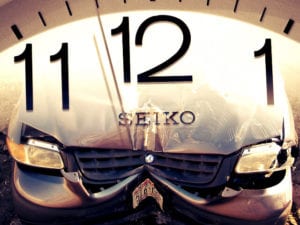 The odds in West Virginia of being involved in an auto accident are nearly 100%!  The US Department of Transportation estimates that the typical driver will have a near automobile accident one to two times per month and will be in a auto collision, on average, every 6 years.  A 1990 National Highway Traffic Safety Administration (NHTSA) study found that about 28 percent of occupants in car accidents incur minor to moderate injury while 6 percent incur severe to fatal injuries.  According to the National Safety Council (NSA), there are more than 12 million motor vehicle accidents annually involving more than 20 million vehicles. These auto accidents result in over 5 million nonfatal injuries each year, and 2 million disabling injuries.
The NHTSA reported that in 2008 there were 380 automobile accident fatalities in West Virginia with 128 of them involving alcohol, and 97 involving speeding.  In 2009 there were 345 automobile accident  deaths in West Virginia, with 115 of the accidents involving alcohol.
If you or a loved one is seriously injured in a WV car accident, the advice and counsel of an experienced WV Auto accident lawyer can make a huge difference in what happens next. Letting a skilled personal injury lawyer represent you gives you the time, energy and peace of mind you need to heal.  Hiring a WV lawyer experienced in litigating Automobile accident lawyers West Virginia also helps maximize your claim so that you and your family are adequately provided for.
Preparing for a WV auto accident?
In the event of a car or truck accident, it's easy to become overly excited due to adrenaline, injuries, fear of others' injuries, etc.  Hysteria can set in following an auto accident, and that's when mistakes often happen.  If you are prepared, it will be much easier to stay calm and handle the accident better.  Having an accident preparedness kit is a very good idea.
Being prepared for an auto accident in West Virginia may not prevent one, but being prepared can lessen the damages caused by an auto accident.  Part of being prepared may involve considering who to contact in the event of an accident.  At your place of employment, your doctors office, your children's school, and many other places, emergency contacts are kept on file.  Decide now who should be contacted.  Contacts may include spouses, neighbors, relatives, friends, and a WV Auto accident lawyer who can protect you, your family, and your assets if needed.
Lawyers recommend auto accident safety kits
Virtually all injury attorneys and lawyers, in West Virginia and elsewhere, recommend that all automobiles be equipped with a safety kit. The items that you have in your automobile accident safety kit will vary depending upon personal preference and geographic location.  A driver in North Dakota may feel that it is necessary to have winter survival gear including blankets, hand warmer packets, and snow shoes.  A driver in West Virginia may also want to have some of these items.
Even minor car accidents require an exchange of information.  It's a good idea to print your Name, address, insurance policy #, agent's name, address, and telephone number, lawyer's information, etc. on index cards so that you can just hand one to the other driver involved in the accident.  You will also want to prepare index cards to write the other driver's information on.  You may want to add a line for the other driver to write down what happened, especially if he or she admits that the auto accident was his or her fault.
On the other hand, it's prudent in West Virginia to never admit that an automobile accident was your fault, even if you think it was.  Many times drivers remember things after an accident once they have calmed down that may change their entire view of the auto collision.  Also, a WV lawyer experienced in litigating accident claims may later gather evidence that shows the car accident was caused by a third party.  For example, the company that built the road, or the government that hired them, may be liable for your personal injuries if, for example, a construction mistake was made.
Be careful, be prepared, and watch for Part II of this article soon.  Or visit our West Virginia Personal Injury Lawyer Blog for more information from a WV attorney.
For a Contact West Law Firm for a free consultation with a West Virginia personal injury lawyer about your accident or injuries, call a West Virginia personal injury lawyer at West Law Offices anytime toll free at 1-877-943-9378.  West Law Offices proudly serves Charleston, Beckley, Logan and all of West Virginia.  If you can't come to us, a WV personal injury attorney will come to you.  We charge NO FEES OR COSTS unless we win. [/two_third] [one_third_last]
Brooks West is a personal injury lawyer, founder, and President of West Law Firm. He has been helping those wrongfully injured in West Virginia for almost two decades. The results and service he provides his clients have earned him membership in the Multi-Million Dollar Advocates Forum and the AV Preeminent Rating from Martindale-Hubbell. Brooks is most proud of the many 5-star reviews he has received from satisfied clients.