Workplace Assaults: Leading Cause of Injury to Health Care Workers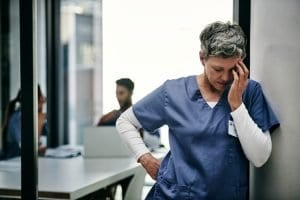 Over 75% of workplace assaults are against healthcare workers, according to the Occupational Safety and Health Administration (OSHA). Health care professionals are also far more likely to experience injuries due to assaults compared to other professionals. Unlike other industries, there are no federal laws to protect healthcare and social workers from workplace assaults.
On the front lines of the fight against COVID-19, health care workers deserve the protection that comprehensive reform would offer them. While the current pandemic has pushed health care workers into the spotlight, the problem with violence in the health care setting has been around for far too long.
Violence Against Health Care Professionals is Increasing
Violence against health care workers increased by 63% between 2006-2016. Since 2016, the numbers have continued to climb. While there are no definitive answers to why violence against healthcare workers has increased, those in the industry point to:
The ongoing opioid and heroin crisis
Behavioral and mental health issues and a lack of sufficient resources to address the problem
During the coronavirus pandemic, hospital resources are stretched thin, leaving little room for safety protocols against violence
An increase in violence overall since the start of the pandemic
How Can You Help? Support the Workplace Violence Prevention for Health Care and Social Service Workers Act
In the fall of 2019, the U.S. House of Representatives voted to pass the Workplace Violence Prevention for Health Care and Social Service Workers Act (H.R. 1309)  to force OSHA to establish new standards for employers to write and implement a workplace violence prevention plan. The bill has not yet passed the senate, however. You can contact your US Senator here if you'd like them to support this law aimed at protecting your healthcare providers.
What H.R. 1309 Could Mean for Health Care Professionals
Health care employers would have to develop and implement a comprehensive plan for protecting health and social service workers, and other personnel, from workplace violence. The health care setting is an emotional and volatile experience for people, where emotions are running high.
Emergency settings, in particular, are more likely to see assaults by patients and family members. Catastrophic injuries, terminal illnesses, and the rising cost of healthcare are pushing many patients and their families to the brink.
Psychiatric issues, gang violence, gun violence, domestic violence, and an overburdened health care system all collide in emergency departments across the country. Health care workers are speaking out about a need to implement safety protocols that involve more than criminalizing patients, which many see as unfair and unproductive.
Inpatient psychiatric facilities and home health care also present a danger to health care professionals. Home health care requires health care professionals to enter less controlled environments, often without backup or support of any kind.
West Virginia's Laws on Healthcare Workplace Violence Prevention
Currently, only nine states, including West Virginia, require hospitals to have workplace violence prevention plans in place. OSHA offers guidelines to help health care facilities counter violence, but they are only advisory. Without H.R. 1309, West Virginia's guidelines are not mandated nor enforceable; in other words, they do very little to protect our healthcare workers from violence and injury in the workplace.
H.R. 1309 would require hospitals to take a proactive approach to establish violence prevention and safety protocols. The bill would require an ongoing assessment to identify and mitigate risk, train staff, and a coordinated response to violent events in real-time.
According to House Bill 3028 in West Virginia, a survey conducted by the American College of Emergency Physicians, 47% of emergency room doctors have been physically assaulted at work. Eight out of ten respondents stated that this violence is having an impact on patient care. The study also concluded that health and social workers are five times more likely to suffer a workplace violence injury than other professions.
According to the American Nurses Association, one in four nurses has been physically assaulted by a patient or a patient's family member.
The American Journal of Managed Care cites studies showing that the number of assaults may be far higher, as the problem is frequently underreported. Assault definitions vary by state, and health care professionals often choose not to report incidents that do not involve a serious injury. Many doctors and nurses report that verbal assaults, and physical assaults such as spitting or pushing, occur on an almost daily basis in some health care settings.
Now more than ever, our health care workers deserve better. The coronavirus pandemic highlights how often they are required to put their health and safety on the line to take care of the rest of society. They should not have to fear violence in the workplace in addition to the risk they already take.
H.R. 1309 Will Help More than Health Care Professionals and Social Workers
The passage of 1309 to law would benefit society by making hospitals and other health care facilities safer for patients and visitors. The law would also save on worker's compensation costs, reduce lost time from work, and save healthcare companies' money.
Despite increased costs for training and raising safety standards, money would be saved in reducing the number of skilled professionals who burn out or leave the profession after a violent encounter. In many states, despite the lack of regulations protecting health care workers, facilities can still be sued for damages when a health care worker is injured due to an on-the-job assault.
Get a Free Case Evaluation from an Experienced West Virginia Work Injury Lawyer
If you or a loved one was injured or assaulted at work, you are likely entitled to worker's compensation while you recover. You may also have a case to seek damages from your employer if certain conditions are met as set forth in West Virginia's deliberate intent laws.
We invite you to contact West Law Firm for a free, confidential evaluation of your West Virginia work-related injury case. Our toll free number is 1-877-943-9378, and there's never a fee unless you win.
Brooks West is a personal injury lawyer, founder, and President of West Law Firm. He has been helping those wrongfully injured in West Virginia for almost two decades. The results and service he provides his clients have earned him membership in the Multi-Million Dollar Advocates Forum and the AV Preeminent Rating from Martindale-Hubbell. Brooks is most proud of the many 5-star reviews he has received from satisfied clients.