Five Workers Injured in West Virginia Fracking Explosion at Antero Natural Gas Well Site
NEW MILTON, WV – A fire at an Antero Resource's natural gas drilling site in Doddridge County, West Virginia is under investigation after 8 workers were injured at around 4 a.m. on July 7th near New Milton.
BANCS Volunteer Fire Chief Randy Trent said after he got the call that Emergency Services needed assistance from the Volunteer Fire Department, he and his crew headed to the accident site. Trent says he and a worker from Antero found two fracking tanks on fire shooting flames 8-10 feet into the air.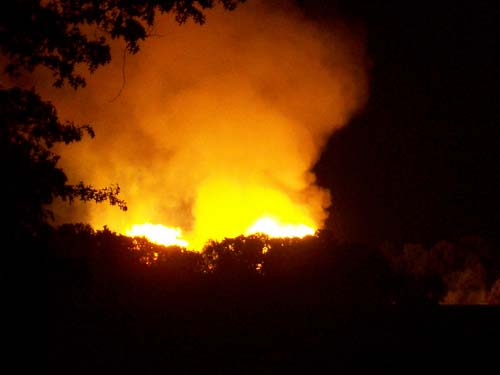 Fortunately, the firefighters "were able to use foam and put the fire out," said Trent.
However, eight workers were injured in the fire and five had to be flown to the West Penn Burn Center in Pittsburgh according to an Antero representative. Apparently, three others were transported to local hospitals.
Trent said some of the workers were severely injured.  "Anytime you're dealing with the severely injured like we were [Sunday], it's a very traumatic situation, if not a scary situation," said Trent.
As an experienced West Virginia work accident lawyers, I understand the dangers that people face working in the state's oil, gas and mining industries.  However, I was still shocked by the injuries this explosion caused, especially since this was not the first fire at an Antero site here in West Virginia that caused workers injuries. A fire at an Antero Resource's drilling site in Harrison County injured three workers in 2012. As a result, Antero was cited by West Virginia DEP.
Antero Resources is an oil and natural gas company controlled by Warburg Pincus LLC and is based out of Colorado.  Antero operates 15 drilling sites in seven West Virginia counties.
The Associated Press reported that state, federal and independent investigators have arrived at the scene of this serious natural gas well explosion.  "OSHA, the West Virginia DEP, and two independent companies that Antero has hired are working to determine the source of what caused the gas well to ignite," reported WOWKTV.
According to Pat Heaster, director of emergency services in Doddridge County, West Virginia, a spark triggered a flash explosion and a fire after a problem during the "flow back" process when drilling fluids were being pumped into storage tanks.  Antero suspects it was a methane explosion, according to Schopp, Antero's Vice President.
The "flow back" process is currently an integral part of hydraulic fracking where millions of gallons of water and chemicals are pumped deep underground to release natural gas from shale rock.  Fracking is a somewhat controversial process due to the impact it has on the environment, including clean water sources, especially of those who live around the fracking.  This gas well explosion also highlights the dangers to human life that fracking presents.  Of course, fracking creates jobs and provides the country with natural gas; so it's a complex issue.
West Virginia has been the scene of other devastating industrial disasters in recent years, most notably in the coal mining industry. In 2010 a blast at the Upper Big Branch mine claimed the lives of 29 miners. The mining company settled wrongful death lawsuits with the families of those who died, two years later.
Burns and other work related injuries in West Virginia
Burns are horrific, painful injuries that can be life threatening. When work accidents take place, human error or defective equipment is often the cause. In both instances, injured workers will often lose income and incur substantial medical bills.  Fortunately, there are legal remedies for workers injured in West Virginia, especially when their injuries are due to dangerous work conditions that violate safety regulations or industry standards.
Free Consultation with West Virginia work accident attorney
If you or a loved one was been injured in a coal mining accident, gas well accident, or other West Virginia workplace accident and want to know what your legal rights are, please call for a free consultation with an experienced West Virginia injury attorney.  Our toll free number is 1-877-943-9378.
–Our thoughts, wishes and prayers go out to the workers injured in this WV gas well explosion. May they have a speedy recovery.  May they and their families be supported by their communities.
Brooks West is a West Virginia personal injury lawyer who helps people who have been injured by negligence or wrongful conduct. He is the President and founder of West Law Firm and has been an attorney since 2005. Brooks is a Multi-Million Dollar Advocates Forum member and has been awarded the AV Preeminent Rating from Martindale-Hubbell.