Whiplash Injury: Symptoms, Treatment & Causes
Whiplash Injuries in West Virginia
Over 120,000 Americans sustain a whiplash injury every year. Many people with whiplash fully recover within a few weeks to a few months, but some don't, which is why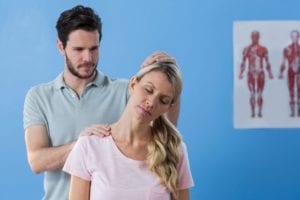 whiplash is a major cause of disability. Whiplash is often caused by rear-end car accidents but can be caused by any impact that causes the head to jerk forward, backward or sideways. The sudden force of the impact causes the muscles, tendons and/or ligaments of the neck to stretch and sometimes tear.
Whiplash is also known as neck strain or sprain, and just like severe ankle strains, whiplash can cause permanent problems. Contact sports, slip or falls, and job related injuries where the head is suddenly jolted backwards are other common causes of whiplash in West Virginia.
Whiplash Injury Symptoms
Whiplash is also called whiplash-associated disorder (WAD) because each whiplash injury is different and may involve different symptoms. Common whiplash symptoms include:
Neck Pain and Tenderness
Decreased range of motion and stiffness in the neck
Muscle spasms
Headaches
Radicular Pain — including pain that radiates into the shoulders and arms
Cognitive symptoms, which may also be a symptom of a brain injury
Whiplash Treatment
Every whiplash injury is different. For example, as West Virginia injury lawyers, we have observed that some of our clients with whiplash injuries respond better to chiropractic care, some respond better to physical therapy, and still others seem to respond better to alternative therapies like acupuncture, yoga, or some combination of treatments.
Common treatments for whiplash injuries include:
Keep your neck mobile and gently strive to continue with normal activities, is now recommended
Painkillers and anti-inflammatories like tylenol and ibuprofen (advil) are typically recommended; stronger painkillers are sometimes prescribed in more serious injuries or when these don't help.
Physiotherapy, which may include one or more of the following:physical therapy, massage, exercises and stretches
Chiropractic care
Alternative Treatment for Whiplash Injuries
Natural anti-inflammatories like curcumin, ginger and turmeric
Acupuncture: Acupuncture has been scientifically proven to help reduce pain in some cases
Massage: Massage has been proven to help with neck pain and is now covered by many health insurance policies
Trascutaneous electrical nerve stimulation (TENS): TENS is a device that applies mild electrical currents to the skin. Physical therapists and chiropractors sometimes offer this service. Whiplash sufferers can also buy these devices and use them at home.
Therapeutic Yoga
Osteopathic Manipulative Therapy
How is Whiplash Diagnosed and Why it Matters?
If you sustained a forceful blow or impact from something like a car crash and experience one or more of the symptoms listed above, Seeing a doctor for a proper diagnosis is critical. Your doctor will then likely physically examine you to determine if you have whiplash or some other condition. He may also order X-rays, CT (computed tomography) scans, and other tests. If your neck pain doesn't resolve in a few weeks, your doctor will likely recommend an MRI of your cervical spine, which is the portion of the spine that makes up the neck.
MRIs provide more detailed images than other imaging techniques and are better at detecting injuries of the spinal cord, discs, nerves, and smaller bony structures. Doctors are more likely to misdiagnose or fail to diagnose whiplash injuries that involve ligaments and bones, according to recent studies investigating whiplash.
When doctors fail to accurately diagnose whiplash injuries, patients suffer delays in treatment and often receive inappropriate therapies. Seeking medical treatment immediately after a neck injury may help ensure a proper diagnosis. Following up and following through with medical treatment, especially if you continue to experience whiplash symptoms weeks or months after a motor vehicle crash is also critical to ensuring you receive the proper diagnosis and treatment for your injuries.
Whiplash Prognosis: Is there a Cure?
Many people who suffer a whiplash injury will fully recover within several weeks to several months. However, almost half of whiplash sufferers will experience long-term or chronic symptoms, according to recent studies investigating Whiplash Disorders.Keeping your neck mobile and seeking medical attention from a doctor experienced in treating whiplash injuries as soon as possible after an injury will increase your chances of fully recovering. Also, not all treatments work for all people. If one treatment doesn't work for you, try another one or try a combination of treatments.
Is it possible to predict if a whiplash injury will be long-term?
High baseline pain intensity (greater than 5.5/10) and high Neck Disability Index (NDI scores) (greater than 14.5/50) are the strongest predictors of outcome, accord to recent studies.This is not surprising since more severe injuries cause more severe pain. The mechanism of the whiplash injuries involving automobile crashes have been found to have little predictive value in determining whether a whiplash injury will be chronic or short lived.These mechanisms include direction of impact, speed of impact, and position in the vehicle.
When does Whiplash Pain Start?
Some people who suffer a whiplash injury experience pain immediately. Other feel pain hours and sometimes days later, especially when injured in a motor vehicle crash which often causes a flood of adrenaline. Adrenaline is known to mask pain.
Free Consultation with an Experienced West Virginia Whiplash Injury Lawyer
If you or a loved one has been injured in West Virginia because of another's negligence or recklessness, we invite you to call West Law Firm for a Free Consultation. Our West Virginia personal injury lawyers are located in West Virginia, but serve clients throughout the state and country. If you can't come to us, we will send an experience injury attorney to you.
Brooks West is a West Virginia personal injury lawyer who helps people who have been injured by negligence or wrongful conduct. He is the President and founder of West Law Firm and has been an attorney since 2005. Brooks is a Multi-Million Dollar Advocates Forum member and has been awarded the AV Preeminent Rating from Martindale-Hubbell.