Two West Virginia Coal Truck Accidents in less than a Week
Coal trucks are a familiar sight on the roads of West Virginia, which is good for the economy when coal truck drivers and companies are obeying the rules of the road. However, when they don't, they are often the cause of serious accidents and injuries in and around the state's mining areas.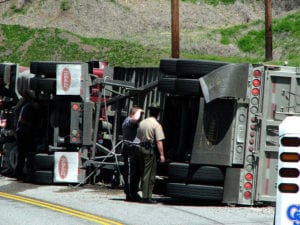 In the span of less than a week there have been at least two coal truck accidents in West Virginia. Several people were injured in Raleigh County in an accident involving a coal truck and a car on November 1. According to reports on WVVA.com at least three people were taken to a nearby hospital with unknown injuries after the accident on Robert C. Byrd Drive in front of the Super 10 in Crab Orchard.
Just days earlier on October 29, two people were reported to be injured after a car rear-ended a coal truck on Route 25 near a gas station in Nitro.
According to media reports, the driver and the front seat passenger were taken to a local hospital after both were extricated from the car.
When a coal truck is involved in an accident, the consequences can be very serious for other drivers and passengers of smaller vehicles because the force of the impact is often more than double what it would be between two vehicles of a similar size.
It means the driver of the coal truck will often walk away unharmed from a crash while the driver or passengers in the smaller vehicle may face crippling injuries or lose their lives.
The disparity was illustrated in a head-on crash between a coal truck and a pickup truck in Glasgow, WV in 2010. In that wreck, two people were killed and two others were seriously injured. The driver of the coal truck was unharmed.
The narrow and winding nature of West Virginia's roads means coal trucks are an even greater threat to other drivers than they would be in a low lying area with good visibility.
Accidents involving coal trucks can be complicated. Companies that operate these large trucks are required by law to comply with weight restrictions, strict maintenance inspection routines and time limits on how long a driver can operate the truck. If these regulations are not followed, the companies that operate the vehicles can be held liable for the damages and injuries that their drivers cause.
Those potentially liable in crashes involving coal trucks include:
The driver
The trucking company
The owner of the truck
A coal company
A manufacturer of the truck or the parts
Retailers and distributors of the truck and/or its parts
Maintenance companies
And others depending on case
In many cases, a fatigued truck driver causes or is one of the causes of the crash. The driver's employer may be liable if they failed to abide by legislation on how long a driver can be behind the wheel. A manufacturer or a maintenance company may be held liable for injuries caused in an accident if an important piece of equipment such as the brakes on the truck failed.
Overloading is another problem endemic in the coal trucking industry. If a truck is too heavy it may topple over on a mountain road, endangering the driver and other road users.
Free Consultation with a West Virginia Trucking Accident Attorney
If you are hurt in any kind of accident, it is important to speak with an experienced West Virginia trucking accident attorney as soon as possible to preserve evidence and protect your rights.  At West Law Firm, we invite you to call us for a free consultation.  Our toll free number is 1-877-943-9378.  We are located in Charleston, WV but serve clients who have been injured anywhere in West Virginia.
Photo credit
Brooks West is a West Virginia personal injury lawyer who helps people who have been injured by negligence or wrongful conduct. He is the President and founder of West Law Firm and has been an attorney since 2005. Brooks is a Multi-Million Dollar Advocates Forum member and has been awarded the AV Preeminent Rating from Martindale-Hubbell.