West Virginia Auto Accident Checklist: Documenting the Crash and Your Pain and Suffering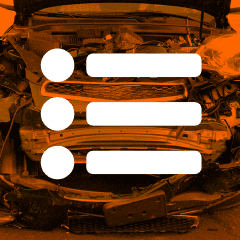 Following is a checklist you can use to help you identify, gather and organize some of the information that you and your lawyer will ultimately need to settle your claim with an insurance company.
THE AUTO ACCIDENT
Driver information: Obtain and exchange information with all other drivers such as name, license number, tag number, insurance company name, insurance policy number.  However, be sure not to admit fault or volunteer information to anyone except for an investigating office until after you've had a chance to discuss the crash with an experienced personal injury lawyer.  There may be factors you're unaware of, and, like the saying goes, "what you say can and will be used against you."
Photographs: Take photographs of your injuries, the damage to all vehicles and of the scene of the accident including any debris on the road.  Also, take pictures of any skid marks and anything else at the scene of the accident that might be related to your collision.
Police report: Report the accident to the police and get a copy of the accident report once available.  If you choose West Law Firm to represent you, we will get the accident report for you and ensure accuracy.
Witnesses. Jot down all names, addresses, phone numbers and email addresses.  Witnesses are often critical to West Virginia auto accident claims.  Try to get a recording of their statement with your smartphone  Or at the very least ask them for a written statement.
POST ACCIDENT
Medical care and expenses. Document all office visits, prescriptions, over-the-counter medications, laboratory services, physical therapy, hospital visits, treatments, medical documents, and x-rays, and include the names, dates of visits, amount charged and reasons for the medical treatment.  If you hire an attorney like West Law Firm, he or she will request all of your medical records and bills, but we need to know which medical care provider to request them from.  Additionally, there may be no official record of over the counter medications or alternative therapies, so it's important to keep a close record of these expenses.
Missed work: Log all time that the auto accident caused you to miss from work, such as time off for medical treatments.  Don't forget to include missed vacation time and document any inability or reduced capacity to fully perform your work duties. An experienced injury lawyer can help document your lost wages and obtain a detailed letter from your employer verifying pay and lost time and benefits.   for more serious injuries and lost wages, West Law firm often selects a qualified economic expert to evaluate these substantial losses.
Lost school time. Document all missed school and/or inability to continue with school work.
Photographs: Continue to take photographs of your injuries as they heal after the accident. This will help document your pain and suffering and write the date on the back of the photo or use a digital camera that records this data.
Pain, emotional distress, fatigue, insomnia, interference with life activities, inconvenience, etc.: Keep a daily journal of your thoughts, feelings and experiences to document and evidence the injuries and accident have interfered with your daily life and relationships.  Please keep in mind however that the other side's insurance adjuster or lawyer will get to see these writings.
Auto repair estimates: Although car repair estimates are necessary to get your car fixed, some estimates can sometimes be lower than you think is reasonable. If you are unsatisfied with an initial estimate, you can take the car to a certified mechanic for another estimate. Also, save all of the bills and paper work associated with the repair, which can later help show the extent of your injuries.
Out of pocket expenses: Keep receipts and records of everything you have paid for relating to your accident and injuries. For example, child care expenses, heating pads, household services, cancellation of a vacation, special clothing, taxi service or rental car should all qualify for reimbursable out of pocket expenses.
If involved in a West Virginia auto accident, remember these key points:
Seek medical attention immediately after an auto accident.
Do not admit fault after the accident.  You can and should answer law enforcement questions, but you will likely not have enough information to determine who was legally at fault.  Just stick to the facts.  Who was at fault is a question of law.
Follow through with all medical treatments.  Insurance adjusters will use any delay as evidence that you were not that injured.
Do not answer any questions from the other side's insurance company or attorney without consulting an experienced West Virginia auto accident lawyer like West Law Firm first.  With West Law Firm,  You don't have to worry about whether you can afford an attorney because there's never a fee unless and until we recover money for you.
Do not settle your claim until you have received all needed medical treatment Or are at least aware of all the medical treatment you will need in the future and the cost of the same.
Keep copies of all documents, bills, receipts, medical records, etc. (make a folder for just this purpose.
For a FREE case evaluation with an experienced West Virginia auto accident attorney, call West Law Firm.  We are located in Charleston, West Virginia, and serve clients throughout the state and country.  Our toll free number is 1-877-943-9378.
Brooks West is a West Virginia personal injury lawyer who helps people who have been injured by negligence or wrongful conduct. He is the President and founder of West Law Firm and has been an attorney since 2005. Brooks is a Multi-Million Dollar Advocates Forum member and has been awarded the AV Preeminent Rating from Martindale-Hubbell.