13% of WV Drivers don't have Auto Insurance — How to Protect Yourself with Uninsurance Motorist Coverage
West Virginia Auto Insurance to Protect You from Uninsured Drivers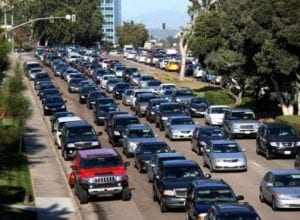 Although auto insurance is required in West Virginia, one in seven drivers fail to maintain insurance for their vehicle.  So, it's no surprise that about 7,000 people ticketed in West Virginia each year for driving without insurance.
Drivers' failure to maintain liability insurance often causes many auto accident victims severe hardship because that means less or no insurance money for past and future medical bills, lost wages, out of pocket expenses and other losses. However, purchasing enough uninsurance motorist coverage (UM) is one of the best ways to protect you and your family from negligent, uninsured drivers.
Uninsurance motorist coverage normally covers you, members of your household and your passengers for most losses caused by an uninsured or hit and run driver. Covered losses include bodily and personal injuries, medical expenses, economic losses, pain & suffering and/or wrongful death.
For example, your uninsured motorist policy should cover your medical bills, lost wages, pain and suffering up to your policy limits. Additionally, how much money you actually recover depends on a number of other factors including whether you sustained permanent injuries, whether you need future medical treatment, and whether you have a personal injury law firm with a successful track record on your side.
West Virginia law and Uninsurance Motorist Coverage
Fortunately, West Virginia raised its auto insurance limits as follows:
Beginning January 1, 2016 the minimum amount of auto insurance coverage required is:
$25,000 for one crash, one injury
$50,000 for one crash, two or more injuries
$25,000 for property damage
These minimum amounts apply to both liability, bodily injury coverage and uninsurance coverage. In other words, all West Virginia drivers must maintain at least $25,000 in what's called liability or bodily injury coverage in the event they negligently harm others while operating a vehicle. And similarly, all West Virginia drivers must maintain at least $25,000 in what's called uninsurance coverage to protect themselves in the event that a negligent, uninsured driver causes them injury. 
Example of Injured Family Without Enough Uninsurance Coverage
A father and his two children are carefully stopped at a red light when they are rear-ended and seriously injured by an uninsured, drunk driver.  The father had the minimum amount of uninsured motorist coverage required by West Virginia law.  In this example, the father's medical bills are $50,000 and each child's medical bills are $20,000.
Prior to the accident, the father made $50,000 per year, but the wreck caused him substantial injuries requiring him to miss 6 months of work.  So, the father's lost wage claim will likely be more than the $25,000 potentially available to him, which leaves him no money to pay for his medical bills.
Additionally, because the insurance company is only obligated to pay a total of $50,000 for the combined, accident-related losses of the father and his two children, they will eventually have to divide the $50,000, leaving each of them with less than $17,000 — not enough to even pay for medical bills!
That's why it's so important to purchase plenty of uninsured motorist coverage.  It's worth a little extra money each month to have the peace of mind that comes with knowing that if you or a loved one is seriously injured by an uninsured or hit and run driver, you will have enough insurance to cover my losses and provide for me and my family if I'm unable to work.
Ask an Experienced West Virginia Automobile Accident Lawyer
As you can see from the above example, there are many factors that may affect your rights and options if you've been injured by an uninsured negligent driver.  West Virginia insurance law is also complicated and has many facets.  That's why at West Law Firm, we offer free consultations and never recover a fee unless and until we get financial compensation for your claim.
If you would like a free consultation with one of our experienced automobile accident lawyers, please call our toll free number at 1-877-943-WEST (1-877-943-9378). We are located at 1201 Jefferson Road, S. Charleston, West Virginia 25309.
Brooks West is a personal injury lawyer, founder, and President of West Law Firm. He has been helping those wrongfully injured in West Virginia for almost two decades. The results and service he provides his clients have earned him membership in the Multi-Million Dollar Advocates Forum and the AV Preeminent Rating from Martindale-Hubbell. Brooks is most proud of the many 5-star reviews he has received from satisfied clients.