Stricter WV Seat Belt Laws Saving Lives – Teens Still the Least Likely to Buckle Up
New Report Shows West Virginia's Stricter Seat Belt Laws are Saving Lives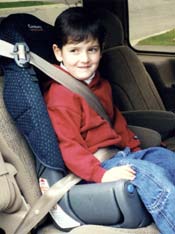 West Virginia has enacted stricter seat belt laws in the last several years. Buckling up saves lives – there's no doubt about that. However, a recent study shows that tougher seat belt laws also saves lives.
Researchers compared car crash deaths from 2001 to 2010, finding that as more states like West Virginia adopted stricter seat belt laws, fatality rates decreased by about a third. States with the strictest seat belt laws, where drivers can be ticketed solely for driving unbuckled — like in West Virginia — had lower deaths from car crashes than states with more lenient seat belt laws.
Teenagers – still the least likely to use seat belts and the most likely to die in car crash
Teens buckle up far less frequently than adults do. Despite efforts aimed at increasing seat belt use among teens, observed seat belt use among teens and young adults (16 to 24 years old) at 80 percent in 2008 – the lowest of any age group. In fact, in 2009 the majority (56%) of young people 16 to 20 years old involved in fatal crashes were unbuckled.
Here's what you can do to motivate your teen to buckle up
Studies have found that teens whose parents set rules and monitor their driving, behavior and seat belt use are twice as likely to wear a seat belt as a driver or passenger as teens who say their parents are uninvolved. These teens also are nearly twice as likely to believe that buckling up affects safety. You can make a difference by always wearing a seat belt and insisting that everyone else does too.
Teens decide what's "normal" or "expected" by observing the behaviors around them, including their parents, even if they pretend they don't care. They'll be more likely to buckle up if you have established seat belt use as a routine.
Other ways to promote seat belt safety:
Establish seat belt use as a rule for using the car. Be sure to remind your teen of this rule whenever he takes the keys and heads out the door and follow through on suspending her driving privileges when she breaks this rule.
Never turn the key until everyone is buckled up. Remember, your child learns how to be safe by watching you, and this simple routine will make it more likely your teenager buckles up too.
Explain it's about safety, not control. Insisting on seat belts is a rule in place for your teen's safety not for control. It's a rule you follow yourself and one you demand because of how much you care.
Honest communication – share with them the facts. The majority of teens who were killed in car crashes weren't wearing seat belts. A lot of teens also think seat belts are only necessary on highways or on long trips. Let them know most crashes happen in the neighborhood and that people can and do get hurt traveling close to home.
Explain that most teenage passengers that died in crashes were not wearing seat belts, too. In a crash, an unrestrained person can also hurt others in the car.
And if you have teenage drivers, make sure they keep their eyes on the road, not their cells phone.
Ask an Experienced West Virginia Automobile Accident Attorney
We hope everyone wears a seat belt and makes it to their destination safely. However, if you or a loved one has been injured by a negligent driver, we invite you to call West Law Firm for a free consultation. Our toll free number is 1-877-943-9378. And we never recover a fee unless and until we recover compensation for you.
Brooks West is a West Virginia personal injury lawyer who helps people who have been injured by negligence or wrongful conduct. He is the President and founder of West Law Firm and has been an attorney since 2005. Brooks is a Multi-Million Dollar Advocates Forum member and has been awarded the AV Preeminent Rating from Martindale-Hubbell.