The National Moment of Remembrance – A Silent Minute for our Fallen Heroes at 3 pm on Memorial Day
Honoring Our Fallen Heroes Who Fought for Our Freedom
Memorial Day: Celebrated the last Monday in May, Memorial Day is a national holiday intended to honor and pay tribute to those who died serving in the military.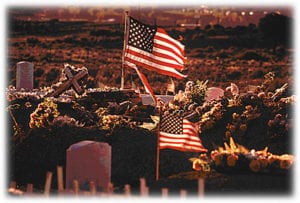 The National Moment of Remembrance is a nationwide event on Memorial Day where all Americans are encouraged to pause wherever they are at 3 p.m. local time for a minute of silence to remember and honor those who have died in service to the nation. As Moment of Remembrance founder Carmella LaSpada states: "It's a way we can all help put the memorial back in Memorial Day."
To ensure the sacrifices of America's fallen heroes are never forgotten, in December 2000, the U.S. Congress passed and the president signed into law The National Moment of Remembrance Act, which created the White House Commission on the National Moment of Remembrance. The commission's mission is to "encourage the people of the United States to give something back to their country, which provides them so much freedom and opportunity" by encouraging and coordinating commemorations in the United States of Memorial Day and the National Moment of Remembrance.
From all of us at West Law Firm, we thank our fallen heroes who died in service for our nation and our freedom. We wish them peace and happiness wherever they may be. Please join us at 3 pm on Memorial Day in a minute of silence in honor of the men and women who died in service for our nation and its people.
Brooks West is a personal injury lawyer, founder, and President of West Law Firm. He has been helping those wrongfully injured in West Virginia for almost two decades. The results and service he provides his clients have earned him membership in the Multi-Million Dollar Advocates Forum and the AV Preeminent Rating from Martindale-Hubbell. Brooks is most proud of the many 5-star reviews he has received from satisfied clients.