The Dangers of Slip and Falls and How to Prevent Them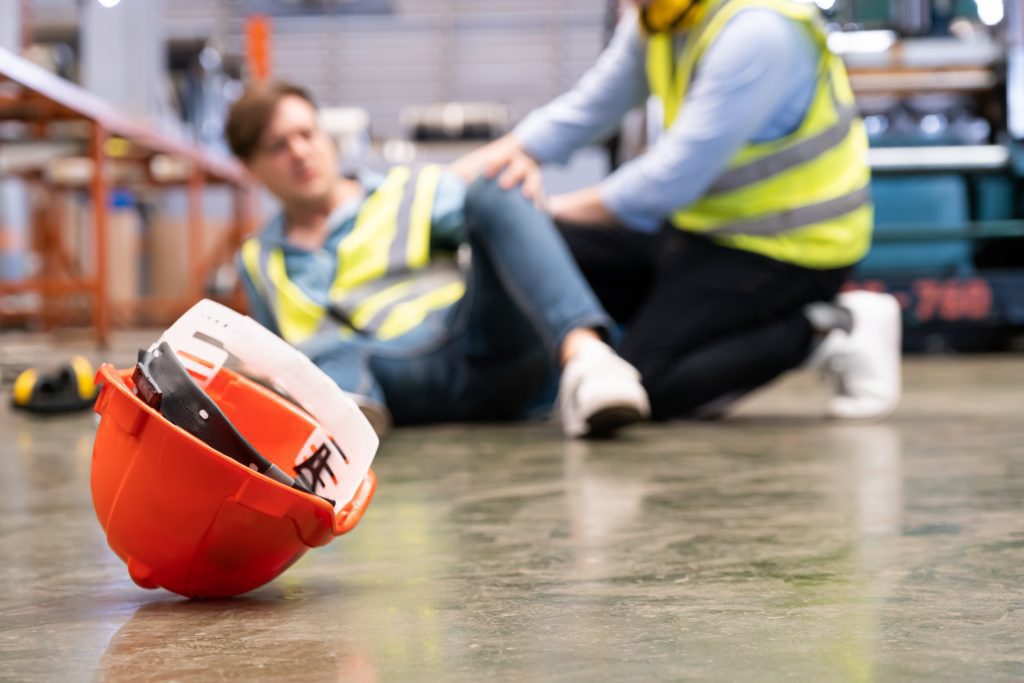 You might think that slip and falls are no big deal and usually only result in a few bumps and bruises. But according to the National Security Council, falls are a leading cause of injury and death in the United States. In fact, as slip and fall lawyers, we know falls are one of the biggest causes of ER visits, and, among older adults, are the leading cause of death. 
Below are some tips on how you can protect yourself from falls, and a summary of your rights and options if a dangerous condition or safety rule violation caused you to fall on another's property.
How to Prevent Falls
Fortunately, there are many things that you can do to prevent falls and avoid these unpleasant outcomes. Let's look at what you can do to make sure you stay safe.
Use the Right Gear
Many falls can be avoided by simply wearing good footwear. Wear low-heeled shoes with non-slip soles, as these will provide better traction on slippery surfaces or when moving suddenly.
If you need help feeling steady when you walk or stand, use a good cane or walker to help you get around. Make sure these devices are sized correctly for you; your health care provider will be able to help you find the right size.
To avoid a slip and fall injury at work, always wear appropriate safety gear when doing potentially hazardous activities, like working on a ladder or scaffolding.
Stay Strong and Alert
Taking care of your body is one of the best ways to prevent fall injuries. Regular, moderate exercise can help prevent falls by keeping your muscles strong and flexible, by improving your balance, and by extending your active years. Although exercise disciplines like yoga and tai chi have been shown to be excellent for maintaining your strength and balance, even simple exercises like going for a walk, practicing balancing on one foot, and standing on your tiptoes can go a long way toward preventing falls.
It's also important to have your eyes and ears checked regularly. Even small changes in vision and hearing can lead to an increased risk of falls. If you wear glasses or contact lenses, make sure they fit properly and take the time to get used to them. If you have a hearing aid, make sure it fits well too, and wear it.
Improve Your Environment
Now that you're using the right gear and keeping your body working well, take a look around your home or workplace. How many potential tripping hazards do you see? Try to keep the floors where you live and work clear of clutter and debris. Remove or reroute other tripping hazards like rugs and electrical cords. Consider using a non-slip mat in your bathtub or shower and, if you tend to be unsteady when standing, using a bath seat to allow you to sit while you shower.
Falls often occur due to inadequate lighting. Make sure your environment is well-lit, especially in areas where falls might be likely to happen.
Finally, either avoid or be very cautious when walking on wet or icy surfaces, as they can be very slippery. Use sand or an ice melt product to clear icy areas near your doors and walkways.
Slip and Falls Caused by Negligence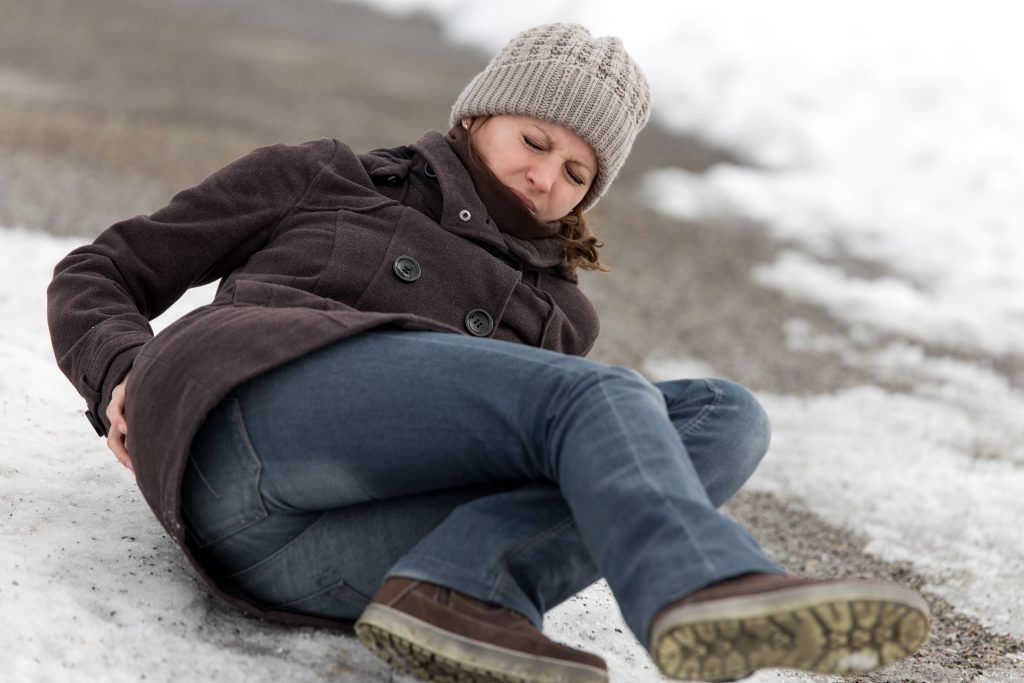 Sometimes, falls are caused by a business or property owner's negligence. If you fell because of a dangerous condition on another's property, the business or property owners may be liable for your injuries that were caused by their negligence. Such liability sometimes results in a slip and fall settlement, but sometimes a lawsuit is required to recover compensation for your injuries and other damages.
Get a Free Consultation with an experienced West Virginia slip and fall lawyer at 877-943-9378 or 304-WESTLAW.
Premises Liability: Responsibilities of Property and Business owners
Property and business owners have a responsibility to maintain their property in a safe condition and/or warn visitors of any dangerous conditions on their property. If a property owner neglects this duty, falls and injuries can often result. Some common examples of premise liability negligence that can cause falls include the following:
Broken staircases, loose handrails, and uneven pavement or floor surfaces
Poor lighting, especially around staircases, walkways, and parking lots
Failing to address wet or icy surfaces in a reasonable amount of time
Allowing clutter, debris, and other obstacles to remain in walkways
Failing to provide appropriate accessibility features, like ramps, elevators, and grab bars for people with disabilities and the elderly
Failure to warn of hazardous conditions and hidden defects
Business and property owners have a legal obligation to take reasonable steps to protect people from harm and to warn people of those hazards that they're unable to remove.
If you've been injured in a fall that you feel may be due to the negligence of a business or a property owner, speaking with an experienced slip and fall lawyer, like us at West Law Firm, will help you determine if you may be entitled to a slip and fall settlement. For a free consultation, call one of our slip and fall attorneys today at 877-943-9378 (WEST).
How a personal injury attorney can help
Proving negligence. A personal injury attorney can investigate the slip and fall and gather evidence to help you prove that the property or business owner was negligent in maintaining their property and that this negligence led to your fall and the resulting injuries.
Determining damages. An attorney will help you calculate the full extent of your damages— including medical expenses, lost wages, pain and suffering, and in some circumstances punitive damages—so that you can recover fair compensation.
Negotiating with insurance companies. Personal injury attorneys have experience negotiating with the insurance companies of the property or business owner to reach a fair slip and fall settlement for you.
Advising on legal rights. Your attorney will advise you on your legal rights and options and help you make informed decisions that are best for you.
Filing a slip and fall lawsuit. If the property owner or insurance company is not willing to agree to a fair settlement for your slip and fall case, your attorney can file a lawsuit on your behalf and represent you in court.
Common Consequences of Slip and Falls
Let's take a look at some of the more serious consequences that can result from a fall.
Physical Injuries
Fractures. Fractures of the wrist, hip, and spine are some of the most common injuries associated with falls.
Head injuries. Impact to the head during a fall can result in concussion and traumatic brain injury, which can lead to long-term physical and cognitive impairments.
Soft tissue injuries. Falls can cause damage to muscles, tendons, and ligaments, causing pain, swelling, and limited mobility.
Internal injuries. Severe enough impact can result in internal bleeding or damage to organs.
Death
Falls account for a quarter of all accidental deaths in the home and are the leading cause of death in the construction industry. Death is more likely to result in falls from height or if the fall results in a head injury.
Psychological Impact
In addition to the physical effects, experiencing a fall, especially one that results in injury, can have a detrimental effect on you psychologically and socially. After a fall, people often report experiencing an increased fear of falling, less confidence in their balance and agility, and depression. These psychological effects can then lead on to social isolation.
Risks for Older Adults
Although falls can happen to anyone, at any age, they are a particular concern for older adults. Because of the decreases in strength, mobility, balance, and vision that accompany aging, the risk of serious injury or death increases as you get older. Not only do falls become more likely for older adults, but injuries tend to be more severe, requiring longer recuperation and a potential loss of independence. Often, a fall leads to needing long-term care or a move to an assisted living community.
Get a Free Consultation With an Experienced WV Slip and Fall Lawyer at West Law Firm
Slip and falls can have serious repercussions—physically, psychologically, and financially. If you fell and were injured at a business or on someone else's property, and you feel that the accident may have resulted from their negligence, call West Law Firm to schedule a free consultation to explore your options. Our personal injury attorneys have the experience and expertise to help you win fair compensation, and we will accept no fee until we've secured compensation for you.
Call 1-877-943-WEST (9378), and let's talk about how we can help you get the compensation you're owed.
Brooks West is a personal injury lawyer, founder, and President of West Law Firm. He has been helping those wrongfully injured in West Virginia for almost two decades. The results and service he provides his clients have earned him membership in the Multi-Million Dollar Advocates Forum and the AV Preeminent Rating from Martindale-Hubbell. Brooks is most proud of the many 5-star reviews he has received from satisfied clients.