Thanksgiving Travel Tips: Best and Worst Days for Driving and Flying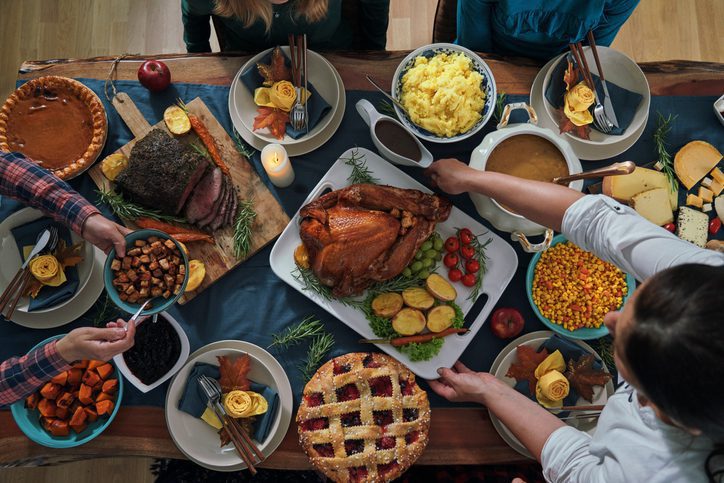 Every year, millions of people travel across America to visit family and friends for a Thanksgiving dinner. According to the National Safety Council estimates, around 500 of those travelers won't make it back home alive because of car accidents. That's why we did some research on Thanksgiving travel tips to share with you. They could save your life.
Thanksgiving is one of the deadliest holidays for accidents because there are so many people on the road driving late hours, and many of them have had a little too much to drink. Here are some things you can do to stay safe during Thanksgiving travel, as well as the best and worst days to make the journey.
The Most Dangerous Day to Travel Around Thanksgiving
We looked at data from NHTSA's Fatality Analysis Reporting System, which has data going back to 2020, to look at how fatal auto crashes are spread out across the holiday period. We looked at data from 2016 through 2020.
You might think that the deadliest day would be Thanksgiving Day after everyone had eaten a heavy meal, drunk some wine, and started home. It is the day with the highest drunk driving accident fatalities, but it's not the deadliest day.
The deadliest day is actually the Wednesday before Thanksgiving. In the four years we looked at, 570 people died that day in auto accidents compared to 545 on Thanksgiving Day and 559 in the weekend period after.
Times To Avoid Driving If Possible
Crashes happen across all time periods, but the worst time to travel during Thanksgiving according to the data, is between 4 PM and 9 PM. About a third of fatal crashes across the entire holiday period happen in those five hours.
The best time to travel according to the data is between 2 AM and 11 AM. Most people are sleeping then, and most travelers don't want to wake up really early to make a long drive back home before the level of traffic increases.
How Bad is West Virginia Compared to the Rest of the Country?
Compared to other states, West Virginia's danger for Thanksgiving travel is right in the middle of the pack. During the holiday periods in 2016-2020, there were:
9 fatalities
An average annual fatality rate of 1.8
Drunk driving caused only 11% of these crashes
An average of 1 fatality per 1 million residents
These stats are a little skewed because there were so few fatalities in West Virginia. It's possible, but much more unlikely. We can compare these numbers to California, which had 201 fatalities, Texas with 174, and Florida with 158.
Thanksgiving Travel Tips to Stay Safe on the Roads
Anyone braving the roads to travel for Thanksgiving should be extra vigilant to stay safe from drunk drivers and other dangers. Here are some tips to follow:
Never drive over eight hours at a stretch. Driving longer than that will make you too tired to drive safely.
Never drink and drive, not even a little on this holiday. There are too many people on the roads to risk it.
Make sure your car is in good working order before you make a long road trip.
Try to drive at a time when there is less traffic.
Consider flying and taking a taxi or a rideshare to your destination if you don't want to risk getting into a crash where you could be responsible.
Watch for bad weather and slow down if you must drive through rain, snow, fog, or the dark.
Always wear your seatbelt and practice defensive driving.
Never text and drive. Put your phone away or have a passenger handle navigation, music, and such.
Best and Worst Times to Fly Around Thanksgiving
If you prefer to skip the drive and take a flight instead, be prepared for a lot of lines. The Thanksgiving season is the busiest time for airports. Looking at data from 2019 through 2022 from the Transportation Security Administration, here are the best and worst times to fly during the holiday.
Best Times to Fly
The best times to catch a flight are:
Thanksgiving Day
Wednesday after Thanksgiving
Friday after Thanksgiving
Most people are busy visiting or shopping on Thanksgiving and Black Friday, and the Wednesday after Thanksgiving is well past the weekend burst of plane travel that happens after the holiday.
Worst Times to Fly
The worst times to fly during Thanksgiving are:
Sunday after Thanksgiving
Wednesday before Thanksgiving
Friday before Thanksgiving
The first two are the traditional travel days to and from where people are headed for the holiday. The last one is popular for people who need to burn vacation time before the end of the year or work in places that take the entire week off.
Traveling on the off days can have an added benefit. Your plane flights may be cheaper. Airlines know that most people need to be back home in time to work after the holiday, so they raise prices. If you can extend your holiday by a day or to, you may save some money you can use for gifts in December.
What to Do if You're in a Car Accident During Thanksgiving
There are far more accidents besides the fatal ones during the Thanksgiving holiday period, so follow these Thanksgiving travel tips to keep yourself safe. However, if you do get in an accident, the police, paramedics, and local accident lawyers will stand by to help you.
First, call 911 to summon police and emergency medical help. If you're not taken to the hospital, see a doctor as soon as you can. Then, if you crashed in West Virginia, contact the personal injury lawyers at West Law Firm for a free consultation.
We'll explain your legal options and help you get compensation for your accident, even if you're from out of state. Call to schedule your appointment with us if you get into a car wreck or any other accident during this holiday.
Brooks West is a West Virginia personal injury lawyer who helps people who have been injured by negligence or wrongful conduct. He is the President and founder of West Law Firm and has been an attorney since 2005. Brooks is a Multi-Million Dollar Advocates Forum member and has been awarded the AV Preeminent Rating from Martindale-Hubbell.