Teen Deaths On The Rise – Motor Vehicle Crashes Partly To Blame
Teen Deaths and Distracted Driving Increasing in West Virginia
Unfortunately, a new report about mortality rates for young people gives us cause for sadness.  The National Center for Health Statistics at the United States Centers for Disease Control and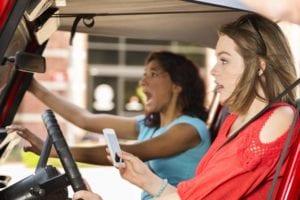 Prevention recently found that there has been a significant rise in accidental deaths, homicides, and suicides among young people in the United States.
Understanding the Unwelcome Trend: The First Step Toward Change is Awareness
The total death rate for 10- to 19-year-olds in the U.S. has increased 12% since 2013.  This increase represents a marked change from the declining trend over the last two decades.  Between 1999 and 2013, the death rate among young people had declined by 33%.
CDC statistician and lead author of the report, Sally Curtin, admitted that when she began the study, she thought she would see a continuation of the downward trend.  But, she was quickly "surprised that there was such a broad increase across so many causes of death."
The data revealed that the leading causes of death among young people are unintentional injuries, mostly from automobile accidents, followed by suicide and homicide.
Auto Crashes are the Number One Cause of Accidental Deaths Among Young People
Motor vehicle traffic fatalities accounted for the majority of unintentional injury deaths to teens, at 62%.  Poisoning (most of which are drug overdoses) and drowning accounted for 16% and 7% of the accidental deaths, respectively. Indeed, with regard to fatal motor vehicle accidents, other studies support the latest National Center for Health Statistics findings.
One study indicates that one out of five 16-year-olds will be in a car crash.  Moreover, during a young driver's first six months, and first 1,000 miles, the crash risk for that driver is the highest that it will ever be during his or her lifetime. Even though young drivers represent only 13% of licensed drivers, they cause 28% of all car accidents, and 24% of all fatal accidents.
Distracted Driving: Why Teens are Involved in More West Virginia Car Accidents Than Ever Before
We all know that distracted driving due to the use of a cell phone is a problem that is not going away anytime soon.  With young people particularly susceptible to 24/7 use of their smart phones, it comes as no surprise that cell phones is a factor in the increased numbers of deaths among teens. We can literally say that cell phone use while driving kills people every year in West Virginia.
Further, other passengers in a young person's car can lead to distracted driving.  Studies show that, for teenagers, adding one passenger to a car increases their crash risk by 48%.  That risk goes to 258% with two passengers in the car, and 307% with three or more.
However, that only tells part of the story.  It is possible that the cause could also be related to the mental well being of our young people today.  Director of Pediatrics at Johns Hopkins Medicine, Dr. Tina Cheng, noted that the recent report from the National Center for Health Statistics confirms what she has observed in her work.
She has seen more children coming to clinics and emergency departments with mental health issues, including depression, suicidal ideation, and aggression.  Further, the current opioid epidemic in this country is also likely a contributing factor. Accordingly, tending to the mental health of our young people will likely help these sad trends.
How to Help Protect Our Teens?  An Ounce of Prevention
Physicians and other experts see this recent report as an important wake-up call.  Stanford University Medical Center trauma surgeon, Dr. Thomas Weiser, finds that "we should be worried about this . . . This disturbing trend should be a wake-up call that mental health services, injury prevention, gun safety and ongoing efforts to improve car and driver safety need support, attention, and financial resources."
Here are five ways in which you, as parents, can help address teen driver safety:
The rules below will likely only help your teen if you have open, honest communication with him or her. Listening to your teen has been proven to be perhaps the best way to get your teen to listen to you. That said, these are some of the five most important rules to safe teen driving to consider or at least discuss with your teen.
Night Driving Limits.  Because approximately 40% of fatal auto accidents occur at night, you may want to limit your teen's unsupervised driving after 10 p.m.
Passenger Limits.  Given the exponential increase in the risk of a crash as each passenger is added to a young person's car, you may want to ensure one under the age of 18 is in the car during a young driver's first year of driving or some similar guideline to help keep your teen safe.
No Cell Phone.  Teens are more likely to use cell phones behind the wheel than any other age group.  Make the cell phone off-limits while driving.
No Alcohol, or Other Drugs.  Driving under the influence remains a serious issue among young people.  Mandate that driving should never occur when under the influence.  Ride sharing apps like Lyft and Uber now make it very easy for young people to avoid getting behind the wheel when impaired.
Seat Belts, Always.  It goes without saying that study after study supports the fact that seat belts, by and large, save lives.  Thus, teach your teens early that buckling up is the first thing you do when you get in a car.
Hope for the Safety of Our Teens
While the recent National Center for Health Statistics report does not spell good news for the current state of affairs regarding the safety of our young people, it is a silver lining that the report tells us there is a problem.  Armed with the knowledge that we are in a worrying trend, we can now do what it takes to get back on the right track. Awareness of a problems is the first step in fixing it.
Free Consultation with an Experienced West Virginia Injury Attorney
We wish you and your family safe travels on our roads. Unfortunately, almost everyone will be in an automobile crash at some point in their life, however. If you or a loved one is injured because of someone else's negligence or at work, we invite you to call us for a Free Case Evaluation. Our toll free number is 1-877-943-9378 (WEST), and at West Law Firm, there's never a fee unless we recover compensation for you.
Brooks West is a personal injury lawyer, founder, and President of West Law Firm. He has been helping those wrongfully injured in West Virginia for almost two decades. The results and service he provides his clients have earned him membership in the Multi-Million Dollar Advocates Forum and the AV Preeminent Rating from Martindale-Hubbell. Brooks is most proud of the many 5-star reviews he has received from satisfied clients.