Snow, Ice, Numerous Accidents — Stay off Roads Today, WV Officials Warn
Charleston, WV — Local roads became covered with snow and ice overnight,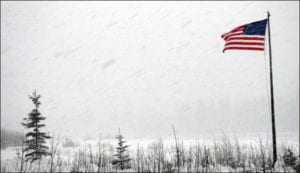 the Kanawha County Sheriffs Department and other officials report. Numerous motor vehicle accidents were already reported by early this morning, and officials are warning people not to travel unless absolutely necessary. So, if at all possible, please stay off the roads.
School systems all over West Virginia were closed today, as were many of West Virginia's college campuses. The National Weather Service has warned those who choose to travel to keep extra food, water and a flashlight in their vehicle.
Winter Storm Warning for Kanawha County, WV until 7pm Thursday, March 5
Issued by the National Weather Service – Charleston, WV
* SNOW ACCUMULATIONS… 8 TO 12 INCHES FOR NORTHEAST KENTUCKY AND THE TRI STATE AREA. 4 TO 6 INCHES IN THE KANAWHA VALLEY AND SOUTHEAST WEST VIRGINIA… INCLUDING THE CHARLESTON AND BECKLEY AREA. 8 TO 10 INCHES IN THE NORTHERN WEST VIRGINIA LOWLANDS AND THE NORTHERN WEST VIRGINIA MOUNTAINS.
REDUCED VISIBILITIES… BELOW ONE MILE AT TIMES… CAN BE EXPECTED. SNOW COULD CAUSE DOWNED TREE LIMBS AND POWER OUTAGES.
SIGNIFICANT AMOUNTS OF SNOW ARE FORECAST THAT WILL MAKE TRAVEL DANGEROUS. ONLY TRAVEL IN AN EMERGENCY. IF YOU MUST TRAVEL… KEEP AN EXTRA FLASHLIGHT… FOOD… AND WATER IN YOUR VEHICLE IN CASE OF AN EMERGENCY.
Safety Tips During a Winter Storm from the National Weather Service
When caught in a winter storm, there are life saving actions you can take to protect yourself outside, in a vehicle and inside your home or office.
Outside
Find Shelter: Try to stay dry and cover all exposed body parts.
No Shelter: Build a lean-to, windbreak or snow cave for protection from the wind. Build a fire for heat and to attract attention. Place rocks around the fire to absorb and reflect heat.
Melt Snow for Drinking Water: Eating unmelted snow will lower your body temperature.
Exercise: From time to time, move arms, legs, fingers and toes vigorously to keep blood circulating and to keep warm. Avoid overexertion such as shoveling heavy snow, pushing a car or walking in deep snow if you are not in good health. The strain from the cold and the hard labor may cause a heart attack. Sweating could lead to a chill and hypothermia.
In Vehicles
Stay in Vehicle
If you leave your vehicle, you will become disoriented quickly in wind-driven snow and cold.
Run the motor about 10 minutes each hour for heat.
While running the motor, open the window a little for fresh air to avoid carbon monoxide poisoning.
Clear snow from the exhaust pipe to avoid gas poisoning.
Be Visible to Rescuers
Turn on the dome light at night when running the engine.
Tie a bright colored cloth, preferably red, to your antenna or door.
After snow stops falling, raise the hood to indicate you need help.
Inside
Stay Inside: When using heat from a fire place, wood stove, space heater, etc., use fire safeguards and properly ventilate.
If Your Heat Goes Out
Close off unneeded rooms to avoid wasting heat.
Stuff towels or rags in cracks under doors.
Cover windows at night.
Eat and drink. Food provides the body with energy for producing its own heat. Keep the body replenished with fluids to prevent dehydration.
Wear layers of loose-fitting, lightweight, warm clothing. Remove layers to avoid overheating, perspiration and subsequent chill.
Free Consultation with WV Auto Accident Lawyer        
If you've been injured in an automobile crash caused by someone else's negligence, West Law Firm can help. Call us today for a free consultation. Our toll free number is 1-877-943-9378.
Brooks West is a personal injury lawyer, founder, and President of West Law Firm. He has been helping those wrongfully injured in West Virginia for almost two decades. The results and service he provides his clients have earned him membership in the Multi-Million Dollar Advocates Forum and the AV Preeminent Rating from Martindale-Hubbell. Brooks is most proud of the many 5-star reviews he has received from satisfied clients.