Slip and Fall on Ice? Find Out Who's Liable in WV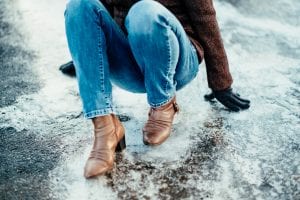 Approximately 1 million Americans are injured annually in slip and fall accidents as a result of ice and snow, according to the Center for Disease Control. Furthermore, around 17,000 of these fall accidents every year result in death. Below is some information about whether compensation is available if you are injured in a slip and fall and some tips on how to stay safe during this winter.
West Virginia Property Owner's Duty of Care
Virtually every state has a law that outlines a property owner's duty to exercise reasonable care over their property. The specific duties differ from state to state. However, generally, property owners have a legal duty to make sure their properties are reasonably safe. In other words, that their properties do not present unreasonable dangers to visitors, guests, and/or customers.
Under West Virginia premises liability law, a property owner generally has a duty to 1) warn of dangers it knows or should know about or 2) remove those dangers. Other duties the property owner may have includes things like: 
Completing periodic inspections of the property

Keeping the building up to state and local maintenance standards

Maintaining the businesses tools and equipment in safe working condition 

Posting appropriate warnings signs when there is a hazard on the property

Maintaining the property during times of inclement weather, such as removing snow or ice during the winter
Failure to fulfill the legal duties of each respective state can result in the property owner being liable for damages if the other elements of negligence are met. However, as detailed below, West Virginia's open and obvious and comparative negligence laws can be big hurtles to recovering compensation if you are injured in a slip and fall accident.
Comparative Negligence
In many states not only is the property owner's negligence accounted for during a slip and fall case, but the victim's potential negligence is considered as well. This is known as comparative negligence. What this means is that it is possible for a slip and fall victim to being held fully or partially liable for their own accident. If a victim of a slip and fall accident is found to be fully or partially to blame for their fall, that can have serious effects on the amount of damages they can collect.  
Example of Comparative Negligence
You may still be wondering, how can someone be fully or partially responsible for their accident on someone else's property? Let's talk through an example. 
Let's say one day you're running through a store's parking lot and it has snow covering it. Suddenly you slip and fall on a patch of ice and you sustain serious injuries.  In certain circumstances you may be held fully or partially liable for your accident as in many instances running on snowy surfaces is not exercising reasonable care.
Depending on how much the court finds you to be at fault you may receive a reduction to your damages, or possibly no damages at all. That's why it's an important to speak with a personal injury lawyer who's experienced in winning slip fall claims, like us at West Law Firm, if you've been injured in a fall.
Comparative Negligence in West Virginia
Comparative negligence is used in West Virginia, but the state operates under a modified version of comparative negligence law. West Virginia Code 55-7-13A-D establishes the comparative negligence standard for all civil claims in the state.
West Virginia "Open and Obvious" Statute
In West Virginia, the "open and obvious" hazard doctrine plays a key role in premises liability cases. This doctrine holds that a property owner cannot be liable for an open, obvious, and reasonably apparent hazard that a visitor may encounter on the property. According to this statute if the hazard is open and obvious then the fault lies with the visitor who took the risk.  
This code, West Virginia Code 55-7-27, reads in part as follows: 
"A possessor of real property, including an owner, lessee or other lawful occupants, owes no duty of care to protect others against dangers that are open, obvious, reasonably apparent or as well known to the person injured as they are to the owner or occupant, and shall not be held liable for civil damages for any injuries sustained as a result of such dangers."
So, for example, if a business's sidewalk is clearly icy and you choose to walk over the icy area, it's possible that under West Virginia law, the business may not be responsible for any injuries you suffer. However, an experienced slip and fall lawyer may be able to help you overcome the business's arguments that you fell on a condition that was open and obvious, depending on the specific facts of your case. 
If you would like a free case evaluation, we invite you to call one of our experienced injury lawyers today. Our toll-free number is 1-877-943-9378 (WEST).
Tips to Avoid Slip and Fall Accidents This Winter
Some of the best practices to avoid slip and fall accidents during winter weather includes:
Actively scan the area you are walking on and chose the least hazardous routes

Wear proper footwear

Use supporting objects as you walk

Slow down and take your time when walking on hazardous surfaces

Keep your hands free when walking
To learn more safe walking tips check out our article on safe walking and fall prevention.
What Compensation Is Available for Slip and Fall Accident Claims?
The compensation you may be able to recover will depend on the details of your claim and your injuries. That said, common forms of compensation including:
Medical bills

Past and future lost wages

Past and future pain and suffering

Loss of earning capacity

Past and future loss of enjoyment of life

Compensation for duties under duress

Punitive damages, if appropriate
Get a Free Case Evaluation from a West Virginia Slip Fall Attorney
If you or a loved one has been injured in a slip and fall accident due to another person's negligence you will need an experienced slip and fall attorney. West Law Firm invited you to call one of our experienced slip and fall attorneys today for a Free Case Evaluation. Our toll-free at 1-877-943-9378 (WEST). There's no risk and never a fee unless you recover compensation.
West Law Firm is located in Charleston, West Virginia, but we serve clients throughout the state and country. If you can't come to us, one of our West Virginia Injury Attorneys will come to you.
Brooks West is a West Virginia personal injury lawyer who helps people who have been injured by negligence or wrongful conduct. He is the President and founder of West Law Firm and has been an attorney since 2005. Brooks is a Multi-Million Dollar Advocates Forum member and has been awarded the AV Preeminent Rating from Martindale-Hubbell.