Break This Law and Jeopardize Your Freedom (& Life) On West Virginia Roads
Electing to Not Wear a Seatbelt in West Virginia Can Cost You More than a $25 Fine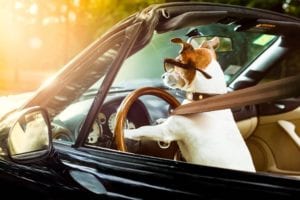 Getting pulled over without a seatbelt in West Virginia will only cost you $25. Getting into a crash without a seatbelt can cost you everything. This year, an estimated 123 people in West Virginia will break this law and be ejected from their vehicles on impact. About half of them will not survive because they didn't buckle up.
Breaking the seat belt law is highest among rural residents. In fact, the CDC determined unrestrained passengers account for a 50% of all rural road  accidents ending in severe injury and death. Rural roads now rank  twice as deadly because folks simply do not wear a seatbelt. 
Another  CDC   report rings with simple science. Wearing a seatbelt is the single most effective way to prevent injury or death caused by a crash.  Sounds like an easy way to stay safe right? Still, 1 in 7 people don't do it. Only 84% of West Virginians  obey the seat belt law.
Eighty-four percent almost sounds good.  Did our state just get a B on a test? Run the numbers another way. If eighty-four percent of people are wearing a safety belt, that means 295,060 people are not. That's over 200,000 family and friends in jeopardy every day for no good reason. 
How Not Wearing a Seat Belt Can Cause You to Lose Important Freedoms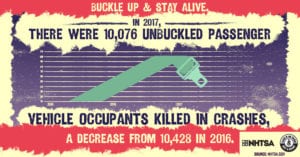 Wearing a seatbelt feels confining. No one loves it. But consider this scenario that happens to people just like you almost every day:  Let's say, you don't like safety belts, you tested fate, got hit by a negligent driver, and you now have a spinal injury.  Your closest loved one put everything aside to become your full-time caregiver.  All independence is lost. Your income is lost. You can't walk, feed or dress yourself. Guilt swallows you. The other guy hit you, but you now feel partially to blame for this severe outcome because you chose to not wear a seatbelt.  
How can life turn so bad so fast? Every day, people opt for the brief freedom of riding unbuckled and jeopardize their ultimate freedom.  Freedom to work. Freedom to provide for family. Freedom to have life and enjoy it. Such freedoms were hard won, and if we stop to think about it (about as long as it takes to buckle up), we all want to make choices daily that honor and support these freedoms.
If wearing a seatbelt is free, easy, and vital for survival, why do so many West Virginians continue to roll the dice? People were honest and said why they chose to not wear seatbelts. Do you use any of the excuses below or know someone who does? 
10 Seatbelt-Excuses that Sound Reasonable and Why They're Not
#1 It's my life. I can do whatever I want.
Well, that is true. You can. But, if you make that choice, there's a 90% chance your body will severely injure a person riding with you. Worse, if you chose not to wear a seatbelt while driving or riding as a passenger and you get in an auto accident, you put the other occupants at a 4.8 times greater risk of death. 
# 2  I drive a pickup truck, so I don't need a seatbelt.
Confidence in the power of a pickup is common. A larger vehicle, unfortunately, doesn't provide total safety. In fact, 61percent of pickup truck occupants killed in 2016 were not buckled up. Stats do show when simply wearing a seatbelt, the risk of death is reduced by 60 % for occupants of SUV's, pickups, and vans. 
# 3  Men don't need seatbelts.
Actually, statistically, young men between the ages of 18-34 were most at risk for dying in an automobile crash. Of those who died 60% were found not buckled.
# 4  I don't need to wear a seat belt in the backseat.
Confession here. I realized while writing this that I don't always buckle up when taking Uber or Lyft.  Obviously the same laws of nature apply to taxis. It is no surprise that less than 60% of people who use rideshare services report wearing their seatbelts.  
The truth is, if you're not buckled up in the backseat, you're 30 times more likely to be ejected from the vehicle.  You are 11 times more likely to experience serious injury. And, if you're seated behind the driver, the driver is twice as likely to be killed from your bodily impact. Here's a link to this crash test done at only 35 mph. I'm now committed to buckling up, even in the backseat.
# 5 The airbag will save me.
Airbags are helpful, but they  are designed to work with seat belts, not replace them. The force of airbag deployment can seriously injure or even kill you without a seatbelt. Wearing your seat belt and having airbags gives you the best possible chance of surviving a crash.
# 6  I'm not going far enough to get into a collision.
52% of crashes are found to occur less than 5 miles of home, and most fatal crashes happen within 25 miles from home and at speeds of less than 40 mph. 
# 7  I'm not going fast enough to get injured.
Crash tests demonstrate that airbags may not deploy at a low-speed impact. Without that protection, the chest impacts the steering wheel and the head can strike the windshield at only 18 mph. Plus, your speed doesn't account for the speed of someone else running a stop light or failing to break at an intersection. Clients are sometimes surprised by how painful and long it takes to fully recover from even a minor car accident. 
# 8 Seat belts cause injuries.
It is true.  A seatbelt can cause bruising or abdominal injury when it restrains you from going through the windshield. However, it also probably saved your life.
# 9 I'm pregnant, so I shouldn't wear a seatbelt.
Doctors recommend buckling up during all stages of pregnancy. A seatbelt is the best way to protect yourself and your unborn child. Click here to see how to properly wear a seatbelt when pregnant. 
# 10 It's better to be thrown from a car than trapped in one.
First of all, bodies are not 'thrown' like a ball in a friendly game of toss. Usually, in crashes bodies are propelled face-first through triple layered safety glass causing horrific injuries. The NHTSA estimates ejected occupants risk of fatality is 2.3 higher, especially in a rollover accident, as common on rural roads. Remember, being 'thrown' is one matter, and landing is another. Once ejected, you could be crushed by the rolling vehicle, hit by another car, or worse hit by a tractor-trailer. Your greatest chance of remaining conscious and able-bodied is to wear a seatbelt. 
Get a Free Case Evaluation from an Experienced West Virginia Personal Injury Lawyer
We hope this article helps keep you and your loved ones safe while driving in West Virginia and beyond. However, if you or a loved one was injured in a motor vehicle crash, injured on the job, or hurt by negligence, we invite you to call us for a Free Consultation. And at West Law Firm, there's No Fee unless and until we recover compensation for you.
Buckle-Up, Stay Free and Alive in Wild Wonderful West Virginia
The NHTSA estimates that seat belts save about 13,00 lives every year and 35 people a day. Seat belts saved an estimated 255,000 lives since 1975. If you always buckle up no matter the circumstances, maybe you know someone who doesn't think wearing a seatbelt matters. Perhaps passing this along could save a life. Although,   Wishing you a safe Independence Day, and may your independence and freedom remain protected.  
Sometimes seeing is believing. Below are several videos that might help you or a loved one find the motivation to wear a seatbelt.
https://www.ispot.tv/ad/7QAa/nhtsa-second-chance
https://www.ispot.tv/ad/wdnr/nhtsa-rewind
https://www.ispot.tv/ad/dk_M/nhtsa-no-good-excuse
https://www.ispot.tv/ad/7mVS/national-highway-traffic-safety-administration-battlefield
https://www.youtube.com/watch?v=ECT3M6pRGmU
Brooks West is a personal injury lawyer, founder, and President of West Law Firm. He has been helping those wrongfully injured in West Virginia for almost two decades. The results and service he provides his clients have earned him membership in the Multi-Million Dollar Advocates Forum and the AV Preeminent Rating from Martindale-Hubbell. Brooks is most proud of the many 5-star reviews he has received from satisfied clients.