Tips for Hosting a Safe, Fun Super Bowl Party
There will be a lot of celebrating this upcoming weekend as football fans across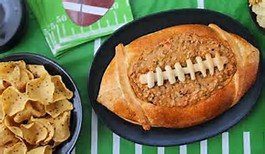 the nation gear up for Super Bowl Sunday. Whether you are rooting for a team or just enjoy the commercials, a lot of snacking and drinking is also traditionally associated with a Super Bowl party. Unfortunately, seat belts and excellent driving skills cannot always protect you from being seriously injured by someone behind the wheel who has had too much to drink.
According to the National Highway Traffic Safety Administration (NHTSA), a report produced in the year 2012 showed that alcohol was the cause resulting in 11,226 fatalities, 326,000 nonfatal injuries, and $49 billion in economic costs. Of those fatalities, 102 happened in West Virginia. Before what is known as the Harvard Alcohol Project, there were over double that amount with 23,000 annual fatalities as a result of alcohol related traffic incidents and those with the highest rate of death were young adults between the ages of 15 to 24.
The Harvard Alcohol Project was a successful campaign initiated in 1988 that utilized network entertainment to promote what is now a household phrase known as a "designated driver." By inserting the phrase into popular television shows such as "Cheers" and "LA Law," the concept of having a "DD" become popularized.
However, the NHTSA is now trying to spread the message that buzzed driving is drunk driving. According to a story published by National Public Radio, many Americans think it is fine to drink as long as their blood alcohol concentration (BAC) remains below the legal limit. Researchers at the University of Florida checked the BAC of over 1,000 people leaving a Gators football game. The survey showed that 41% of those who claimed to be the designated driver also admitted to have been drinking. Research shows that a blood alcohol level of less than .05 can worsen a driver's coordination and visual functions.
So, if you plan to drink while celebrating the big game on Sunday, be sure to plan a ride with a designated driver who doesn't drink at all, which will help all be safer on the roads this Superbowl.
Tips for Hosting a Safe and Fun Super Bowl Party
If you are planning to host a party, these tips will help keep your guests safe from a drunk-driving crash:
Serve lots of food and several nonalcoholic drink options.
Encourage your guests to have a designated driver before the party, arrange to have a designated driver at the party who can take people home.
Offer sleeping space to anyone who might need to "sleep it off."
Choose a pre-determined time to stop serving alcohol. The NHTSA suggests stopping alcoholic beverages at the third quarter and to begin serving coffee and dessert.
Write down the numbers for local cab companies and have them in a highly visible place.  C & H Taxi, in Charleston, West Virginia, can be reached at 304-344-4903.
It might be difficult, but don't hesitate to take the keys from anyone who appears too intoxicated to drive.  Not only could someone get hurt or killed, but you may also be help legally liable for any injuries they cause as a result of consuming too much alcohol you served.
Get a Free Legal Evaluation with an Experienced West Virginia Auto Accident Lawyer
We wish everyone safe travels this Superbowl and every day of the year.  However, if you or a loved one has been injured or killed as a result of negligent or drunk driving, it's important to speak with an experienced attorney as soon as possible.  At West Law Firm, we offer free legal consultations and there's never a fee unless we win your case.  To speak with an experienced auto accident lawyer, call us today toll free at 1-877-943-WEST (1-877-943-9378).
Brooks West is a West Virginia personal injury lawyer who helps people who have been injured by negligence or wrongful conduct. He is the President and founder of West Law Firm and has been an attorney since 2005. Brooks is a Multi-Million Dollar Advocates Forum member and has been awarded the AV Preeminent Rating from Martindale-Hubbell.