Say No to Dark Money in West Virginia Elections — Demand Truth and Full Disclosure in SB 541
In 2014, corporations, billionaires and special interest groups spent millions of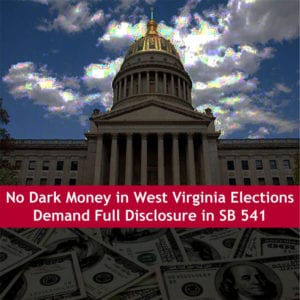 dollars to influence the outcome of West Virginia elections. The problem is much of this spending was hidden in what's called super PACs and other independent expenditures from exceptionally wealthy individuals who profit when certain candidates are elected.
For example, just this week, the conservative group calling itself Go West Virginia had planned to hold a breakfast fundraiser in Charleston for next year's election. The cost? $100,000 per person. When the media asked about donors, the group said that it does not disclose that information. After information about the event became public, the group cancelled it.
West Virginians have the right to know who's influencing their elections and how much they're spending
If a person spends money to influence West Virginia elections and thus the laws that are meant to protect us all, West Virginians have the right to know who the spenders are and how much they're spending, regardless of whether they're a Republican or a Democrat. Like the cliché goes, "honesty is the best policy." Why keep these facts that affect all West Virginians secret?
Compromise and progress killed by the House Judiciary
Last week, both Democrats and Republicans in the West Virginia State Senate worked together to make substantial changes to the elections bill SB 541.  Individual contribution limits were lowered to make the elections process fairer and, among other positive changes, a provision was added that required disclosure on independent expenditures and electioneering communications.  The bill passed the Senate last week 28 – 6.  (Only one Republican voted against the bill.)
However, on Sunday night, the House Judiciary gutted the disclosure provision in the bill.
There's still hope – Please Act Now and contact your legislators and demand that the honesty and disclosure provisions be restored to SB 541
If you believe that honesty and full disclosure in elections is important, please click the link below that makes it easy for you to contact your West Virginia legislators. Please ask them to restore the honesty and disclosure provisions to SB 541.
Click Below to Contact Your Legislators
http://cqrcengage.com/wvcpa/app/write-a-letter?0&engagementId=82171
Ask a West Virginia Injury Attorney
In 2015, the new West Virginia legislature leader passed a number of laws that give full or partial immunity to corporations when they break safety rules that hurt people, such as in work injury and dangerous property incidents. If you've been injured and would like a free legal evaluation to determine your rights and options, we invite you to call one of our experienced injury attorneys today. Our toll free number is 1-877-943-9378, and there's never a fee unless and until we recover compensation for you.