A New Approach to a New Year's Resolution
Charleston, WV — It's no surprise that "Lose weight" is one of the top New Year's resolutions every year, according to CNN. Most of us have made this New Year's resolution and not obtained the results we wanted.  Fortunately, there is hope.
The good news is that new research shows why and how incorporating several small changes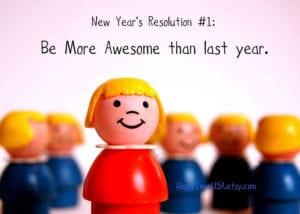 into our lives that will not only likely lead to weight loss, but more importantly to happiness and good health.
"Good health happens when the physical, emotional and social or environmental parts of our lives are in balance," said Dr. Amy Crawford-Faucher, a family physician at the University of Pittsburgh Medical Center. "When people resolve to 'lose weight,' they are actually saying, 'I want to feel and look better.' "
So this year, a number of health experts are challenging us to make a new kind of New Year's resolution.
The challenge is to pick one or more of the resolutions below to strive for and make a deal with yourself: "This year, "losing weight" isn't going to be my main goal, just a nice side benefit to being happy and healthy."
Add something 
Instead of making your resolution to take soda, sugar or fat away from your diet to lose weight, making a resolution to add something instead might be more effective, suggests Crawford-Faucher. For example, you can add a serving of vegetables to meals or add protein to your snacks or breakfast. The goal is that these additions will crowd out unhealthy habits.  I have personally found that adding salads to my family's meals usually helps us eat less calories and adds important vitamins and minerals to our meal.
This same resolution can be used for every other area of your life, too.  For example, adding 15 minutes of meditation to your bedtime routine or 15 minutes of classical music to your commute can help you destress and sleep better. Some other suggestions CNN give are to add some organization time to your daily schedule and add a book on financial planning to your reading list.
Get some fresh air
Simply being in nature can have a big effect on an overloaded mind.  Breathing fresh air, which has more oxygen than indoor air, is an added plus.  Today's busy work environment tends to chronically mobilize our fight-or-flight response, which is essentially the same whether we are attacked by a bear or stressed by a meeting with the boss.  In other words, for most of us, our fight-or-flight response is almost always on, which drains us of energy and causes unnecessary tension.
Finding a place in nature where you feel comfortable, whether it's in your backyard or a bench at a local park is a great place to get fresh air. Wherever it is, the important thing is to visit there regularly, even if only for a short time so that you get some fresh air every day.
Other simple steps to fresh air include parking your car a little farther from the door, taking a quick walk around your office building at lunch, or waking up 15 minutes earlier and jogging around your neighborhood, suggests Dr. Rebecca Cipriano, co-founder of Healthy Woman USA.
Step away from the screen
Children who spend too much time in front of screens — computers, TV, video games — are at a greater risk for obesity, have a harder time falling and staying asleep, don't focus well and experience more anxiety and depression.  Perhaps this helps explain why children are becoming more and more obese.  Research shows adults aren't any different.  Taking some time away from screens by turning the TV off, leaving the tablet and smartphones out of our bedrooms can make a big difference in our sleep, health and happiness.
Bright lights before bedtime also confuse the brain.  The brain is wired to regulate our sleep cycles by responding to the rising and setting of the sun.  Indoor lighting has virtually the same effect on the brain, which is why we turn off the lights when we sleep.  However, that's often not enough.  Keeping the lights off or at least low for an hour or two before bed can help us fall asleep much easier.
Sleep more
According to CNN's panel of health experts, the quickest and most sure-fire way to change our lives is to get more sleep. Sleeping helps you burn fat, decrease stress, improve your immune system and boosts your mood and mental clarity, says Jae Berman, a registered dietician and personal trainer with the Bay Club Company.
"Slowly change your routine to add 15 minutes a night until you get to eight hours," she said.
Stop multitasking
If there's one word that sums up health advice in 2013, it's mindfulness: a "state of active, open attention on the present," according to Psychology Today.
"We teach our guests to be mindful around their eating," said registered dietician Kimberly Gomer of the Pritikin Longevity Center + Spa. "What does this mean? It means not eating in front of the TV, while on the computer, checking e-mails on the phone or iPad, eating while driving in the car. … The list goes on and on."
Research shows that people who practice mindfulness tend to weigh less, have less uneccesary stress, and feel happier.  And those who try to do several tasks at once, usually do them all poorly.
Meditation is a great way to develop and practice mindfulness.  Dhamma.org has a list of free meditation courses that are open to all religions and beliefs and are offered throughout the world.  Two of us here at West Law Firm have benefited greatly from these courses.
Take time to breathe
Most people take only shallow breaths throughout the day, according to CNN. This limits the oxygen circulating throughout the body, leading to increased anxiety and higher blood pressure, according to Harvard's Family Health Guide.  Taking time throughout the day to take some deeper breaths can increase our energy and decrease our anxiety and blood pressure.  Try inhaling for 4-6 seconds and then exhaling for the same amount of time, which has been clinically shown to calm the mind and body.
Small steps
We all know that know one is perfect, and that it's not healthy or realistic to try to be.  However, if we strive to take small steps towards our goals and resolutions each day, over time we are much more likely to be successful.
So, for example, today at lunch, instead of chips, you could buy an apple. Instead of watching TV to relax after work, you could do 15 minutes of yoga. Today, you could take the kids to the park instead of handing them a video game.  The point is not to do all of these things at once, but try to make one small step for the better each day.
Choose a theme
CNN says that if it were giving prizes for the most innovative New Year's resolution, trainer Shay Kostabi would be the winner. Every year, Kostabi picks a theme as her New Year's resolution. In 2011, it was "authenticity." In 2012, it was "clarity." For 2014, her theme is "Maitri," a Sanskrit word that means gentle, loving kindness toward oneself.
"Choosing just one word that describes how you want to feel instead of what you think you should do or accomplish in the New Year is really powerful," Kostabi said. "Once you've chosen your theme or your one word, say it out loud, write it down and make sure you really connect to it on a personal level," Kostabi suggests.
From all of us at West Law Firm, we wish you a happy and successful New Year!
Free Consultation with a West Virginia Injury Lawyer
At West Law Firm, we know that injuries from auto accidents, at West Virginia work accident lawyers, or elsewhere can make it difficult to take care of basic needs let alone succeed at keeping New Year's Resolutions.  That is why we offer free consultations to anyone who may have been wrongfully injured in West Virginia.  We are located in Charleston, West Virginia, and our toll free number is 1-877-943-9378.  We serve clients who have been injured anywhere in West Virginia.  If you can't come to us, we will send a West Virginia injury lawyer to you.
Brooks West is a West Virginia personal injury lawyer who helps people who have been injured by negligence or wrongful conduct. He is the President and founder of West Law Firm and has been an attorney since 2005. Brooks is a Multi-Million Dollar Advocates Forum member and has been awarded the AV Preeminent Rating from Martindale-Hubbell.