Miss 1-2 Hours of Sleep, Double Car Crash Risk — Here's How to Avoid
Sleeping for less than 5 hours is like driving drunk, According to Study
Driving drowsy contributes to over 20% of all fatal automobile crashes in West Virginia and the U.S. each year. A new AAA study also found that missing just 1-2 hours of sleep can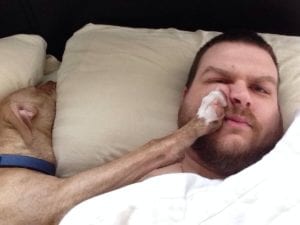 double your risk of being injured in a wreck. According to the research, drivers who got 1-2 hours less sleep than the recommended seven doubled their risk of crashing.
Unfortunately, 35% of U.S. drivers get less sleep than the recommended seven hours per day, according to the CDC. Perhaps that fact along with the increase of texting while driving is why 2015 had the highest increase in traffic deaths in 50 years. According to the National Safety Council, in 2015, 38,300 people were killed in U.S. automobile crashes and about 4.4 million people sustained injuries that required medical care.
Warning Signs You're Too Tired to Drive Safely
Trouble keeping your eyes open
Drifting from lanes
Not remembering the last few miles driven
Because drivers involved in over half of fatigue related crashes had no symptoms before wrecking, it's important to be on the lookout for drowsy driving symptoms if you didn't get the recommended seven hours of sleep the night before.
How to Avoid and Prevent Fatigue Related Car Wrecks
The following behaviors have been proven to be helpful in preventing drowsy-driving related automobile crashes:
(1) Stop driving & Sleep: as soon as you become sleepy, let a passenger drive or stop to sleep (for about 15 to 20 minutes)  before continuing to drive
(2) Consume caffeine equivalent to two cups of coffee, but it's best to take short nap first if possible
(3) Plan to get to bed at a specific time to allow for enough sleep
(4) Avoid even small amounts of alcohol when sleepy
(5) Avoid or limit driving between midnight and 6am (Many drowsy driving crashes occur during these times)
(6) Roll down the window: Although this is no substitute for stopping and resting while tired, this is one more strategy that when combined with the above will increase your chances of staying safe.
Get a Free Consultation with an Experience West Virginia Accident Attorney
We hope the above information helps keep you safe in your travels. If you're injured by a negligent driver, though, we invite you to call one of our experienced personal injury lawyers for a free consultation. There's also no fee unless you win. We are located in S. Charleston, WV, and our attorneys serve all of West Virginia. Our toll free number is 1-877-943-9378.
Brooks West is a West Virginia personal injury lawyer who helps people who have been injured by negligence or wrongful conduct. He is the President and founder of West Law Firm and has been an attorney since 2005. Brooks is a Multi-Million Dollar Advocates Forum member and has been awarded the AV Preeminent Rating from Martindale-Hubbell.