Memorial Day Tribute 2018
On behalf of the West Law Firm family, we thank all veterans who have served to protect and defend our country, freedom and safety. This Memorial Day, we would like to especially thank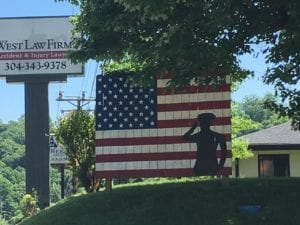 those veterans who made the ultimate sacrifice and died while serving our country. We would also like to thank their families who supported them during their time of service.
Below is a poem by Henry Wadsworth Longfellow that we offer as a tribute to our fallen heroes. May they rest in peace and safety.
Decoration (Memorial) Day
Sleep, comrades, sleep and rest
On this Field of the Grounded Arms,
Where foes no more molest,
Nor sentry's shot alarms!
Ye have slept on the ground before,
And started to your feet
At the cannon's sudden roar,
Or the drum's redoubling beat.
But in this camp of Death
No sound your slumber breaks;
Here is no fevered breath,
No wound that bleeds and aches.
All is repose and peace,
Untrampled lies the sod;
The shouts of battle cease,
It is the Truce of God!
Rest, comrades, rest and sleep!
The thoughts of men shall be
As sentinels to keep
Your rest from danger free.
Your silent tents of green
We deck with fragrant flowers
Yours has the suffering been,
The memory shall be ours.
— Henry Wadsworth Longfellow
Brooks West is a personal injury lawyer, founder, and President of West Law Firm. He has been helping those wrongfully injured in West Virginia for almost two decades. The results and service he provides his clients have earned him membership in the Multi-Million Dollar Advocates Forum and the AV Preeminent Rating from Martindale-Hubbell. Brooks is most proud of the many 5-star reviews he has received from satisfied clients.