Manna Meal Fundraiser: West Law Firm will match $25 donations, which will get participants a handmade ceramic bowl filled with homemade soup
Charleston, WV — Hand-crafted, one-of-a-kind ceramic bowls filled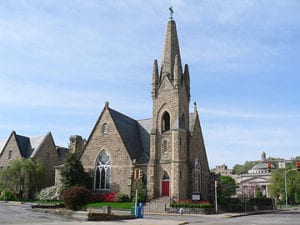 with your choice of five varieties of homemade soup are available for taking part in today's Fall MannaFest fundraiser.   Manna Meal is a Charleston nonprofit organization dedicating to feeding the hungry.
The event takes place from 4:30 to 7 p.m. today, Friday October 17, 2014, at St. John's Episcopal Church. The church is located at 1105 Quarrier St. in downtown Charleston.
The artisinal bowls are provided by Jim Hores and his pottery students from Taylor Books Annex Gallery, and from Michael and Karen Grimes and their students from Capitol Clay Arts Company.
For a $25 donation to Manna Meals you get a bowl and your choice of homemade lobster bisque, spicy Indian chili, Kentucky burgoo, matzo ball or tomato bisque. The meal includes a garden fresh salad, artisan bread from Charleston Bakery, beverages, and a bake sale of homemade after-dinner treats.
To-go orders are available too, and the ceramic bowls will be wrapped and bagged for your trip home. More than 300 bowls were created for the fundraiser.
Each meal and hand-crafted bowl are available for a $25 donation. West Law Firm will match up to 20 peoples' $25 donation. Just mention West Law Firm when you make your donation, and we will donate another $25 to Manna Meal in honor of you supporting Manna Meal and the hungry West Virginians they feed.
This is Manna Meal's seventh annual MannaFest and is dedicated to the memory of Judy Lewis, wife of former St. John's rector and Manna Meal co-founder Jim Lewis, who died in September 2013.
Manna Meal was founded in 1976 to serve anyone who is hungry, no questions asked. The program receives no government funding and is managed by a small paid staff. Manna Meal depends on volunteers and donations to carry out its mission to feed the hungry. For more information about the event or the program, call 304-345-7121.
West Law Firm is located in Charleston, West Virginia.  We are a West Virginia law firm dedicated to helping injured people.  Our toll free number is 1-877-943-9378.
Brooks West is a personal injury lawyer, founder, and President of West Law Firm. He has been helping those wrongfully injured in West Virginia for almost two decades. The results and service he provides his clients have earned him membership in the Multi-Million Dollar Advocates Forum and the AV Preeminent Rating from Martindale-Hubbell. Brooks is most proud of the many 5-star reviews he has received from satisfied clients.