How the iPhone Can Prevent Texting While Driving Crashes
Helping to Prevent Texting While Driving Accidents in West Virginia
Each day, 9 people are killed and more than 1,000 are injured in crashes caused by texting while driving and other forms of distracted driving. Talking on a cell phone and using a navigation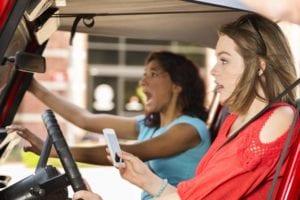 system are other common forms of distracted driving that cause car accidents.
Unfortunately, texting while driving is also on the rise despite educational efforts and recent changes in state laws. For example, West Virginia outlawed texting while driving a few years back, but texting while driving still continues to be a major cause of crashes in the Mountain State.  Fortunately, there is now a direct solution to help stop texting while driving.
Apple, with its release of IOS 11, has created a feature called Do Not Disturb While Driving. It can help prevent you and your family members from becoming distracted by  incoming calls and texts. It can also help eliminate the temptation to make outgoing texts and calls.
How to Use the iPhone Do Not Disturb While Driving Feature
The first thing you need to do is update your iPhone to iOS11 or the most recent iOS update. You can do this in Settings > General > Software Update. Once your iPhone is updated, the next time it senses that you might be driving, it will show a description of the Do Not Disturb While Driving feature after you stop.
When prompted, tap Turn On While Driving, and the Do Not Disturb While Driving feature will be activated. This feature will then turn on automatically when your iPhone connects to your vehicle by Bluetooth or when your iPhone senses driving motion. You can change the method your iPhone uses to determine whether you're driving or turn the feature on manually.
If you do not get the prompt asking if you want to activate Do Not Disturb While Driving you can activate it in Settings.
To activate Do Not Disturb While Driving Manually: Go to Settings > Do Not Disturb > Activate (Just under the heading DO NOT DISTURB WHILE DRIVING).
After you tap Activate you will see the options to activate Do Not Disturb While Driving either Automatically, When Connected to Car BlueTooth, or Manually. The manual option can be turned on in the control center, but it offers less protection than activated this feature automatically.
Some users have also noticed that choosing the option asking the iPhone to activate this feature when connected to Bluetooth is not always reliable. Therefore, we recommend using the activate Automatically option to get the best results from this safety feature.
How Do Not Disturb While Driving Works
Here's what to expect when Do Not Disturb while driving is turned on. You can customize some of these features in Settings.
 Your iPhone stays silent and the screen stays dark. If someone sends you a message, they receive an automatic reply from you letting them know that you're driving. You can customize your auto-reply message in settings.
For urgent messages, the sender can type the word "urgent" to make sure that you receive a notification so you can pull over to read the important message or ask Siri to read it to you.
iPhone will still deliver some notifications like emergency alerts, timers and alarms.
If you use Maps to navigate, your iPhone still shows lock-screen navigation help and gives turn-by-turn instructions.
If you're a passenger and you try to use your iPhone while the feature is active, you must tap I'm Not Driving to turn it off.
Your iPhone will deliver phone calls using the same conditions as the standard Do Not Disturb. For example, you can allow calls only from your Favorites and allow calls to come through if the same person calls you twice in a row. If your iPhone connects to your car via Bluetooth, calls will come through as usual, and you can use your car's controls to take your call if needed.
*Please keep in mind talking on the phone even with hands-free technology like bluetooth is still a form of distracted driving and increases your chances of being involved in a car crash.
How to Help Keep Your Teen Safe with Do Not Disturb While Driving — Use Restrictions to Keep it on
Texting while driving is now the leading cause of death for teen drivers, edging out drunk driving, according to a new study. Fortunately, iPhone's Do Not Disturb While Driving feature can help you ensure your child stays focused on the road while driving and not on his or her iPhone.
Here's how to use Restrictions on your teens iPhone to keep the Do Not Disturb While Driving feature on:
1. On your child's iPhone, first make sure the Do Not Disturb While Driving feature is turned on in Settings > Do Not Disturb > Activate > Automatically (Just under the heading DO NOT DISTURB WHILE DRIVING). We recommend you choose Automatically because it appears to sense when someone is driving more reliably than When Connected to Car Bluetooth option. Choosing this option will also make it more difficult for your child to figure out a way to circumvent this safety feature.
2. Next, go to Settings > General > Restrictions.
3. If you haven't used Restrictions before, enter a new passcode. Remember this passcode for any future changes.
4. Under Allow Changes, tap Do Not Disturb While Driving.
5. Select Don't Allow Changes.
Now your child will not be able to make any changes to the Do Not Disturb While Driving feature that you activated in Step 1.
*For more information on the iPhone Do Not Disturb While Driving feature, visit apple here.
Get a Free Consultation with an Experienced West Virginia Personal Injury Lawyer
We hope this article helps keep you and your family safe from texting while driving. However, if you or a loved one is injured in an accident, by a negligent driver, or by someone who was texting while driving, we invite you to call us one of our experienced West Virginia car accident attorneys for a Free Consultation. Our toll free number is 1-877-943-9378 (WEST). And with West Law Firm, there's never a fee unless and until you recover compensation.
Brooks West is a personal injury lawyer, founder, and President of West Law Firm. He has been helping those wrongfully injured in West Virginia for almost two decades. The results and service he provides his clients have earned him membership in the Multi-Million Dollar Advocates Forum and the AV Preeminent Rating from Martindale-Hubbell. Brooks is most proud of the many 5-star reviews he has received from satisfied clients.